De 1 iunie alergăm din iubire pentru viață de la copii până la bunici!
Pe 1 iunie – ziua în care se celebrează copiii, miracolul nașterii și dreptul copiilor de a fi protejați, ziua în care fiecare dintre noi poate să se simtă din nou copil și să redescopere bucuria jocului, Asociația LIFECALL organizează în Parcul Tineretului Ateliere pentru Copii și un Cros caritabil cu probe de alergare pentru copii, adolescenți, adulți, seniori, dar și pentru familii și femei însărcinate.
Puteți veni împreună cu prietenii, mama sau tata, bunicii sau chiar cu bebe în burtică, veți putea concura la cursele Femei pentru mame, Aleargă ca un bărbat!, Tinerii susțin viața, Copii pentru copii sau vă puteți distra la cursele necompetitive Alerg în familie, Cursa pentru seniori sau Mama merge si eu alerg în burtică.
Traseele vor fi o joacă: de la o plimbare în Rodul trandafirilor (600 m) până la o fugă în jurul lacului (2.8 km)
Veți audia concertul trupei de copii Percusionistii ADORNO sau puteți participa la Atelierele surpriză organizate pentru copiii înscriși la una dintre curse.
Vă puteți înscrie fundraiser, beneficiind de o reducere a taxei de înscriere de 100%, având ocazia de a deveni ambasadori ai misiunii LifeCall.
Fondurile obținute în urma evenimentului vor fi folosite pentru acordarea de sprijin femeilor însărcinate aflate în nevoie și copiilor lor, precum și pentru crearea primei platforme online menită să ofere informație specializată, sfaturi și soluții pentru femeile însărcinate și copii lor.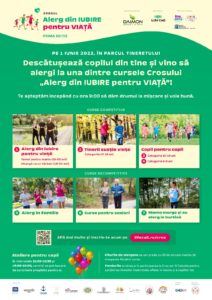 Intră https://lifecall.ro/cros/ și înscrie-te la cros, invită-ți prietenii, aleargă si prin efortul tau vei da speranță mămicilor că își pot ține pruncii în brațe, că îi pot naște fără grija zilei de mâine.
Dă un sens vieții tale! Susține viața!
Parteneri media: Radio Itsy Bitsy, Radio București FM
Sponsor Principal: Daimon Sport & SPA
Sponsori: Naturalia, Acuarela Bistro de Arte, Grădina Floreasca, Restaurant Linea Closer to the Moon, Beka's Kitchen, Restaurant Lente, Restaurant Bistro 15A, Noua Restaurant, Restaurant DaDa, Muzeul Național al Satului "Dimitrie Gusti", Casa Experimentelor, Ancora Reastaurant, Tabere cu Suflet
Partener Tehic: 42km
Despre LifeCall
Misiunea Life Call este de a oferi consiliere de înaltă calitate și ajutorul material necesar. Majoritatea femeilor însărcinate care solicită ajutor nu au un venit stabil, un loc de muncă și uneori nici măcar o locuință sigură. Astfel, ele nu sunt autonome și au nevoie, pe lângă consilierea psihologică susținută, și de sprijin financiar temporar. Fiecare caz necesită o abordare individualizată, în funcție de situația particulară a femeii în nevoie. Asociația oferă ajutor financiar în timpul sarcinii și până când copilul împlinește 2 ani, vârsta la care copilul poate începe grădinița, iar mama se poate angaja.
✖
Mulțumim pentru că vrei să fim prieteni!