Comunicarea eficientă: exercițiu pentru un interviu de angajare

www.shutterstock.com
Interviul are 30 de minute. Am 30 de minute după care persoana din fața mea va traduce în succes sau în eșec interacțiunea cu mine. Am emoții și le accept, pentru că știu că sunt pregătit, dar în același timp intru într-un necunoscut.
Pun mâna pe telefon să mai arunc un ochi la pagina de Facebook a companiei angajatoare. Am văzut că au lunar un eveniment prin care donează haine. Motivul pentru care nu am mai mult de 5 cămăși este că îmi place să donez hainele pe care nu le mai port. Am găsit un punct comun în care valorile mele și ale angajatorului coincid. Mă interesează evoluția companiei așa că citesc știri din mediul online care mă pot pune în temă cu modul lor de lucru și activitățile lor. Știu că în discuția față în față aceste informații fac diferența în mintea angajatorului între o persoană care își dă interesul și o persoană care a aplicat doar ca să mai bifeze un interviu.
Iau una dintre cămăși și mă îmbrac smart casual. Am încercat mai multe stiluri, dar în acesta mă simt cel mai confortabil. Nu vrea să mă îmbrac prea formal, nici prea sport, nu vreau să fiu întrebat dacă am venit la un meci de fotbal.
Sigur o să mă întrebe despre mine. Mă gândesc pe drum ce poveste aș putea spune care să-mi pună în evidență calitățile, dar să și fiu eu însumi. Mi-am pregătit o prezentare care în două minute descrie, pe scurt, cine sunt, pregătirea profesională și academică și obiectivul meu în carieră. Ajung cu 15 minute înainte. Aceste minute îmi permit să evaluez locul unde aș putea în viitor să lucrez. Îmi fac un mic rezumat în minte: Am ajuns ușor? Este suficient de luminat? Dacă cer un pahar cu apă cum va fi primită cererea mea? Primesc acel pahar cu apă. Știu că voi avea nevoie de el în timpul interviului pentru a-mi menține gâtul hidratat.
Zâmbesc. Asta îmi dă curaj. Chiar dacă port mască, știu că se vede pentru că am citit că un zâmbet adevărat se vede în colțurile ochilor, labă de gâscă îi zice. Zâmbesc pentru că înainte să deschid ușa sălii de așteptare mă privesc în minte din third person (din afară). Ce mișto că fac asta, îmi zic, am fost selectat pentru jobul pe care mi-l doream din facultate și acum am o șansă să arăt ce știu și ce pot. Imaginile mentale funcționează pentru profesioniștii din multe domenii, inclusiv atleți. Mă văd intrând cu energie și încredere. Și așa se și întâmplă.
Se deschide ușa. Intră intervievatorul.
Mă duc spre el. Dat fiind contextul pandemic întind pumnul pentru a-l saluta, îmi răspunde la gest. Faptul că eu am inițiat acest salut mi-a dat încredere, simt că și eu dețin controlul aici. Merg în același pas cu el. Nu vreau să pară că sunt prea grăbit, asta ar transmite că nu mă simt confortabil și că vreau să se termine mai repede interacțiunea.
Începem să vorbim. Știu că interviul nu este un interogatoriu, ci o conversație. Îi ascult cadența cuvintelor și ritmul vocii. Îmi povestește despre companie. Sunt bucuros că mi-am pregătit o listă cu întrebări. Am învățat că o cale pentru a crea o conexiune cu o persoană este aceea de a îi oglindi limbajul paraverbal și nonverbal. Înțeleg că un mare avantaj vine din capacitatea de a asculta activ. Ascult urmărindu-i firul ideilor și reacționez pe măsura dinamicii cuvintelor sale. Când pun o întrebare sau răspund am un limbaj adaptat.
Pe tot parcursul interviului îmi folosesc mâinile pentru a accentua ideile pe care le transmit. Știu că mâinile au un rol foarte important în comunicare. Mâinile care nu stau locului trădează nervi și neliniște. Mâinile care stau sub masă sugerează că intervievatul are ceva de ascuns. De aceea, când nu am nimic de zis, mâinile mele stau pe masă în poziția clopot. În poziția clopot palmele sunt deschise, unite doar prin degetele care sunt distanțate unele de celelalte. Este o poziție cumva dificil de menținut dacă persoana este crispată, și tocmai din acest motiv menținerea acestei poziții arată fermitate, putere și concentrare.
Am privit în ochi când am bătut pumnul. Pentru a nu obosi interlocutorul și pentru a nu îl face să creadă că îl privesc țintă, îmi plimb privirea în triunghiul format din vârful nasului său și ochi. În prezența măștilor de protecție privirea și tonul vocii transmit cea mai multă emoție.
Îmi pune o întrebare-exercițiu. Așa numesc eu întrebările care te fac să fii creativ, să construiești un răspuns pornind de la o situație parțial nouă. Îmi exprim ideea în propoziții scurte, vreau să fiu înțeles, nu lăudat pentru construcțiile mele verbale prea lungi. Fac legături între noțiuni pe care le folosește compania (pe care le descoperisem cu o seară înainte) și ideile creative care îmi veniseră cu o zi înainte. Când sunt creativ las impresia de unicitate, aportul pe care îl aduc îl ajută pe intervievator să vadă că pot gândi în afara cutiei.
Aleg să-mi arăt punctele slabe povestindu-i cum am învățat o lecție importantă de la profesoara mea de italiană în timpul unui proiect de echipă. Acest moment de vulnerabilitate arată încredere în sine și stabilește conexiune. Nimic nu apropie oamenii mai mult decât sinceritatea.
Mă despart de recrutor mulțumindu-i pentru timpul acordat și pentru discuția plăcută pe care am avut-o, cu încrederea că m-am descurcat bine.
Matei Iosipesc este lector la Fundația Calea Victoriei, unde susține atelierul online Vorbeşte cu încredere despre tine – How to pitch yourself in 5 minutes.
✖
Mulțumim pentru că vrei să fim prieteni!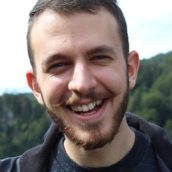 Matei Iosipescu
Matei Iosipescu este trainer certificat, Maestru Practicant NLP și lector la Fundația Calea Victoriei unde susține atelierul online Vorbeşte cu încredere despre tine – How to pitch yourself in 5 minutes.