HyperCoaching: coachingul care nu lasă în urmă nicio dimensiune umană

www.shutterstock.com
Toată lumea știe că pentru a obține rezultate, coaching-ul este un ajutor fundamental. Dar pentru a obține HyperRezultate, trebuie HyperCoaching!
Orice performer de top acceptă acum ideea că ajutorul unui coach este neprețuit, chiar indispensabil: un coach este un antrenor și – așa cum niciun sportiv nu ar putea spera să ajungă la Jocurile Olimpice antrenându-se singur – același lucru este valabil atunci când ne dorim excelența în orice alt domeniu – comercial, artistic, personal. Un coach – expert în performanță – știe când să stimuleze, când să asculte, când să încurajeze, când să provoace, când să fie empatic și când să fie sever. Mai presus de toate, un coach nu dă sfaturi, ci folosește un soi de maieutică socratică, punând ingenios întrebări care ne vor permite să ne accesăm propria noastră competență interioară, să descoperim singuri ce avem de făcut.
Toată lumea se simte îndreptățită să dea sfaturi și de aceea toată lumea crede că asta face și un coach. Dar nu mai puțin adevărat este și că sfatul este acel lucru de care înțeleptul nu are nevoie și pe care prostul nu-l ascultă. Mai știm foarte bine și ce rezultate obținem atunci când dăm "sfaturi". Adesea suntem conștienți de ce "ar trebui" să facem, știm că suntem perfect capabili să o facem, dar ne lovim de un zid de tergiversări, justificări, raționalizări, scuze, și nu acționăm. Avem nevoie de cineva care să ne facă să facem! Cei mai buni performeri din politică, afaceri, management și arte apelează la serviciile unui coach profesionist.
Însă, în ciuda rezultatelor incontestabile obținute, experiența mi-a arătat că în coaching-ul tradițional există limitări considerabile. Capacitatea de a stabili și de a urmări obiective este crucială pentru oricine dorește să obțină rezultate, dar obiectivele "personale" sunt adesea confundate cu ceea ce eu numesc "project management".
Citește continuarea articolului în ediția de noiembrie 2022 a revistei Psychologies sau abonează-te și primește revista lunar, prin curier.
✖
Mulțumim pentru că vrei să fim prieteni!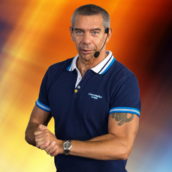 Bruno Medicina
Bruno Medicina este Performance Coach (HPCC), Trainer, Autor şi Speaker, cu aproape 40 de ani de experienţă în a-i ajuta pe oameni să descopere şi să îşi folosească potenţialul lor pentru a obţine performanţe de top în orice domeniu, cu o atenţie specială pe vânzări, leadership, sport şi muzică. Are un background solid în filosofie, muzică clasică, arte marţiale şi psihologie şi o serie de cunoştinţe în domenii mai puţin formale (Programare Neurolingvistică, Hipnoză Ericksoniană, Coaching, Hyper Performance Training, Total Quality Management, Arte marţiale, Firewalking, Boardbreaking, etc.) şi împărtăşeşte cu entuziasm experienţa sa umană şi profesională. Prin urmare, îşi menţine o activitate intensă ca trainer, coach, speaker şi consultant. Dincolo de repertoriul standard de training, Bruno a dezvoltat o serie de seminarii originale care includ experienţe de mare impact, precum Firewalking (Fire Up Your Power Seminar) şi Boardbreaking (FLY – Find the Leader in You Seminar) şi traininguri deosebite de nivel avansat unde se aplică cele mai recente descoperiri în Psihologia Evoluţionistă, Teoria Jocurilor, Neuromarketing şi Fluxogenics. Creaţiile sale mai recente sunt: Effortless Performance Training: The F.L.O.W. System – bazat pe ultimele cercetări privind aşa-numita "stare de flux" şi utilizarea potenţială a acesteia în afaceri, sport şi viaţa personală pentru a obţine rezultate maxime cu efort minim; In flow with the Infinite: the secrets of charisma – un mod complet nou de a se reconecta cu identitatea cea mai profundă şi de a elibera adevărata esenţă a puterii şi a conducerii; HyperCoaching: a multidimensional experience of growth – un model de coaching care abordează toate aspectele unei performanţe, pentru a obţine rezultate excepţionale în orice domeniu, personal şi profesional.