Know Yourself! Be Yourself! Program de dezvoltare personala adresat comunitatii LGBT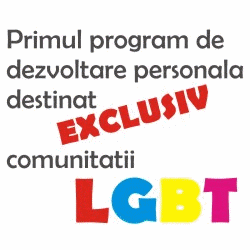 Incepand cu 15 iunie 2010, membrii comunitatii LGBT din Romania se pot inscrie la primul program de dezvoltare personala special conceput pentru ei: Know Yourself! Be Yourself!
Programul realizat de Asociatia Romana pentru Sanatate Mintala urmareste sa trateze, intr-o maniera adaptata particularitatilor acestei comunitati, aspecte ale vietii personale precum auto-cunoasterea, dezvoltarea imaginii de sine si a identitatii, imbunatatirea comunicarii si inter-relationarii, dezvoltarea abilitatilor de management al vietii, dezvoltarea abilitatilor de cuplu si imbunatatirea vietii sexuale.
"De foarte multe ori, din dorinta de a nu da dovada de discriminare, multi specialisti in sanatate mintala integreaza persoanele gay in programele terapeutice, de consiliere sau de dezvoltara personala alaturi de persoane heterosexuale. Desi nu este in sine o eroare, nu trebuie niciodata sa uitam ca persoanele gay, apartinand unei minoritati, sunt supuse unor presiuni suplimentare, nascand nevoi si problematici diferite, ce trebuie sa fie abordate in mod specific. De aceea, programele dedicate strict comunitatii LGBT sunt mult mai eficiente in lucrul cu imbunatatirea vietii persoanelor gay", afirma psih. Alexandru Manescu, coordonatorul programului si presedinte al Asociatiei Romane pentru Sanatate Mintala.
"Poate cel mai important aspect pe care un program de dezvoltare personala in cadrul comunitatii LGBT trebuie sa il aiba in vedere este consolidarea si eficientizarea unui stil autentic de viata 'gay' care sa inglobeze in profunzime orientarea sexuala si care sa se desprinda de simpla abatere de la stilul 'heterosexual' doar prin angajarea in raporturi sexuale cu persoane de acelasi sex. Michel Foucault spunea ca 'A fi gay nu inseamna doar… a te identifica cu trasaturile psihologice si mastile vizibile ale homosexualitatii, ci inseamna a incerca sa dezvolti un stil de viata", adauga specialistul.
Durata programului de dezvoltare personala Know Yourself! Be Yourself! este de 12 luni calendaristice, acesta fiind structurat in intalniri bilunare. Programul va debuta in luna septembrie a acestui an, reunind instrumente de training, consiliere de grup, dezvoltare personala si auto-cunoastere.
Perioada de inscrieri este 15 iunie – 15 august, acestea putand fi realizate prin e-mail la [email protected] si telefonic la 0744.670.673.
Pentru mai multe detalii privind desfasurarea programului, tarife si reduceri, va invitam sa vizitati www.arsm.ro, sectiunea Programe.
Parteneri media ai programului: www.stirigay.ro, www.zonagay.info, www.medicpentrutine.ro .
Date de contact:
Web: www.arsm.ro
E-mail: [email protected]
Telefon: 0744.670.673
✖
Mulțumim pentru că vrei să fim prieteni!