FoxfireFoxfire. Confesiunuile unei gasti de fete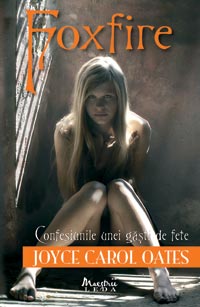 New Yorkul anilor 1950. Istoria secreta a unei gasti de adolescente rebele, conduse de enigmatica Legs Sadovsky – "amestec de Robin Hood in varianta feminina si revolutionar marxist, de personaj naiv dotat cu o inteligenta ascutita si eroina de o indrazneala incredibila si o forta exceptionala" .
Library Journal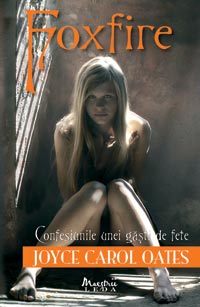 New Yorkul anilor 1950. Istoria secreta a unei gasti de adolescente rebele, conduse de enigmatica Legs Sadovsky – "amestec de Robin Hood in varianta feminina si revolutionar marxist, de personaj naiv dotat cu o inteligenta ascutita si eroina de o indrazneala incredibila si o forta exceptionala" .
Library Journal
"Fascinant… Poseda acea calitate despre care Hemingway spunea ca o au toate romanele mari: este mai adevarat decat realitatea."
Boston Globe
Dincolo de socantele scene de violenta, romanul este povestea legaturii speciale, emotionante si tulburatoare ce le uneste pe cele cinci adolescente si le insufla curajul de a merge mai departe. Foxfire nu este altceva decat refugiul lor din calea unei lumi ce sta sub dominatia masculina si modul lor de a face dreptate in numele celor slabi si neputinciosi.
In 1996, romanul Foxfire a fost ecranizat, filmul Foxfire (cunoscut publicului roman sub titlul de Adolescente rebele) avand-o in rolul principal pe Angelina Jolie.
"Joyce Carol Oates are in continuare puterea de a surprinde… Legs Sadovsky este una dintre cele mai reusite creatii ale sale…"
Chicago Tribune
"O poveste impresionanta… induiosatoare si scrisa cu multa maiestrie… "
Houston Post
Prozatoarea americana JOYCE CAROL OATES (n. 1938, Lockport, New York) este una dintre cele mai prolifice autoare ale literaturii contemporane. A publicat si sub pseudonimele de Rosamond Smith si Lauren Kelly.
Este detinatoare a numeroase premii, printre care: National Book Award, acordat pentru romanul Them (1970), Rea Award for the Short Story (1990), Chicago Tribune Literary Prize (2006), precum si a prestigiosului Prix Femina ‰tranger (2005), pentru romanul The Falls. A fost nominalizata de trei ori la Premiul Pulitzer si figureaza printre favoritii la castigarea Premiului Nobel pentru Literatura.
Abonează-te la newsletter!
Primește săptămânal resurse prin intermediul e-mail-ului!
Mulțumim pentru că vrei să fim prieteni!