Sportul si copii – aspecte si implicatii psihologice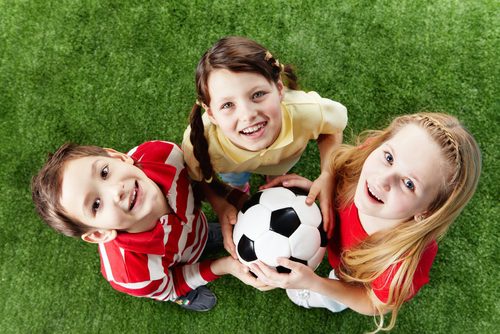 Ca orice alta activitate de educatie si sportul se preda si se invata. Este un proces de invatare de lunga durata, un sir lung de experiente pozitive si negative, toate folositoare si de neinlocuit.
In marea majoritate a cazurilor, copiii sunt dusi de mici la sport, unul ales de parinte care la randul lui alege in functie de propriul sau trecut, de ambitii, sportivi de top, idealuri, costuri, sporturi la moda etc., copilul nefiind in masura (nestiind) sa aleaga pentru el.
Ce vor copiii?
Ei vor sa se joace, sa experimenteze lucruri noi in ritmul propriu, sa le faca pe plac lui mami si lui tati, sau li se promit alte avantaje in schimbul participarii la orele de antrenament. Cam asta e motivatia initiala.
Reteta ar putea avea succes daca pe parcurs nu s-ar modifica cea mai importanta componenta motivationala a tinerilor sportivi: bucuria jocului! Bucuria timpului petrecut cu noii prieteni, bucuria noilor descoperiri!
Placerea e usor dar foarte sigur inlocuita de accentul prea mare pus pe victorie (cu orice pret). Bun! Si ce-i rau in asta? Am fost intrebata… Doar pentru asta ne chinuim cu antrenamentele! Pentru competitii castigate! Pentru victorii! Corect! Dar cu ce pret?
De ce nu se pot bucura de parcursul lor sportiv, de antrenamentele si asa solicitante, de infrangerile in urma carora invata sa devina mai buni, de prieteniile legate pe viata intre colegi?
Initial, copiilor li se permite si sunt incurajati sa se bucure de antrenamente (de sportul respectiv), apoi vin si primele competitii.
Timizi, isi fac curaj si accepta sa participe la concurs, fara sa stie ca atitudinea profesorilor si a parintilor depinde in mare masura de reusita sau de nereusita lor.
Fara sa stie ca unii dintre ei, cei mai putin norocosi, mai putin inzestrati cu aptitudini motrice, vor abandona in urma presiunii enorme din partea parintilor si antrenorilor, pentru a performa la asteptarile acestora, neputand si nestiind cum sa faca fata abandonului emotional.
De fapt, copiii vor experimenta umilinta, ignorarea, uneori agresivitatea verbala si fizica, ducand in final la trairea sentimentului de esec cauzat de frica si neincrederea in sine.
Eu as indrazni sa spun ca daca antrenorii ar pune mai mult accent pe minte si suflet cum pun pe antrenarea corpului, ar crea adevarate valori si performeri sportivi.
Copiii invata, fara sa inteleaga, faptul ca reusita e supraapreciata, iar nereusita e pedepsita cu antrenamente mai grele, ore suplimentare, interdictii ale placerilor, injurii, amenintari etc.
Practic, copilul lupta sa castige pentru a evita consecintele negative si pentru notorietate si nu pentru bucuria si placerea proprie.
Se poate face ceva?
Primul pas in rezolvarea, imbunatatirea, unei situatii este constientizarea. Constientizarea faptului ca o astfel de optica duce la afectarea increderii de sine, elementul cheie in deznodamantul fericit al oricarei activitati, avand ca rezultat direct rezultatele slabe pe terenul de sport.
Apoi, intarirea relatiei dintre parinti si antrenori pentru asigurarea unui mediu suportiv si pozitiv, liber de ambitii (altele decat cele ale tanarului sportiv), a unui mediu echilibrat, orientat spre bucurie si placere, cu mult respect fata de compromisurile, greutatile si rigiditatea vietii de sportiv.
In afara de calitatile fizice necesare, diferenta dintre un sportiv si un campion o da mediul in care cei doi isi desfasoara activitatea sportiva. Relaxarea parintilor si a antrenorului, renuntarea la propriile lor ambitii si asteptari in favoarea integritatii si sanatatii mentale, emotionale si sociale a sportivului.
Emotiile corect gestionate in cariera sportiva contribuie la maximizarea potentialului sportiv (fara alte constrangeri), reducerea stresului pre si post competitional precum si la interpretarea normalizata a infrangerilor, cu aplicatii si in alte aspecte ale vietii active, contribuind la gestionarea mai buna a situatiilor stresante, la pozitivarea perspectivelor in general, avand ca rezultat o mai buna calitate a vietii.
Autor: Florentina Ciolacu, psihoterapeut, tel. 0733.01.51.61, e-mail: [email protected], www.cabinetpsihoterapieciolacuflorentina.ro
Foto: Shutterstock, Happy friends on the grass with ball looking at camera
✖
Mulțumim pentru că vrei să fim prieteni!