Barbatii cauta femei mai mult decat femeile cauta barbati?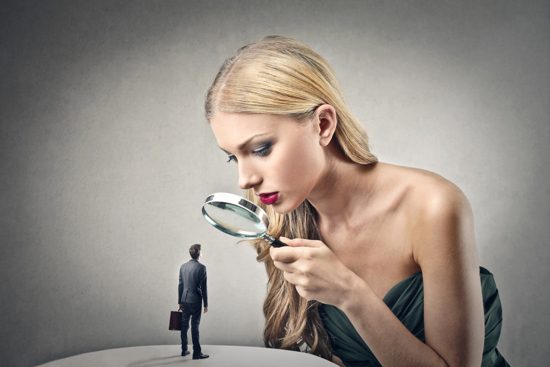 Aurora Liiceanu studiaza si scrie despre femei si schimbarile de moravuri din sanul diverselor comunitati romanesti. Am intrebat-o care mai sunt schimbarile acestea si care sunt puterile ce raman a fi castigate.
Psychologies: Ce v-a impresionat recent in subiectul femeilor?
Aurora Liiceanu: Am vazut recent un documentar BBC facut in 2015 de o jurnalista indianca. Ea s-a dus intr-un sat oarecare de pe langa New Delhi, unde a avut o intalnire cu o femeie specializata in uciderea pruncilor de sex feminin. Am aflat cu aceasta ocazie ca nu e legal in India sa se spuna sexul copilului la ecografie.
Dar coruptia isi spune si acolo cuvantul. Cu cerneala rosie, primesti raportul de sanatate a mamei, si asta inseamna ca e fata, cerneala albastra inseamna ca e baietel.
In acest documentar, se vede limpede ca in anumite sate indepartate exista aceasta nebunie: sa elimini fetele. Toti vor baieti! Pe de alta parte, exista date ale sociologilor care spun ca, da, se omoara la tara, dar infanticidul feminin se practica si in clasele superioare, elita Indiei.
Acest fenomen demonstreaza ca socialul si culturalul se amesteca cu demografia. In acelasi timp, dupa toate aceste pruncucideri, barbatii de acolo nu gasesc femei cu care sa se casatoreasca la varsta adulta. Pana la urma, demografia si sexualitatea sunt legate.
De curand, se arata si ca in China, din cauza politicii copilului unic, pe care toti il voiau baiat, 30 de milioane de barbati chinezi nu au astazi femei, nu au cu cine sa se cupleze.
Oamenii, de regula, sunt virulenti cu privire la solutiile date de sociologi. Au reactionat impotriva unui sociolog de acolo care a sugerat poliandria, ca o femeie sa aiba mai multi barbati parteneri. Sau homosexualitatea.
Poliandria mai e raspandita intr-o zona din Peru, unde clima e aspra. Femeia are acolo doi barbati, unul care sta in casa, unul la camp. Dupa un an, se rotesc rolurile masculine…
Ca si la Köln sau in cazul violului din Vaslui, se vede faptul ca sexualitatea schimba societatea si creeaza niste situatii ciudate. Noi am invatat sa punem sexualitatea si demografia pe planul doi si politicul pe planul unu.
Suntem oameni, dar avem si o profunda determinare biologica. Barbatii cauta femei poate mai mult decat femeile cauta barbati…
Au femeile o putere a lor, specifica, in spatiul social si domestic din Romania?
A. L.: Cred ca femeile au o putere mai greu vizibila. Femeile "lucreaza" mai mult din afara granitelor, au putere mare in relatia de cuplu, dar nu o folosesc ca strategie sistematica de a obtine oarecare drepturi.
Mamele au influenta mare, cele de baieti cu precadere. Vedeam statistici ce aratau ca motivele de divort erau soacrele, mamele barbatilor.
Nu mai vorbesc de partea culturala, injuraturile sunt de mama, nu de tata. Femeia are putere nu atat ca partenera, ci ca mama. Mama "bate" nevasta.
Mamele de baieti… au ele putere sa creasca baieti vrednici?
A. L.: Cred ca ele se gandesc mai degraba ca fiii trebuie sa gaseasca o femeie care sa preia rolul de mama. Sigur ca nu e bine, dar si mamele de baieti sunt reticente cand vad ca baiatul da de o fata independenta, cum nu a fost ea, mama.
Dar pe piata muncii?
A. L.: Cartea Global Woman: Nannies, Maids, and Sex Workers in the New Economy se refera la migratia femeilor azi, ceva de neconceput altcandva in istorie.
Mereu au fost barbatii cei care au plecat sa aduca bani acasa. Acum, uite ca pleaca femeile. Plecand, li se schimba psihologia, vederile asupra lumii.
Autoarea, Barbara Ehrenreich, spune ca rolurile traditionale ale femeii nu sunt peste tot depasite prin emancipare. Cartea are subtiltul: Nannies, Maids, and Sex Workers.
Aceste trei roluri esentiale ale femeii (matern, de ingrijire a casei si de satisfacere sexuala a barbatului) sunt preluate de femei din tari sarace pentru a fi favorizate cele din tari bogate, care vor sa faca o cariera.
Discutia e legata de faptul ca femeile care fac copii in America isi iau femei din lumea a treia, care si lasa copiii in grija familiei si le trimit bani.
Copiii americani deschid ochii gangurind in thailandeza si alte limbi care nu au legatura cu cultura lor. Exista transferul acesta matern, copilul raspunde la maternitatea unei dadace.
Noi vorbim mult de emancipare, ce inseamna ea, rolurile in familie cum se misca, fara sa ne gandim ca, de fapt, cineva trebuie sa spele ciorapii.
Fac asta barbatii? Ne indreptam spre o societate androgina, in care barbatii fac treburi de femei si ele de barbati?
A.L.: Parerea mea e ca s-a spart aceasta globalizare a perceptiei, in fond ar trebui sa fie lasati in pace. Cred ca ceea ce ne salveaza este respectul fata de structura psihologica si de aspiratiile fiecarui individ. Sa nu strambam din nas ca el sta acasa si spala rufe, iar ea conduce o banca…
Noi, toti, avem si trasaturi masculine si feminine, societatea ne directioneaza, e adevarat, spre roluri de barbati sau femei, dar pot spune ca multe femei, ca rol social, sunt barbati. Si multi barbati sunt mai curand femei. Ingrijiti, supusi in luarea deciziilor si cresterea copiilor.
Cum ar trebui crescute fetele ca sa fie mai fericite?
A. L.: Sa fie invatate sa-si produca cu mintea lor si analiza de sine un model de cuplu, de viata, dupa care sa caute apropierea in functie de acesta.
Spun asta pentru ca nu exista un mod de a-i face pe copii sa inteleaga ca tine de ei sa se gandeasca mai tarziu ce cuplu doresc, ce perceptie a feminitatii sau masculinitatii vor avea.
In trainig-urile americane exista, la inceput, "identificarea nevoilor". Despre asta vorbim. Fericirea si adaptarea sunt consecinte ale felului cum te percepi si te cunosti si ale asteptarilor de la viata.
Daca vreau un anumit tip de barbat, il caut pe ala, daca vreau altul, il caut pe celalalt. Asta trebuie sa fie invatate, sa identifice nevoile proprii. Ca sa existe o compatibilitate de asteptari in cuplu.
Oamenii vin adesea cu asteptari diferite in cuplul lor si se creeaza acest clivaj, care duce la separare. Si sa li se spuna ca fericirea e un construct personal. Sa nu obligam oamenii sa traiasca dupa constructele altora…
A consemnat Iuliana Alexa
Foto: shutterstock.com
✖
Mulțumim pentru că vrei să fim prieteni!