Cum putem transforma un esec intr-o oportunitate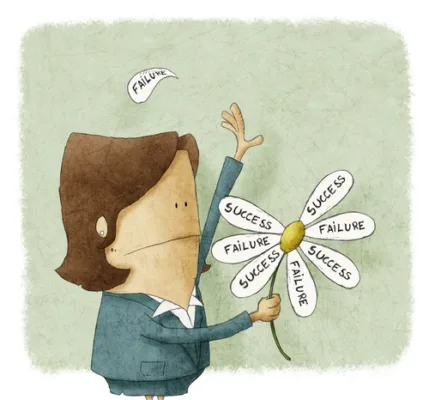 A fost odata ca niciodata… o persoana care incerca din rasputeri sa se afirme profesional. Esecul a venit insa repede. Cauza lui era neclara: Decizii gresite? Canalizarea nepotrivita a energiei?
Majoritatea s-ar fi oprit aici. E mai usor sa pui capul in maini si sa plangi. E necesar sa faci si acest lucru, atat timp cat suferinta cauzata de esec nu este prelungita la nesfarsit.
Regula obtinerii succesului, de orice fel, este sa continui. Sa mai faci un pas atunci cand esti convins ca nu mai are sens, ca nu mai exista speranta. Orice lucru bun, orice experienta fericita, se gaseste dupa ceva cu adevarat descurajator.
Exemplele sunt numeroase, chiar si in cazul celebritatilor. Walt Disney lucra ca redactor la un ziar inainte sa ajunga celebru. Concedierea a fost doar un impuls.
Oprah Winfrey, inainte de a avea propriul talk-show, a  fost concediata de pe postul de reporter TV, culmea, pentru ca "nu dadea bine pe sticla".
Sentimentul cu care ne confruntam dupa un esec este cel de teama. Aceasta se cuibareste atat de bine in sufletul nostru, incat avem impresia ca face parte din noi, ca ne-am transformat in persoane slabe, inutile.
Exercitiul cel mai eficient in astfel de moment este acela de a ne aminti una dintre deciziile bune pe care le-am luat in trecut. Aceasta poate sa apara usor in gand sau, dimpotriva, dupa ceva vreme. Dar cu siguranta exista. Doar trebuie sa ii lasam timp sa isi faca curaj sa apara.
Urmatoarea intrebare necesara este: "Ti-a fost frica atunci?". Daca raspunsul este "da", atunci gandeste-te cum anume ai controlat emotia. Sau cum ai reusit sa o ignori.
Daca raspunsul este "nu", gandeste-te daca a existat vreo legatura intre sentimentele din momentul respectiv si rezultatul ulterior. Anticipai un rezultat pozitiv al actiunilor tale?
Ce poti face concret pentru a depasi un esec
Acorda-ti timp pentru a-ti exterioriza dezamagirea. Este inutil sa o ascunzi sau sa te prefaci ca nu este acolo. Ai dreptul sa suferi putin.
Gandeste-te ce ai face daca nu ti-ar fi frica. Poti nota tot ceea ce iti trece prin cap. Claritatea lucrurilor este alta atunci cand sunt asternute pe hartie.
Adu-ti aminte de o decizie buna pe care ai luat-o. Gandeste-te la felul in care te-ai simtit inainte si dupa luarea ei, cat de multumit/a ai fost, cat ai muncit si care au fost beneficiile. E bine sa iti aduci aminte ca poti lua si decizii bune.
Priveste esecul diferit. Daca ai gresit, te poti gandi ca acum stii exact ce sa nu mai faci. Daca te simti la pamant si moralul tau e sub nivelul marii, gandeste-te ca tocmai ai simtit cum e sa suferi cu adevarat. Daca nu mai ai nimic de pierdut, acum e momentul sa risti si sa iesi din impas.
Inconjoara-te de oameni pozitivi. Avem nevoie de sprijin si incurajari. Cauta prieteni sau membri ai familiei care sa iti zambeasca si pe care sa te poti baza. Sau, de ce nu, un patruped care sa iti ridice moralul prin simpla lui prezenta.
Esecul este doar un mod de a privi lucrurile. Este dureros, dar necesar, iar fiecare dintre noi are nevoie sa il cunoasca pentru a aprecia apoi succesul, bucuria. Plafonarea, refuzul de a "iesi" dintr-un esec sunt cele care distrug. Nu esecul in sine. El poate fi doar un semnal de alarma pentru schimbarea viziunii si a modului de a trai viata.
Autor:  Dana- Alina Ungureanu  – People Challenger
humans – PEOPLE ACADEMY
Foto: Success and failure in petals of a daisy
✖
Mulțumim pentru că vrei să fim prieteni!