Cum sa te exprimi convingator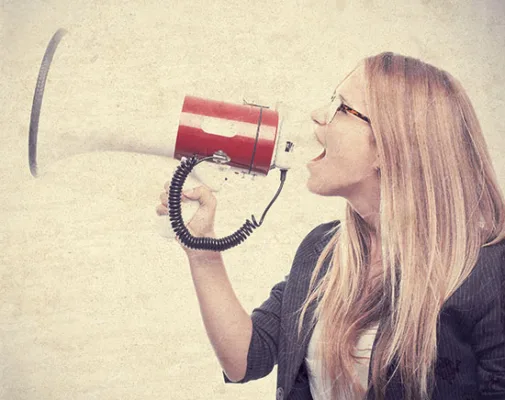 Unii incearca in toate felurile, fara a-si impune punctul de vedere. Altii reusesc usor sa domine. Care este diferenta? Este una de comunicare a ceea ce ai de spus.
Simplitatea
O idee trebuie redusa la esenta ei pentru a fi memorabila. O idee trebuie "decojita" pana la esenta ei conceptuala, care trebuie apoi comunicata.
Constructia mesajului este mai eficienta daca e sub forma piramidei inversate: cu ceea ce este mai important la baza, in prima pozitie.
Exemplu: If you say 3 things, you don't say anything. In 1992, economia americana era in recesiune si Bill Clinton concura pentru postul de presedinte cu Ross Perot.
James Carville, seful de campanie al lui Clinton, a schitat pe o tabla cateva idei pe care trebuia comunicat. Esenta a fost: It's the economy, stupid!.
Carville a explicat ulterior ca era un mesaj pentru echipa lui Clinton, acela de a nu complica lucrurile. Ross Perot vorbea despre bugete etc.
Adica, da, corect, dar prea complicat pentru un mesaj politic de masa. O alta consecinta utila: daca vrei ca oamenii sa ia o anumita decizie, nu le da de ales dintre multe alternative.
Exercitiu de facut. Daca vrei sa comunci ceva important echipei tale sau copiilor, ce poate fi "dezgolit" pana la esenta comunicarii si mesajului?

Concretete
Trebuie sa comunici clar, ca pentru copii. Nu te pierde in adjective si incercari stilistice. Fa din lucrurile abstracte ceva concret, daca vrei sa convingi.
Exercitiu. Cum faci dintr-o cauza, o idee, ceva concret, palpabil, eventual foarte personal pentru publicul caruia i te adresezi?
Tot o recomandare legata de concretete: exprima-te caaat mai simplu! Foloseste un limbaj pe care il pricepe toata lumea. Si exemple cat mai personale posibil!
Exercitiu. Faci o campanie de strans donatii in contul cercetarii unei afectiuni rare. Sau pentru constientizarea incalzirii globale. Cum concepi mesajele astfel incat ele sa fie cat mai simple si mai personale?

Credibilitate
Un mesaj trebuie fie formulat scurt si convingator. Reagan, in 1980, la alegeri, a lansat un singur mesaj catre electorat:
"Intrebati-va daca sunteti mai bine economic acum decat in urma cu patru ani". A fost destul ca el sa castige contra lui Jimmy Carter.
Credibilitatea este data de autoritate. Oameni care au o anumita pozitie in campul stiintific, politic etc. Dar si de cei obisnuiti, cu care receptorul mesajului se identifica (nu-i asa ca te conving testimonialele pentru tigai-minune luate de la doamne oarecare sa cumperi si tu una atunci cand cauti asa ceva?)

Emotii
Un mesaj emotionant si emotional e mai memorabil decat unul rece, rational. Acesta e motivul pentru care oamenii mai degraba fac o donatie catre un singur copil sarac si neajutorat decat pentru o comunitate.
Copilul acela trezeste compasiunea in fiecare. O comunitate de copii saraci este o chestiune de statistica. Maica Tereza spunea odata: "Daca ma uit la multime, nu fac nimic. Daca ma uit doar la un copil, actionez".
Acest tip de emotie mai combate si efectul "picaturii in ocean": ideea ca e descurajant sa te gandesti ca donatia sau efortul tau sunt numai o picatura in ocean. E mai incurajator sa te gandesti ca poti face ceva pentru cineva, concret.
Asadar, cand vreti sa convingeti pe cineva, amintiti-va ca atentia umana e foarte limitata si trebuie concentrata pe ceva concret.
Exemplu: cand li s-au cerut donatii pentru ca "mai mult de un milion de oameni din Zambia este sub pragul foametei" versus "banii tai vor merge la R., fetita de opt ani din Mali care nu are cele mai elementare nevoi indeplinite", oamenii au donat de doua ori mai multi bani pentru fetita respectiva.
Asadar, cum facem oamenii sa fie atenti la o idee? Ii facem:
sa fie emotionali si nu analitici;
cream empatie pentru indivizi (nu mase);
asociem ideea/cauza cu ceva de care le pasa deja.

Caracter neasteptat
Trebuie mereu contrazise asteptarile celor care te citesc sau asculta, daca vrei sa creezi mesaje memorabile. Oamenilor li se atrage atentia daca si tu comunici contrar tiparelor lor de functionare. Surpriza!
Comunicarea cu accent pe surpriza imprima caracter memorabil. Pentru a face o idee sa se… lipeasca, sa fie memorabila, trebuie, asadar, gasita esenta ei si comunicata intr-un fel care sparge tiparele.
Intrebari utile: ce are inerent, neasteptat, o idee si poate fi comunicat? Ce e contraintuitiv? Bunul simt si asteptarile indeplinite nu duc la mesaje care sa ramana lipite in mintea auditoriului.
Studiu de caz. Imediat dupa 9/11, mai bine de jumatate dintre americani erau convinsi ca SUA ofera prea multi bani ca ajutor statelor subdezvoltate. Mesaj de la Intercommunity Peace and Justice Center:
"Americanii cred in continuare ca dam prea multi bani pe ajutor extern. In anul 2003, Bush a dispus acordarea de 15 miliarde de dolari ajutor, din care 7 miliarde vor fi ajutoare militare, nu economice.
Cele 8 miliarde de dolari ajutor economic insumeaza mai putin decat cheltuielile de razboi in Irak timp de… o luna. Asadar, dintre toate tarile industrializate, SUA acorda cel mai mic ajutor financiar, proportional cu puterea sa economica.
Toata Africa Subsahariana primeste anual 1 miliard de dolari, mai putin decat costa un B2 Bomber. Asadar, realitatea contrazice ideea ca SUA sunt renumite pentru binefaceri in lume".
Ideea ar fi putut fi scrisa mai bine (contrazicand frontal asteptarile si devenind mai pregnanta):
"Programele SUA nu sustin ideea ca America e cel mai generos stat. Publicul crede ca noi cheltuim o gramada de bani ajutand alte state.
Sondajele spun ca americanii cred ca Guvernul lor cheltuieste pana la 15% din buget pe ajutoare externe. Adevarul este ca noi cheltuim mai putin de 1%, cel mai putin dintre statele industrializate.
Toata Afica Subsahariana primeste cam 1 miliard de dolari. Daca fiecare persoana din SUA ar ceda pretul unei singure bauturi carbogazoase, am putea dubla ajutorul acordat acestei zone.
Daca fiecare american ar ceda pretul unei bauturi plus pretul unui bilet la film, am putea dubla ajutorul acordat in prezent Africii si Asiei".
Morala? E bine sa contrazici asteptarile in comunicare daca vrei sa convingi!
✖
Mulțumim pentru că vrei să fim prieteni!
Iuliana Alexa
Iuliana Alexa a fost redactorul-sef al revistei Psychologies de la aparitia primei editii a revistei până în anul 2019. Iuliana a absolvit Facultatea de Litere si este coach.