Ratiune vs. emotii, ce alegem?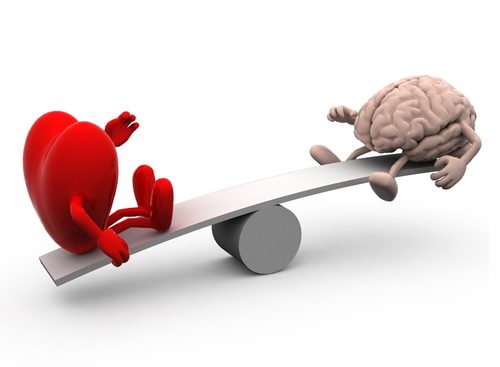 Am fost obisnuiti pana acum cu o abordare mult mai palpabila a realitatii – ,,nu cred pana nu vad" sau tendinta noastra de a alege de prea multe ori inteligenta rationala, logica, in detrimentul celei emotionale si creative. Ce avem de pierdut din aceasta ecuatie?
Cand ma refer la inteligenta noastra emotionala, am in vedere toata realitatea noastra psiho-emotionala, pe care, in general, oamenii o descalifica.
Pana acum, s-a incurajat foarte mult o cultura a competitivitatii, in care doar daca erai cel mai bun puteai reusi. Cum ajungeai sa fii cel mai bun? Prin a face lucrurile deja recunoscute si incadrate intr-o paradigma general acceptata.
Astazi, atat in relatiile noastre personale cat si in cele profesionale, nu mai este suficient sa fim cei mai buni, cei mai rapizi, cei mai inteligenti etc. Mai mult decat atat, aceste trasaturi, in exces, duc uneori chiar la o deconectare de ceilalti si ne fac sa ne simtim singuri si neintelesi.
Cand cu greu mai tinem pasul cu inovatia si competitivitatea nu mai functioneaza, este nevoie de o conectare mult mai puternica la cei din jur si la ceea ce ne leaga pe noi, ca oameni.
E nevoie de dorinta noastra de a construi pe piloni stabili, de a impartasi cine suntem si ce e important pentru noi, de a avea o viziune si un sens comun cu ceilalti.
Atunci cand ignoram realitatea noastra emotionala, reactiile fata de ce se intampla in organizatia in care lucram, de exemplu, sunt de aparare a teritoriului si sunt neconstructive pentru activitatea tuturor: ,,Eu mi-am facut treaba, ce mai vrei de la mine?", ,,Ce sa ma invete altii pe mine? De ce ar trebui sa ii ascult pe ei?".
Cu siguranta acestor replici le precede o realitate interioara care este la fel de adevarata si palpabila ca orice descoperire stiintifica, insa cu totul ignorata de cele mai multe ori.
Aceasta atitudine de inchidere fata de cei din jur duce la echipe disfunctionale, cu un grad mare de protejare a imaginii personale si un grad mic de incredere si lucru in comun.
Cum putem sa ne dezvoltam inteligenta emotionala
– E necesar sa facem o lista cu toate emotiile pe care le avem, chiar si cu cele de care ne ferim, care ne sperie si pe care nici nu constientizam ca le simtim initial.
– Apoi, este nevoie sa ne intrebam ce ne face sa le pastram pentru noi si sa nu le verbalizam.
– Nu in ultimul rand, trebuie sa ne gandim care ar fi urmatorii pasi pentru a iesi din zona noastra de confort si sa intelegem ce ne aduce acest lucru.
Am lucrat la un moment dat cu un manager, proaspat adus la conducerea unei echipe noi, care a constatat ca oamenii considerati initial ineficienti s-au dovedit de fapt eficienti, iar cei despre care se credea ca sunt performanti nu au avut rezultatele asteptate.
Abordarea lor nu era una de lucru in comun, chiar daca, procedural vorbind, ei faceau lucrurile corect, ca la carte. Din punct de vedere pragmatic, poti depune tot efortul pentru reusita, insa in zadar daca nu exista o conectare la ceva mai mare, o viziune impartasita de toti si o directie pe care fiecare si-o doreste in mod autentic.
Existenta noastra nu se rezuma doar la gandirea stiintifica, logica, despre care stim deja ca a dat rezultate pana acum. Se vede tot mai clar ca, alaturi de inteligenta noastra rationala, este necesar sa ne folosim in egala masura si de inteligenta creativa.
Va invit sa va folositi de inteligenta pragmatica in completarea celei emotionale si relationale. Cu siguranta, blocarea inteligentei emotionale nu ne va face mai fericiti si nici nu ne va aduce mai aproape de ceilalti.
Autor: Lilia Dicu, Daring Executive Coach, www.liliadicu.ro
Foto: Shutterstock, Seesaw with heart and brain
✖
Mulțumim pentru că vrei să fim prieteni!