Sensul si nonsensul vietii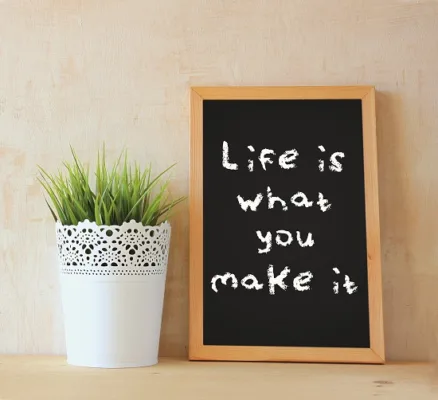 Viata mea nu mai are sens…, nu vad sens in nimic… Sigur, multi dintre noi aud, de cateva ori in viata, de la prieteni, astfel de afirmatii. Asta, cand nu le formulam chiar noi. Dar ce inseamna, de fapt, "sensul" vietii?
Sursa intrebarilor
Ce ne face sa ne adresam astfel de intrebari grele, abstracte, de ce anume se leaga astfel de interogatii? Adesea ne simtim depasiti de ceva concret, de familia nerecunoscatoare pe care ne-am dorit-o fericita si seni­na, dar care nu e deloc asa.
Poate ca e, dimpotriva, sursa multor conflicte sau este indiferenta. Sau, obositi de serviciul stresant si de afacerea care nu merge, in ciuda eforturilor, nu mai vedem sens in niciun demers de acest fel.
Cautam atunci un colt de natura, absenta oricarei provocari, a societatii umane atat de exigente si de competitive, vrem sa fugim de lume, de familie, de colegi, de oricine. Nu mai gasim sens in viata, nu ne mai convine nimic, vrem altceva. Vrem sens…
Viktor Frankl este cunoscut pentru afirmatia ca "omul e singura fiinta care are nevoie de sens". Si ca aceasta cautare a sensului vietii este cea mai pregnanta manifestare a conditiei umane.
De unde vine?
Cu toate acestea, nu stim de la inceput ce confera sens vietii noastre. De foarte multe ori, preluam de la altii (familie, prieteni, media, societate, in general) conceptii legate de sensul vietii.
Ni se spune de foarte devreme ca trebuie sa avem un serviciu, eventual o cariera, ca trebuie sa fim performanti social, profesional.
Ni se spune ca trebuie sa avem o familie, ca "viata nu are sens fara copii", ca dragostea e sensul vietii, ca banii sunt un obiectiv important de urmat. Si multe altele.
Adesea, ni se spune ca pasiunea, o activitate in care gasim placere, ne va aduce sens. Dintre toate aceste afirmatii si dictate culturale enumerate mai sus este cam singura care pare probata de realitate.
Sensul si fericirea
Sonya Lyubomirsky, psiholoaga americana pe care am mai citat-o anterior in revista, scrie despre ideile noastre comune asupra sensului vietii si fericirii (sper ca suntem de acord ca cele doua sunt sinonime, adica ceea ce ne face fericiti, ne da si sens – si nu credem ca suferinta si nefericirea au vreun sens in aceasta viata sau alta…) intr-o carte grozava, ce se numeste The Myths of Happiness – What Should Make You Happy but Doesn't.
Si ea zice asa: oamenii cred ca ii vor face fericiti niste lucruri care, in mod concret, nu prea reusesc sa-i multumeasca, darmite sa-i faca fericiti. De ce? Pentru ca oamenii nu-si cunosc nevoile reale, nu stiu cum functioneaza creierul lor propriu…
Credem ca vom fi fericiti alaturi de partenerul ideal. Ei bine, el nu exista. Fie ca avem deja un partener, dar nu suntem foarte incantati de el, fie ca il asteptam pe cel ideal, ei bine, strategia de a cauta Inorogul nu e cea mai buna.
Pentru ca, si daca ar fi existat partenerul acela ideal, care sa ne umple vietile de bucurie si sens, ne obisnuiam cu el sau cu ea si nu ne mai emotiona atat de tare.
Se numeste adaptare hedonica si ne afecteaza pe toti. Asadar, este mai bine sa nu cautam fericirea si sensul in amorul ideal. Pentru ca, asa cum spuneam, nu exista.
Ceea ce putem face este sa alimentam relatia acceptabila pe care o avem deja cu elemente de noutate. Sa fim prezenti, sa fim atenti. Efortul acesta s-ar putea sa ne faca fericiti, pentru ca vom vedea cum reusim sa pastram ceea ce e bun din acea legatura. Si sa ne dea sens.
Oamenii care se straduiesc sa aprecieze si sa nutreasca ceea ce au deja, sunt mai putin vulnerabili la adaptarea hedonica… Va invit sa meditati la asta.
Oamenii cred ca sensul suprem sunt copiii. Si unii se insala. Sigur, vom auzi adesea ca viata nu are sens fara copii, dar chiar asa este? Sa nu fie deloc aici influenta societatii, a parintilor etc.?
"Asteptarea ca progeniturile sa ne faca fericiti este nu doar inradacinata in cultura noastra, este cladita in mintea noastra de evolutie.
Chiar daca acest mit al fericirii ii face pe oameni sa se reproduca, el, de asemenea, creeaza un punct de criza. Atunci cand calitatea de parinti nu ne mai face fericiti, ci chiar ne face sa ne simtim insuficienti si nefericiti, urmarea e stresul, rusinea", scrie Sonia Lyubomirsky.
Cercetarile din ultimii ani arata ca, in ciuda bucuriei statutului de parinte, daca esti femeie tanara, daca esti necasatorita sau daca ai copii mici, sau copii adolescenti, atunci a fi parinte nu te face fericit. Ba, dimpotriva!
Copiii sunt costisitori, stresanti, epuizanti emotional. Oamenii nu-si reprezinta stresul parentalitatii decat dupa ce aduc acasa copilasul de la Maternitate.
"Pana atunci, ei nu pricep cum oamenii, intrebati fiind despre nivelul de fericire inainte si dupa primul copil, vor declara ca erau mai fericiti inainte", spune S. L. Copiii mai sunt (pe langa bani) si principalul subiect de cearta intre parteneri.
Atunci, cu astfel de frecusuri concrete, nu e cazul sa reevaluam ideea ca parentalitatea ne da automat sens? Eu zic ca da. Sigur, alte studii solide arata ca oamenii, in marea lor majoritate, regreta ca nu au avut copii sau ca nu au avut mai multi.
Asadar, in final, parentalitatea este o experienta datatoare de sens. Dar este un sens la care iarasi va invit sa meditati, ca sa va puteti adapta mai bine.
Banii si sensul
Banii dau relaxare si, desigur, sens. Serios? Sa ne gandim un pic. Ce ne procura banii? Siguranta. Pana aici, toate bune. Apoi, banii ne mai procura experiente interesante. Calatorii exotice, haine de calitate sau chiar de lux, o masina mai confortabila. Continuati voi.
Dar, pentru ca vorbeam mai sus despre adaptarea hedonica, va invit sa luati iar o pauza de gandire si sa meditati la sensul vietii, al banilor etc.
"Oamenii sunt programati sa doreasca, nu sa aprecieze, sa caute mai mult si mai mult, nu sa fie multumiti cu ceea ce au", scrie Sonia Lyubomirsky.
Si continua: "Studiile arata ca, dupa evenimente intens pozitive, experientele mediu pozitive (cum ar fi cina cu un amic) par banale si cele mediu negative (cum ar fi sa te gasesti prins in trafic) sunt percepute drept intens negative…".
Nu stiu cum judecati voi aceste descoperiri, dar mie imi par foarte importante. Ele arata ca emotiile noastre sunt relative mereu, ca se raporteaza la ceva, la altceva.
Si ca o suita interminabila de experiente nemaipomenite pe care ti le procura banii (croaziera in Caraibe, plus jackpot la cazino, plus cel mai sexi exemplar de pe vas in camera ta, etc.), devin, una dupa alta, niste banalitati…
In concluzie…
Ce vreau eu sa spun cu tot acest excurs in psihologia fericirii si sensului? Cred ca sunteti de acord cu mine: sensul vietii e un by product, daca suntem fericiti, nu ne mai punem problema sensului, si actiunile si viata noastra par pline de sens…
Este, insa, evident ca nu stim mereu cum functionam si ce ne face fericiti. Cautam lucruri despre care descoperim ulterior ca nu ne dau nicio satisfactie, ne implicam si urmarim scopuri care nu sunt pe sufletul nostru…
Si atunci, la un moment dat, ajungem sa ne putem intrebarea: la ce bun? La ce bun toate astea? Ce sens au? Morala e cea deja cunoscuta, inca de la antici: cunoaste-te pe tine insuti, ca sa stii de ce ai nevoie si ce anume iti da sens.
Foto: shutterstock.com
✖
Mulțumim pentru că vrei să fim prieteni!
Iuliana Alexa
Iuliana Alexa a fost redactorul-sef al revistei Psychologies de la aparitia primei editii a revistei până în anul 2019. Iuliana a absolvit Facultatea de Litere si este coach.