Ce şi-au cumpărat vedetele aseară la Viva! Shopping with Stars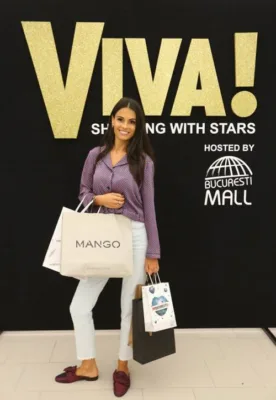 Anca Serea, Adelina Pestriţu, Amalia Enache, Carmen Brumă, Ruby, Ciprian Marica sau Nicole Cherry sunt doar câteva dintre vedetele care au participat aseară la evenimentul Viva! Shopping with Stars din Bucureşti Mall Vitan.
Vedetele au acceptat provocarea Viva! şi au profitat de reducerile oferite de numeroase magazine, ahiziţionându-şi piese  din colecţiile de toamnă-iarnă.
De la genţi şi pantofi la mantouri în culori tari, jucării pentru cei mici, cosmetice sau cadouri pentru cei dragi, listele de shopping ale vedetelor au fost pline, iar la finalul serii toată lumea a fost încântată de sesiunea specială de shopping.
Citește întregul articol AICI.
Abonează-te la newsletter!
Primește săptămânal resurse prin intermediul e-mail-ului!
Mulțumim pentru că vrei să fim prieteni!