"Despre frumusetea uitata a vietii" de Andrei Plesu – lansare si autografe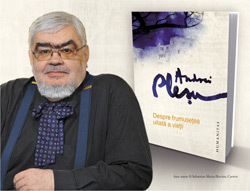 Editura Humanitas ne invita joi, 10 martie, ora 18.00, la Libraria Humanitas Kretzulescu (Calea Victoriei nr. 45) la lansarea volumului Despre frumusetea uitata a vietii de Andrei Plesu. Lansarea va fi urmata de o sesiune de autografe.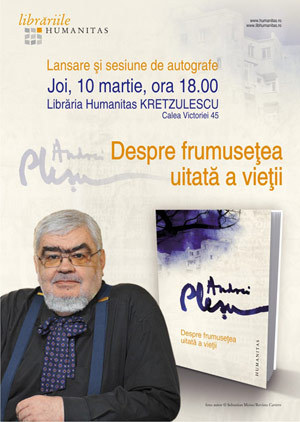 "Daca iti acorzi un cat de mic ragaz, daca arunci, de jur imprejur, o privire odihnita, curioasa si nepatimasa, vei gasi destule argumente sa te bucuri. Lucrurile (inca) functioneaza. Sarpanta lumii (inca) tine.
Mai exista inca oameni intregi, traditii vii, intalniri miraculoase. Traim intr-un sos toxic, dar el contine inca mirodenii subtile, cu efect anesteziant.
Marele animal cosmic nu pare inca sa ia in serios agitatia noastra propagandistica, spaimele noastre apocaliptice. Se poate trai. Se poate trai bine. Se poate (inca) trai frumos."
Andrei PLESU

Andrei Plesu s-a nascut la 23 august 1948, in Bucuresti.
–  Absolvent al Facultatii de Arte Plastice, Sectia de istoria si teoria artei. Doctoratul in istoria artei la Universitatea din Bucuresti, cu teza "Sentimentul naturii in cultura europeana".
–  Lector universitar la Academia de Arte Plastice, Bucuresti (cursuri de istorie si critica a artei moderne romanesti) (1980-1982).
–  Profesor universitar de filozofie a religiilor, Facultatea de Filozofie, Universitatea din Bucuresti (1991-1997).
–  Fondator si director al saptamanalului de cultura Dilema (1993).
Fondator si presedinte al Fundatiei "Noua Europa" si rectorul Colegiului "Noua Europa" (1994).
–  Membru al World Academy of Art and Science (1997). Membru al Académie Internationale de Philosophie de l'Art, Geneva, Elvetia (1999).
–  Dr. phil. honoris causa al Universitatii "Albert Ludwig" din Freiburg im Breisgau, Germania (2000) si al Universitatii "Humboldt" din Berlin, Germania (2001).
–  Commandeur des Arts et des Lettres, Paris, Franta (1990).
–  New Europe Prize for Higher Education and Research la Berlin, acordat de Center for Advanced Study in the Behavioral Sciences, Stanford, Institute for Advanced Study, Princeton, National Humanities Center, Research Triangle Park, North Carolina; Netherlands Institute for Advanced Study in the Humanities and Social Sciences (NIAS), Wassenaar; Swedish Collegium for Advanced Study in the Social Sciences (SCASSS), Uppsala si Wissenschaftskolleg zu Berlin (1993).
–  Premiul Academiei Brandenburgice de Stiinte din Berlin, Germania (1996).
–  Ordre national de la Légion d'Honneur al Frantei (in martie, in gradul de Commandeur si, in decembrie, in gradul de Grand Officier) (1999) etc.
✖
Mulțumim pentru că vrei să fim prieteni!