Dr. Gabor Maté, celebrul specialist în adicții, vine în premieră la București, la invitația Institutului pentru Studiul și Tratamentul Traumei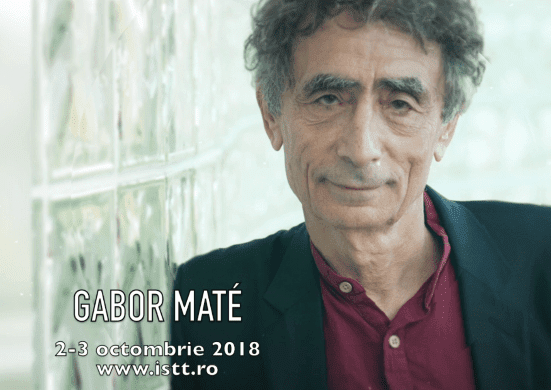 Unul dintre cei mai apreciați specialiști în studiul adicțiilor și tratarea traumelor, Dr. Gabor Maté, se va afla la București pe 2 și 3 octombrie 2018. Dr. Maté vine la București la invitația Institutului pentru Studiul și Tratamentul Traumei (ISTT), unde va susține pentru prima oară o conferință despre dependențe și mecanismul acestora, precum și despre fenomenul care se află în spatele lor: trauma și legătura dintre aceasta și boli.
Pe parcursul celor două zile, Dr. Maté va aborda subiecte legate de dependențe, va prezenta mecanismul adicțiilor, dar mai mult decât atât, va face o analiză complexă asupra a ceea ce se află dincolo de adicții, asupra cauzelor acestora: sindromul stresului sau sindromul traumatic.
"Întrebarea nu este despre sursa adicțiilor, ci despre sursa durerii." (Dr. Gabor Maté)
Iată, în esență, care este abordarea Dr. Gabor Maté. El este de părere că adicțiile vin ca răspuns al unei experiențe emoționale dureroase, al unei traume, și că adicțiile nu pot fi tratate, fără a le cunoaște cauza.
Ce este o dependență?
Dependența este, în esență, o boală. Nedescoperită sau netratată la timp, această afecțiune se poate agrava și poate avea consecințe nefaste, pe termen lung, atât pentru persoanele afectate, cât și pentru cei din jur.
"Adicțiile sau dependențele sunt un tip de comportament repetitiv, însă fără ca persoana să aibă control asupra lui, comportament care presupune să faci ceva, să iei ceva, astfel încât să ajungi să îți faci rău. Dependențele mai cunoscute sunt cele de nicotină (de ex. fumatul), de droguri, de substanțe (de ex. alcoolul sau medicamentele), de jocuri. Dar există și alte adicții mai puțin cunoscute, cum sunt cele de muncă, de internet, de cumpărături, de relații. Această repetitivitate fără control se dezvoltă datorită nevoii persoanei de a simți satisfacție intensă, de a evita activități, situații dificile, astfel că va apela din nou și din nou la substanța sau activitatea care îi face plăcere, fără să fie conștientă de această repetitivitate fără control. Cele mai multe persoane sunt convinse pentru multă vreme după ce o dependență s-a instalat deja că sunt bine, că sunt în controlul activității sau substanței respective, că ar putea întrerupe oricând și fără complicații activitatea sau consumul, că, trăgând concluzia, nu fac rău, nici lor, nici altora. Poate trece mult timp, uneori ani de zile, sau pot să se producă pierderi foarte mari și dureroase până o persoană să ajungă să realizeze că suferă de o dependență." (Diana Vasile, psihoterapeut, președinte ISTT).
Ce este o traumă?
"Trauma este o experiență internă. Foarte des oamenii și literatura de specialitate definesc trauma ca un eveniment traumatic. Evenimentul traumatic este însă ceea ce se întâmplă în exterior, nouă sau celor dragi nouă, un accident de mașină, un deces al cuiva drag, o separare sau o despărțire. Însă trauma este ceea ce ni se întâmplă nouă în interior, din cauza acestui eveniment traumatic extern. Trauma este experiența internă subiectivă, de înțepenire, de ruptură sufletească, o experiență de ruptură interioară generată de factori din situație care sunt mult prea copleșitori pentru noi, mult prea mult de dus și cărora nu avem capacitatea de a le face față. În spatele fiecărei dependențe, există o ruptură emoțională puternică." (Diana Vasile, psihoterapeut, președinte ISTT).
Cine este dr. Gabor Maté?
Dr. Maté are o experiență în tratarea bolilor psihice, în îngrijirile paliative, precum și în lucrul cu familiile, de peste 20 de ani. Timp de 12 ani, Dr. Maté a lucrat la Vancouver's Downtown Eastside, dar și la Vancouver's Supervised Injection Site, cu pacienți provocați de adicția de droguri, boli psihice și HIV.
Ca autor, Dr. Maté a scris numeroase bestseller-uri, incluzând premiatul "In the Realm of Hungry Ghosts: Close Encounters with Addiction"; "When the Body Says No: The Cost of Hidden Stress" (publicat în Statele Unite ca "When the Body Says No: Exploring the Stress-Disease Connection") și "Scattered: A New Look at the Origins and Healing of Attention Deficit Disorder" (publicat în Statele Unite ca "Scattered: How Attention Deficit Disorder Originates and What you Can Do About It"); a fost co-autor al cărâii "Hold on to Your Kids", apărută și în limba română. Operele sale au fost publicate în toată lumea, în 20 de limbi.
De ce să vii la conferință?
 "Toamna aceasta institutul nostru pregătește un eveniment deosebit. Invitatul nostru, dr. Gabor Mate, ne va vorbi despre mecanismul formării și tratării dependențelor, și despre cum ne îmbolnăvim, care este legătura dintre stres și boală, explicată pe înțelesul nostru, al tuturor.
Mecanismul formării unei dependențe are la bază o suferință emoțională intensă. Este un amestec de trăiri profunde, de frică, de neputință, de vulnerabilitate.
Conferința își propune să ofere informația necesară astfel încât să putem recunoaște și să putem ameliora, dacă nu chiar trata, dependențele și traumele din jurul nostru." (Diana Vasile, președinte ISTT)
Evenimentul se adresează atât specialiștilor, cât și publicului larg. Conferința se va desfășura la Hotel Ramada Nord, Sala Diamond, Str. Daniel Danielopolu nr 44, București.
Mai multe detalii ale programului pentru cele 2 zile puteți vedea AICI.
Abonează-te la newsletter!
Primește săptămânal resurse prin intermediul e-mail-ului!
Mulțumim pentru că vrei să fim prieteni!