Fii o mama mereu gata de actiune, cu energie de la VARTA!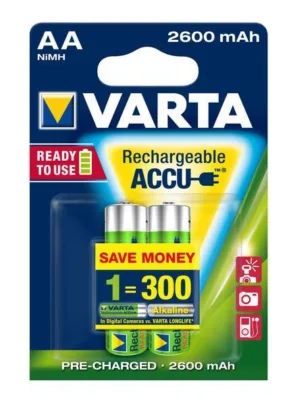 VARTA Romania relanseaza luna aceasta gama de acumulatori. Noua gama iti ofera avantajul de a-i folosi imediat dupa cumparare, fara a fi nevoie sa ii incarci inainte, datorita tehnologiei Ready To Use. Ca urmare a acestui beneficiu, aparatele si electrocasnicele prind viata exact atunci cand ai cea mai mare nevoie, fara a trebui sa astepti, la prima utilizare, cele pana la 16 ore necesare pentru incarcarea altor acumulatori.
Fie ca doar ce i-ai cumparat copilului tau o jucarie pe care abia asteapta sa o incerce, fie ca ai plecat in vacanta si ai uitat sa-ti incarci acumulatorii, dar vrei sa faci cele mai frumoase fotografii, sau ca sotul tau are nevoie dimineata de energie instant pentru aparatul de ras – acumulatorii VARTA Ready To Use iti garanteaza in orice moment ca esti o mama gata de actiune!
In plus, utilizand acumulatori economsesti bani, avantaj semnalat si de eticheta "Save Money" plasata central pe ambalaj si care ofera informatii clare despre cate baterii alcaline ai folosi in locul unui acumulator. De exemplu, eticheta Save Money insotita de 1=300 arata ca 1 acumulator AA de 2600 mAh echivaleaza cu 300 de baterii alcaline utilizate pentru aceeasi aplicatie. Mamele care incurajeaza un comportament responsabil fata de mediul inconjurator stiu, de asemenea, ca utilizarea de acumulatori este solutia cea mai prietenoasa cu mediul.
La faptul ca se pot folosi imediat dupa cumparare se adauga avantajul de a putea fi utilizati timp indelungat fara a necesita reincarcare. Mai mult, acum nu trebuie sa iti mai faci griji pentru modelul de incarcator, pentru ca toti acumulatorii VARTA Ready To Use pot fi reincarcati in toate incarcatoarele. De asemenea, un alt aspect important este faptul ca acumulatorii VARTA Ready To Use pot fi reincarcati si numai dupa cateva ore de utilizare, fara a le afecta durata de viata.
✖
Mulțumim pentru că vrei să fim prieteni!