GLAMOUR de septembrie, manualul obligatoriu pentru toamnă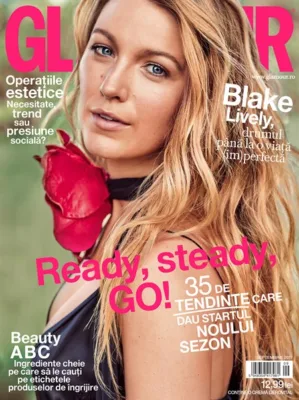 În septembrie, ți-am pregătit o ediție numai bună de savurat după ce ai revenit din vacanță. GLAMOUR de septembrie îți prezintă cele mai hot trenduri din modă și frumusețe, un interviu despre familie, maturitate și carieră cu una dintre actrițele momentului, Blake Lively, povești de succes, toate te așteaptă în numărul de septembrie GLAMOUR, din 25 august la chioșcurile de ziare.
Blake Lively, una dintre cele mai admirate actrițe ale momentului, ne vorbește despre viața sa (im)perfecta, munca de a menține echilibrul între familie și job, dar și despre feminism și altruism.
Luna aceasta, am dedicat secțiunea de Glamourisme celor mai cool trenduri de toamnă. Și tot ce îți putem spune este: anii 90 revin!
Descoperă cum porți purta bustiera la sală sau într-o ținută cool. Răsfoiește prin Glamourisme și vei mai descoperi două povești de succes ale unor femei glam, pe care le admirăm: Cinty Ionescu și Irina Neacșu. Apoi, trecem la lucruri serioase și vorbim despre operațiile estetice.
Sunt ele o necesitate, un trend sau apelăm la ele din cauza presiunii societății?
Fashion Time! Hot Summer! Sezon nou, trenduri noi: e momentul să ne schimbăm garderoba.
Și ți-am pregătit un dosar stufos cu cele mai râvnite tendințe de toamnă, alegerile designerilor pentru podiumuri, dar și cum le poți combina astfel încât să ai cel mai cool stil al lunilor ce vin.
La capitolul beauty, un lucru știm clar: pastelurile sunt vedetele! Dacă ți-ai dorit vreodată să îți vopsești părul roz, acum este momentul să îți faci curaj.
Noi îți spunem cum, cu ce produse și cum să îl îngrijești. Iar sprâncenele sunt în lumina reflectoarelor și avem un pont: cele subțiri nu mai sunt la modă!
Când vine vorba de machiaj, a venit timpul să te joci cu dungile și culorile, nu trebuie să iasă perfect.
Dar înainte de orice, esențial este să ai grijă de pielea ta, așa că descoperă cele mai potrivite creme și seruri care să îți hrănească tenul la început de toamnă.
Și pentru că vorbim de toamnă, secretul unui look reușit de sezon este joaca, iar pictorialul acestui număr, realizat de Silvia Cristescu și fotografiat de Tudor Cucu, te îndeamnă încerci orice combinații, the sky is the limit!
GLAMOUR de septembrie te așteaptă la toate punctele de distribuție, începând cu 25 august! Iar cu numai 12,99 vei primi și o cremă gerovital, potrivită noului sezon!
✖
Mulțumim pentru că vrei să fim prieteni!