Pasiunea este o destinatie permanenta. Urmeaza cursul after-work preferat la DallesGO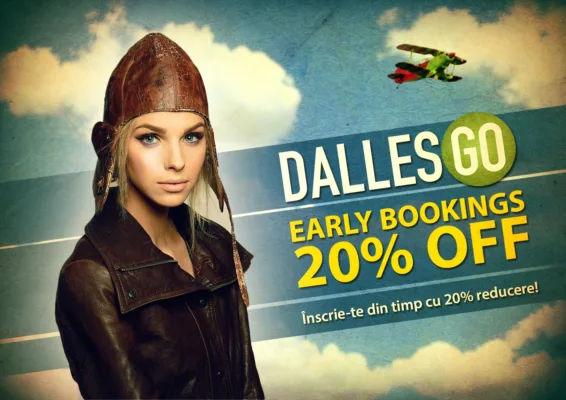 Pasiunea este singurul avion care face inconjurul lumii cu viteza luminii. Este vorba despre acea pasiune care te tine treaz atunci cand toate celelalte lucruri nu isi mai regasesc, neaparat, un sens, si care te rupe din cotidian de fiecare data cand ai nevoie de o reincarcare cu energie, creativitate si fantezie.
E aceeasi pasiune care te face sa te intorci, mereu, indiferent de drumul ales in viata sau in cariera, la placerile simple, native, cum ar fi mersul pe bicicleta, pictatul, improvizatia de spectacol, gatitul si bucuria pe care o starneste celor dragi micul dejun pregatit de tine sau amenajarea caminului asa cum ai visat mereu.
Pasiunea pentru un domeniu creativ este unul dintre acele lucruri care ne recompenseaza mai mult decat constructii precum un plan de cariera pe 10 ani, o organizare elaborata a zilei de munca sau o schema detaliata despre cum ar trebui sa arate viata, bifata de la an la an intocmai cu "tabelul".
Poate ca dorul de a te reconecta cu pasiunea ta te-a gasit schitand forme si culori pe coltul agendei intr-o sedinta business, poate ca ti-ai amintit brusc ca nimic nu se compara cu placerea de a le darui celor dragi o experienta de dining autentica, poate ca ai dat peste aparatul de fotografiat uitat din liceu in sifonier, printre albume vechi, si iti doresti sa reinozi legatura cu lucrurile din jur care te inspira zilnic.
Atunci cand traim in viteza, traim totul pe repede-inainte si uitam, intre zeci de liniute zilnice care trebuie bifate, sa ne bucuram de pasiunile noastre, nu ne ramane de facut decat sa facem un pas inapoi si sa strecuram putin haos in ordine, care, in cele din urma se poate dovedi mai benefic decat orice agenda sau notepad de remindere.
Cursurile after-work sunt una dintre cele mai oportune metode contemporane de (re)conectare cu frumosul, cu pasiunile noastre, cu dorinta perfect vitala de auto-descoperire si de explorare, si, in cele mai multe cazuri, de aducere a unui hobby la urmatorul nivel, cel de start-up.
Pentru ca la DallesGO credem ca pasiunea este singurul avion care face inconjurul lumii cu viteza luminii, Make your early booking with 20% OFF @ DallesGO este campania care aduce pasionatilor de industriile creative si viitorilor profesionisti surpriza placuta a reducerii de 20% la biletul lor spre viitor. Aeroportul: Universul DallesGo. Destinatia: Cursurile editiei a opta a celei mai interactive si creative platforme de hobby & learning, editie care va demara la sfarsitul lunii aprilie si care se anunta efervescenta.
Creat din pasiunea pentru dezvoltarea personala in industriile creative si conceput ca un spatiu de learning, de auto-descoperire si de networking cu profesionisti din industria creativa, DallesGO continua sa creasca, oferindu-le cursantilor sai experiente din ce in ce mai interactive si o educatie profesionala prin excelenta.
Nu intamplator, pentru cursurile after work de la Universul DallesGO inca de la inceput am ales ca profesori cele mai sonore nume din zona industriilor creative – practicieni cu charisma si reputatie profesionala puternica (Ovidiu Buta, Irina Markovits, Ioana Manoiu, Patrizia Paglieri, Alex Negrea, Mugur Patrascu, Ionut Staicu, Filip Ristovski, Rares Andrici, Irina Neacsu, Diana Ionescu si Nick Barna).
Pregatind de aproape 4 ani viitori profesionisti in domenii creative precum PR, Comunicare Online, Stilism, Make-Up sau HairStyling, Universul DallesGO vine in aceasta primavara in intampinarea celor care vor sa-si redescopere pasiunea cu un pachet atractiv de cursuri din domeniile Fotografie, Design Interior, Cooking si Actorie.
Cursurile DallesGO se intampla seara, de la 18.30, ceea ce le face accesibile chiar si celor care au mereu un program incarcat, iar atmosfera ramane, asa cum era de asteptat, una inspirationala, creativa si interactiva, pe toata durata calatoriei.
Fiecare curs after work include 12 intalniri saptamanale in cadrul carora inveti de la oameni fascinanti, formatori de exceptie care iti vor transmite cele mai interesante si actuale informatii despre industria care te intereseaza. Si pentru ca la DallesGO pasiunea este destinatia permanenta, venim in intampinarea celor care isi doresc sa afle si mai multe despre pasiunea lor si, incepand din noul sezon, fiecarui curs i se adauga un modul optional de 6 saptamani, ce vine ca o continuare fireasca a dezvoltarii cunostintelor si abilitatilor proaspat formate.
Campania "Make your early booking with 20% OFF @ DallesGO! se desfasoara intre 25 februarie si 15 martie, iar discount-ul de 20% este destinat tuturor celor ce vor sa isi ia un bilet din timp catre lumea creativa a cursurilor after work de Stilism & Tendinte in Moda, Fotografie, Make-up, Hairstyling, Design Interior, PR, Comunicare Online, Cooking sau Actorie.
✖
Mulțumim pentru că vrei să fim prieteni!