Cateva vorbe cu Laura Dragomir de la The Money Channel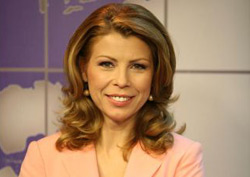 Din 17 ani de munca in mass-media, 14 ani a lucrat in televiziune. Laura este absolventa a Facultatii de Drept si Relatii Internationale cu tema de licenta "Televiziunea in cadrul noilor reglementari europene".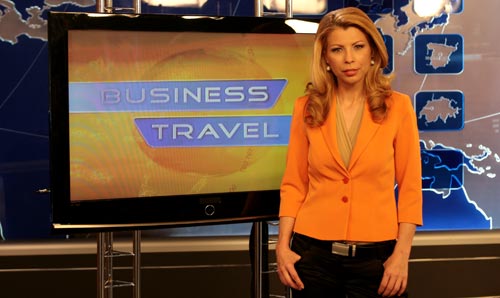 Dupa trei ani de experienta in radio, intre 1995 si 2002 a fost Director al Departamentului Info-divertisment, redactor sef, realizator, producator, si redactor la Tele 7 ABC. Se desprinde de televiziune pentru a ocupa functia de Consilier comunicare/ purtator de cuvant la Asociatia Generala a Vanatorilor si Pescarilor Sportivi din Romania.
Revine in mass-media vizuala, ca producator la Bucuresti 1 TV si in 2003 lucreaza la National TV, redactor, iar mai apoi la Realitatea TV, timp de trei ani. Aici a fost, pe rand sau concomitent, producator executiv, realizator, moderator si prezentator.
Laura Dragomir s-a alaturat echipei The Money Channel ca editor-prezentator al programelor Ora Verde – vineri 20:00 si Business Travel – sambata 11:00
Aveti ceva ce regretati?
Nu prea am timp de regrete. Viata mea este atat de plina, incat nu-mi vine nimic in minte. Si apoi, nu sunt construita sa am regrete. E drept, nu am am facut toate lucrurile pe care mi le-am dorit, dar mai e timp. Si apoi, nu ne este dat sa avem chiar tot ce ne dorim. Asa ca, regretele sunt de prisos. Dar marile dorinte pe care le-am avut in viata, pana acum, s-au indeplinit.
Depasiti limita de viteza? Cat de des?
Nu prea imi place sa sofez. Nici nu am sau nu am avut o meserie care sa ma oblige. Dar, ca sa raspund la intrebare, nu prea depasesc limita de viteza.
Ce relatie aveti cu banii? Ce sfat ati da altora pe aceasta tema? Ce sfat nu ati da?
O relatie foarte buna. Obisnuiam sa-i cheltui foarte repede. Acum sunt mai cumpatata. Pe primul loc este fiul meu si educatia pe care as dori sa o aiba, care este posibila daca ai bani. Sfat? Cine are bani, sa calatoreasca! Oriunde in lumea asta. Sunt atat de multe locuri si lucruri de vazut incat nu-ti ajunge o viata. Poti citi, vedea documentare, dar nimic nu se compara cu a-ti trai propriile experiente.
Ce reviste cititi si de ce?
Pentru ca am putin timp, sunt foarte selectiva. Citesc reviste, beletristica, publicatii de business… acum citesc, printre altele, cartea Gemba Kaizen – "Un stil de management performant".
Ce personalitate istorica admirati si de ce?
Admir multe personalitati. Prima care imi vine in minte este Aristotel. Pentru ca a spus: Numim om liber pe acela care isi este singur scop si nu este un scop pentru altul. Sau "Ce sunt prietenii? Acelasi suflet in doua trupuri…". Il admir pentru spiritul sau liber si pentru pentru marea sa "inventie" ( a se citi intemeietor) – logica.
Erati popular/a in scoala? De ce da, de ce nu?
Cred ca da. Eram dinamica, "de gasca", cum se spune. Ma implicam in multe activitati, mai chiuleam, rar, ce-i drept, spre sfarsitul anului scolar, de la orele unde nu se mai facea nimic… Esenta este ca intotdeuna gandeam pozitiv si transmiteam entuziasmul meu si celor din jur. Chiar si atunci cand, la scoala, eram obligati sa facem munca voluntara, cum ar fi sa culegem si sa sortam cartofi, vara, sub un soare dogoritor si numai praf in jurul nostru.
Daca ar fi sa o luati de la capat in viata ce nu ati mai face?
As face la fel… si multe altele pe deasupra.
Sunteti credincioasa? Ce va aduce credinta in viata?
Poti face lucruri bune si ii poti ajuta pe altii fara mare efort. Si binele se intoarce spre tine.
Credeti ca e ok sa spuneti o minciuna? Cand?
Cred in adevar. Nu poti construi nimic durabil pe minciuna. Dar sunt si acele mici neadevaruri, de care este nevoie. Asa, pentru incurajare.
Ce faceti cand credeti ca nu va vede nimeni?
Habar n-am.
Daca ati ramane pe o insula pustie care ar fi cele 5 carti, 5 filme si 5 oameni pe care i-ati dori cu dvs?
Oameni? Leon, cu siguranta. Ar mai fi patru… prea putin, imi pare rau, e nedrept.
Filme:
Some like it hot
seria Minti criminale
seria The Mentalist
documentarele The Human Body
Pisicile aristocrate
The Curious Case of Benjamin Button.
Carti – cat mai multe scrise de:
Harakuri Murakami

Ian McEwan

Bulgakov

Marquez

Llosa.
Ati fugit vreodata de acasa? De ce da si de ce nu?
Am fugit la bunici la tara. Aveam 8-9 ani, m-am dus la gara, am luat un tren personal, am coborat la a opta statie (stiam drumul, il parcursesem des cu parintii) si bunicii s-au trezit cu mine. Am ajuns chiar la cina. Imi era foarte dor de ei pentru nu-i mai vazusem de ceva vreme. Pentru ca parintii nu aveau timp, aceasta a fost solutia pe care am gasit-o. Nu am considerat nicio clipa ca as fi fugit de acasa, eu am plecat doar. Am speriat foarte rau pe toata lumea, dar nu luasem acest lucru in calcul. De fapt, ii intelegi pe parinti cu adevarat abia atunci cand devii tu, la randul tau, parinte.
Cu ce ocazii ati intrat 'in belea' in copilarie?
Pai nu prea am intrat in belea. Nici in copilarie, nici dupa. Cu exceptia fugii de acasa despre care am povestit…dar parintii m-au inteles si nu m-au pedepsit.
Daca ati putea fi un sportiv de performanta cine ati dori sa fiti?
Michael Jordan este cel mai valoros sportiv.
Care a fost cel mai penibil lucru care vi s-a intamplat?
Nu imi amintesc….or fi fost.
Ce va sperie cu adevarat?
Nu ma gandesc la asta.
Care au fost momentele cele mai fericite ale vietii de pana azi?
Au fost multe. Faptul ca am prieteni cu care am cladit o relatie grozava, calatoriile pe care le-am facut prin lume, emisiunile reusite, chiar si un efect la montajul unui reportaj care putea fi remarcat doar de catre cei ce practica meseria mea, sentimentul de usurare pe care l-am avut cand am iesit dintr-o incurcatura sau de multumire cand am rezolvat probleme….multe momente. Dar nimic nu se compara cu fericirea de a-l avea pe fiul meu. Toate victoriile mele au valoare prin el. Sunt foarte norocoasa.
Ce dorinta neimplinita aveti?
Le voi indeplini!
Ce jucarie preferati in copilarie?
Am avut un pian rosu, la dimensiuni mici. Era preferatul meu. Il mai am si acum. Iar mama avea o pereche de pantofi fabulosi: varf ascutit, toc cui, din piele rosie, lacuita. Ii adoram. Nu am mai lasat-o sa-i poarte, sa nu-i strice, ca sa-i pot purta eu cand voi creste. Erau la loc de cinste printre jucarii. Nu i-am purtat niciodata…
Daca ar fi sa alegeti un titlu de film pentru viata dvs. care ar fi?
Nobody's Perfect.
✖
Mulțumim pentru că vrei să fim prieteni!