Cateva vorbe cu Laura Nureldin de la The Money Channel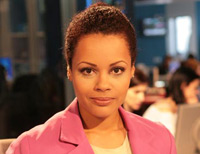 Laura Nureldin este editor-prezentator (stiri, editii speciale, traduceri, LIVE) la The Money Channel.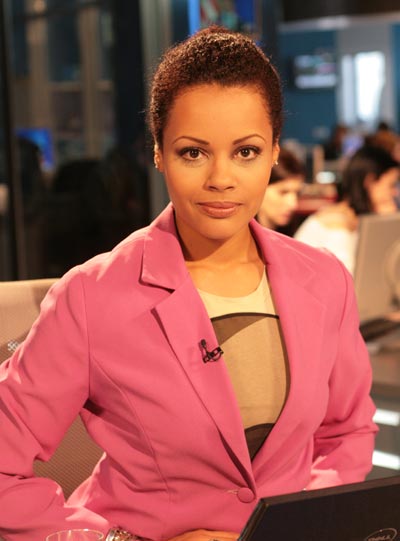 S-a nascut la Iasi, este Balanta, a studiat Psihologie-Sociologie; a fost editor prezentator (stiri, stiri in engleza, emisiunea O lume nebuna, rubrica O lume nebuna, No Comments, traduceri, LIVE, editii speciale) la Realitatea TV, editor-prezentator (stiri, editii speciale, traduceri, LIVE) la N 24, acum e la The Money Channel; a castigat o olimpiada de logica ("nu ca mi-a folosit cine stie ce…"); pogrameTV preferate: Jon Stewart, Jay Leno, documentare, Dr. House si Minti Criminale – "am IUBIT in facultate cursul de psihologie judiciara (Prof. Tudorel Butoi), dar n-am avut stomac sa ma fac profiler, asa ca ma defulez uitandu-ma la altii. Bine, ma mai bate gandul sa fac un master de victimologie, dar e pentru oameni normali, cursurile incep la ora 16."
Laura Nureldin are multe, multe de spus si ne bucuram ca si-a gasit timp sa ne spuna si noua cateva vorbe pline de haz dar si de intelepciune…
Aveti ceva ce regretati?
–  Faptul ca viata e prea scurta ca sa pot face tot ceea ce mi-as dori. De fapt, e prea scurta chiar ca sa am regrete 🙂
Depasiti limita de viteza? Cat de des?
Nu cu mult, si numai cateodata, cand risc sa intarzii la primul jurnal…
Ce relatie aveti cu banii? Ce sfat ati da altora pe aceasta tema? Ce sfat nu ati da?
–  Eu i-as iubi, ei fug de mine… Probabil ca nu-i iubesc destul. In fond, banii sunt un mijloc, nu un scop.
Ce reviste cititi si de ce?
–  Citesc. Reviste, ziare, carti, bloguri, stiri… Daca e tiparit, e de citit. E drept, in unele cazuri, e de citit macar pana te lamuresti ca, de fapt, nu ai ce, dar daca nu incerci, nu ai de unde sa stii, nu?
Ce personalitate istorica admirati si de ce?
–  Papa Ioan Paul al II-lea, pentru ca a fost singurul papa (din vremurile noastre) care a inteles sensul frazei biblice: "oare nu stiti voi ca sunteti Dumnezei?"… Si s-a inchinat oamenilor.
Erati popular/a in scoala? De ce da, de ce nu?
–  Eram singura mulatra din scoala, iar asta ma scotea automat  "din multime". Tot spilul era sa ma placa lumea si DUPA ce deschideam gura sa zic ceva. Si se pare ca lumea ma placea. Poate pentru ca nu eram nici tocilara, nici chiulangioaica – le imbinam in deplina armonie. Am fost si premianta, am mers si la olimpiade (am mai si castigat cate ceva) dar am participat si la ore de studiu aprofundat, alaturi de colegi, in pizzeria de langa liceu. Facute cu masura, toate astea sunt parte din viata unui elev…
Daca ar fi sa o luati de la capat in viata ce nu ati mai face?
–  Daca as lua viata de la capat, cu mintea de acum? O fata foarte desteapta, Coco Chanel, spunea "Singurele lucruri pe care le regret sunt cele pe care nu le-am facut". Serios vorbind, cred ca fiecare alegere pe care o facem in viata, oricat de insignifianta ne-ar parea, contribuie intrucatva la ceea ce devenim. Cred ca suntem o combinatie de liber arbitru si… da, destin. Cand esti la o bifurcatie de drumuri, tu alegi calea pe care sa mergi, dar odata alegerea facuta, nu poti controla gropile din sosea sau florile de pe marginea drumului, nu?
Sunteti credincioasa? Ce va aduce credinta in viata?
–  "Dumnezeu este o forta pura si libera, pe care oamenii au luat-o si au inchis-o in biserici." Asta a fost eseul meu despre Dumnezeu, care in clasa a XII-a mi-a adus un 10 la Filosofie. Si asta cred si acum. Cred ca exista Ceva, indiferent daca ii spunem Dumnezeu, Allah, Jehova, sau Marele Arhitect; Ceva care exista si in fiecare dintre noi, dar pe care uneori il ingropam atat de adanc, incat mergem sa il cautam in constructii de piatra vopsita.
Credeti ca e ok sa spuneti o minciuna? Cand?
–  Tu ai putea sa-i spui unui copil ca Mos Craciun nu exista?
Citeste:
✖
Mulțumim pentru că vrei să fim prieteni!