Intrebari despre sfarsit – de David Servan-Schreiber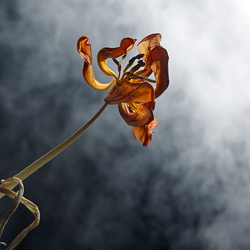 Euthanasia este un subiect tabu. Dar oare este firesc sa tacem?
Mi-am amintit de o avocata din America, pe care o vazusem pledand impotriva medicilor si "inversunarii lor terapeutice". Invocand dreptul bolnavului la autonomie, ea acuza medicina de "violarea integritatii corpului", impunand tratamente pacientilor aflati in coma. Eram de acord cu totul, insa nu stiam ca era chiar o adevarata dezbatere.
In aceeasi saptamana, vazusem la spital o batrana. Isi pierduse controlul sfincterelor, era murdara, mirosea urat si spunea fraze de neinteles. Ziua urmatoare a intrat in coma. In timp ce internistii o transferau la reanimare, infirmierele se plangeau ca o sa mentina in viata "o leguma" si ca ar fi mai bine sa o lase sa moara linistita. In plus, urma sa ocupe "degeaba" un pat in acel spital. Una dintre infirmiere lasase la semnat familiei un set de acte ­– acordul de a nu se mai interveni in caz de infarct. Familia refuzase, iar infirmiera era exasperata.
Ii intelegeam enervarea. Gandisem la fel de multe ori. Credeam ca eu stiu ce este mai bine pentru pacient. Dar iata… pot gresi. La cateva zile, femeii i s-a descoperit insuficienta tiroidiana, care, tratata, a reprezentat o noua sansa. Batrana a putut sa se intoarca acasa, la cei cinci copii si la nepoti.
In ziua de azi, in tarile industrializate, cheltuielile pentru sanatate cresc intr-un mod galopant si reprezinta una dintre cele mai mari amenintari pentru economie. In Franta, ca si in Statele Unite, costurile nu mai sunt controlate. Mai ales ca jumatate din aceste cheltuieli se fac in ultimele saptamani de viata ale pacientului. Exista, deci, o presiune enorma din partea sistemului economic pentru scurtarea acestor saptamani! Mai mult decat atat, am pierdut foarte mult din toleranta pe care o aveam fata de persoanele in varsta sau fiintele " neproductive".
Am uitat, de asemenea, din lipsa de practica, cum trebuie sa ai grija de cineva suferind sau pe patul de moarte. Situatia lor ne incomodeaza si preferam sa nu mai dureze mult. Fara ca infirmierele sa constientizeze, acesti factori erau exprimati de cuvintele lor reci. Este mult mai simplu sa "termini cu" si mult mai ieftin, in toate sensurile termenului.
Odata cu aparitia crizei in sistemul sanitar din Occident, mi-e teama ca "dreptul la eutanasie", pe care publicul il cere cu atata ardoare, sa nu se intoarca impotriva bolnavilor, mai ales a acelora care nu au familie. Viata este o boala terminala: la un moment dat, toti vom ajunge pe un pat de spital, cu societatea care ne va privi ca pe o povara. Deci, este foarte important, sa ai putere de decizie. Autonomia individului mai presupune sa nu fii impins la moarte de o societate care nu te mai vrea. Marea dezbatere a viitorului, va fi, cu precadere, aceasta.
Foto: shutterstock.com
✖
Mulțumim pentru că vrei să fim prieteni!
David Servan-Schreiber
Cronicar foarte citit al revistei « Psychologies » inca de la lansarea acesteia, David Servan Schreiber este fiul lui Jean Jaques Servan Screiber, politician si jurnalist francez. Astazi, scriitorul si doctorul David Servan Schreiber este profesor de psihiatrie la University of Pittsburgh School of Medicine. De asemenea, este lector la Facultatea de Medicina Lyon I. David Servan Schreiber este co-fondator al Centrului de Medicina Integrativa de la University of Pittsburgh Medical Center. In 2002 a primit Premiul pentru cariera exceptuionala in psihiatrie al Pennsylvania Psychiatric Society. Intre cartile pe care David Servan Schreiber le-a scris se numara "Vindeca depresia fara psihanaliza sau medicamente" tradusa si in romaneste la Elena Francisc Publishing. Cartile lui cunosc un succes imediat la scara internationala pentur ca ele descriu metode de vindecare accesibile oricui, noninvazive si care respecta dreptul omului la vindecare prin puterea proprie.