Povestea artistei Michelle Titian despre speranță și forța salvatoare

Anxietatea, depresia, alcoolul, abuzul sau dependeța de droguri, lipsa somnului sunt unele dintre cele mai întâlnite probleme la care sunt predispuși cei care lucrează în industria muzicală. Sănătatea mintală încă este un subiect tabu, iar prețul personal plătit de cei care nu reușesc să găsească o scăpare de la aceste probleme este uriaș. Cu toții știm cum se simte să nu poți scăpa de proprii demonii, însă nu e nici pe departe adevărat, iar povestea artistei Michelle Titian este dovada că există soluții.
Michelle Titian este o artistă canadiancă de talie mondială cu o poveste de viață complicată, sub semnul dependenței de alcool. După ani de zile în care alcoolismul i-a distrus pas cu pas relațiile cu ceilalți, cariera și propria viață, Michelle a zis stop și a preluat controlul propriului ei destin. Acum, pe lângă muzica ei care inspiră, Titian a creat și Fundația Drive, o organizație caritabilă care inspiră și ajută persoanele care se luptă cu depresia și dependența.
Michelle Titian va fi prezentă în România, în perioada 6-8 septembrie, la evenimentul dedicat industriei muzicale – Mastering The Music Business. În cadrul conferinței, Michelle va participa în panelul How to stay sane in the music industry și va vorbi despre lupta ei cu dependența de alcool, despre salvarea ei și despre rolul muzicii în această luptă.
Am vorbit cu Michelle despre toate acestea într-un interviu exclusiv, plin de speranță și forță salvatoare.
Psychologies: Spune-ne despre cariera și viața ta înainte de lupta ta cu alcoolismul.
Michelle Titian: Dintotdeauna m-am luptat cu dependența de alcool. Am băut prima dată la 13 ani și tot atunci am avut și primul meu black out. Îmi amintesc că m-am trezit a doua zi gândindu-mă la cât de incredibil m-am simțit. De atunci, am trăit doar pentru următorul pahar. Am simțit că am găsit soluția pentru toate probleme interioare pe care le-am avut dintotdeauna. Mi-am început cariera muzicală pe la 20 de ani, iar în acel punct încă reușeam să-mi controlez depedența. Însă mai târziu, spre 30 de ani, am început să pierd complet controlul.
Complet blocată de frică, nu am reușit în niciun fel să evoluez în cariera mea muzicală. Oportunitățile pe care le pierdeam din cauza problemelor mele cu alcoolul erau uriașe. Toate astea m-au împins și mai adânc în dependență, mi-am pierdut stima de sine și chiar dorința de a mai trăi.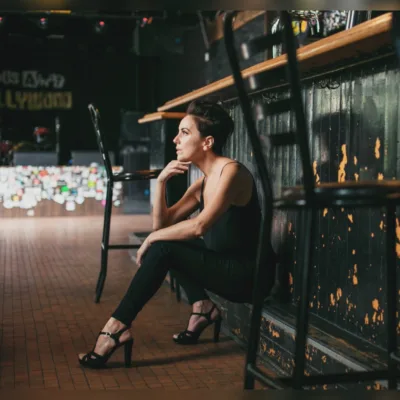 Lupta cuiva cu propria dependență este ceva extrem de complex și subiectiv, dar spune-ne un pic despre acest război. Care a fost cea mai grea parte?
M. T.: Băutul devenise o problemă destul de mare, pentru că de fiecare dată ajungeam să-mi pierd cunoștința, să cad și să mă rănesc. Îmi aduc aminte că soțul meu mă întreba: De ce nu te poți opri? Iar eu îi răspundeam: Nu știu de ce! Nu înțeleg ce e în neregulă cu mine.
Puteam să mă opresc, însă problema mea era că mă reapucam mereu de băut. Odată ce obsesia mea de a bea, prelua controlul, nimic și nimeni nu mă putea opri din a pune alcool în sistemul meu. Odată ce mă apucam de băut, nu mai aveam controlul de a mă opri. Eram lipsită de putere în fața alcoolului.
Care a fost momentul în care ai zis STOP?
M. T.: Nu realizezi că ai o problemă decât atunci când începi să pierzi, iar eu am pierdut relațiile cu cei dragi. Lucrul ăsta m-a făcut să încep un program de recuperare în 12 pași. Am încercat orice, absolut orice pentru a sta trează pe propriile forțe, însă, la prima băutură, picam din nou. Când în sfârșit am acceptat adevărul și am primit ajutor prin programul de 12 pași, pentru prima dată în viața mea, am fost capabilă să stau deoparte de alcool. Eram în punctul în care puteam recunoaște pe deplin că dacă voi continua să beau, voi muri. M-am predat, am acceptat ajutor și sunt atât de recunoscătoare în fiecare zi că am făcut-o, pentru că mi-a salvat cu adevărat viața.
Ai făcut publică problema ta cu alcoolul. Nu de puține ori, oamenii reacționează vehement atunci când o persoană publică devine vulnerabilă. Cum a reacționat publicul la onestitatea ta?
M. T.: Nu îmi este rușine, sunt deschisă și sinceră vizavi de recuperarea mea și sunt incredibil de recunoscătoare pentru viața mea. Vocea și muzica mea au un impact incredibil asupra celorlalți, în special în cazul celor care se luptă cu dependența. Cred cu adevărat că destinul meu este să transmit acest mesaj plin de putere și speranță celor care se află în dificultate așa cum am fost și eu cândva. Este scopul meu principal să împărtășesc din experiența mea cu speranța că cei care au nevoie vor cere ajutor.
Îți mai vorbește dependența? Cum reușești să o aduci la tăcere?
M. T.: Obsesia de a consuma alcool este acum 100% eradicată din mintea, trupul și spiritul meu. Alcoolismul este o boală care locuiește în creier. În cazul meu, ce mi-a salvat viața și continuă să o facă este acest program de recuperare în 12 pași pe care îl aplic zilnic. Este colacul meu de salvare.
Cum a apărut piesa Drive? Spune-ne despre procesul creativ din spatele piesei. Cum te simți atunci când o interpretezi?
M. T.: Eram de 6 luni trează când am scris cântecul Drive. De fapt, încercam să evoluez și să merg mai departe în cariera mea de compozitor și mă chinuia gândul că nu o voi putea face fără să consum alcool. Îmi aduc aminte că stăteam jos și cântam la chitară. Am început să scriu cântecul și mă simțeam conectată la o sursă incredibilă de putere pentru că versurile pur și simplu curgeau din mine direct pe hârtie. După ce am terminat de scris, m-am dus la bucătărie să beau un pahar de apă și când m-am întors și am recitit ceea ce tocmai compusesem m-am întrebat de unde apăruse acea creație? Am finalizat cântecul în câteva ore. DRIVE este o piesă despre salvarea mea. Atunci când îl interpretez, mă simt extrem de conectată la menirea mea pe acest pământ.
Oferă un sfat artiștilor care se luptă cu dependența.
M. T.: Fii sincer cu tine și acceptă ajutorul celorlalți. Acesta a fost primul pas în recuperarea mea. Ziua în care am acceptat la cel mai profund nivel că am o problemă cu alcoolul și am fost sinceră cu mine și cu ceilalți, a fost ziua în care în sfârșit am reușit să mă opresc. Adevărul m-a eliberat.
Spune-ne despre tine acum. Care sunt planurile de viitor. Cum ești?
M. T.: Tocmai am semnat cu Entertainment Music Group (EMG) și planificăm turul global pentru 2023. Nu cred că există cuvinte care să exprime cât de recunoscătoare sunt pentru tot. Sunt în sfârșit într-un loc în care sunt liberă, fără frică, fără resentimente, fără egoism și lipsă de respect. Cred că muzica și vocea mea sunt un vehicul pentru acest mesaj de putere și speranță.
Despre ce ne vei vorbi la MMB?
M. T.: Voi împărtăși din experiența, puterea și speranța mea și îi voi încuraja pe cei care se luptă cu dependența să ceară ajutor. Voi vorbi despre redresarea mea și despre ce fac zi de zi ca să o mențin, voi vorbi despre sănătatea mentală pentru a normaliza aceste conversații, voi promova faptul că recuperarea este absolut posibilă. Voi începe o conversație cu scopul de a educa, de a promova soluția și de a oferi resurse celor care au nevoie de ajutor. Voi duce mesajul mai departe.
Mastering the Music Business este primul și cel mai mare eveniment din industria muzicală organizat în România. Dedicat tuturor pasionaților de muzică, MMB e locul unde atât artiștii independenți din țară, cât și profesioniștii din domeniu au ocazia să se întâlnească cu experți de top din industrie, să învețe de la ei și să interacționeze în mod direct. Cum să lansezi propriul festival, cum să scrii și să compui cântece sau cum să creezi o vedetă de la zero sunt doar câteva dintre subiectele abordate în cadrul conferinței.
Mai multe detalii puteți găsi pe site-ul www.masteringthemusicbusiness.ro.
✖
Mulțumim pentru că vrei să fim prieteni!