Increderea in Sine – Program pentru Adolescenti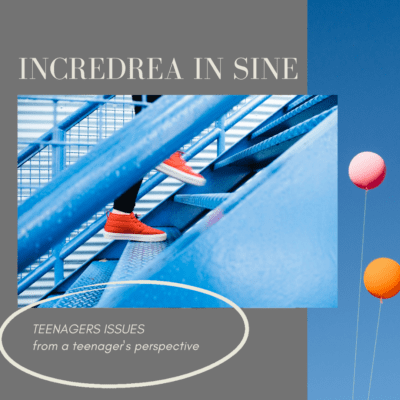 TEENAGE ISSUES – from a teenager' s perspective
PROGRAM DE INCREDERE IN SINE
Te invitam intr-un cerc de 8 prieteni, unde siguranta, non-judecata si libertatea de exprimare sunt reguli de baza.
Daca si tu simti ca:
nu intelegi mai nimic din ceea ce se intampla cu tine
ai tot felul de temeri si nu stii cum sa le invingi
simti ca trebuie sa existe un sens pentru tot ceea ce traiesti, dar nu stii cum sa 'pui mana pe el'
te indoiesti de puterea si capacitatea ta
traiesti aproape constant cu teama ca nu esti indeajuns de bun, indiferent de ce ai face
te intereseaza prea mult ce spun ceilalti despre tine, chiar si in momentele in care stii/ simti ca alegerea ta este buna
iti doresti sa actionezi si sa te manifesti din propria ta putere, indiferent de ceea ce fac ceilalti
iti doresti sa ai curajul de a fi authentic sis a spui ce gandesti
nu mai stii unde sa iti gasesti motivatia
ti se pare ca viata ta este un esec si nu stii ce ar trebui sa faci ca sa schimbi ceva
te indoiesti de tine si alegerile tale si te intrebi daca ai facut bine sau nu ai facut bine
ai (mai mult sau mai putin) continuu o stare de anxietate
esti (aproape) continuu intr-o stare de depresie
Te invitam la 4 sesiuni de lucru cu tine, cu temerile tale, cu obstacolele tale, cu puterea, calitatile si frumusetea din tine. Va fi un program de calauzire 100%, pentru ca inainte de a lucra tu, noi, Elisa si cu mine, am experimentat acest program in vietile noastre.
Din propria noastra experienta:
Stim ce inseamna sa nu stii care iti este directia
Stim cum este sa te indoiesti de tine si de alegerile tale
Stim ce inseamna sa actionezi din teama
Stim cum este sa 'dormi linistit' pentru ca ai gasit – macar pana maine dimineata – o scuza buna, dar si reversul, cand nimic nu te nelinisteste, dar nici chef sa incepi ceva nu ai
Stim cum este sa te lasi doborat de incertitudine si nesiguranta.
Am fost si noi acolo, insa am depasit acea etapa. Cum am facut acest lucru iti vom arata pas cu pas in cele 4 sesiuni de program, care contin, printre altele:
Cum sa iti recunosti si sa iti invingi temerile
Ce inseamna sa meriti locul tau in lume si cum sa il obtii
Cum sa iti recunosti calitatile si sa le pui in valoare
Ce inseamna esecul si cum sa il transformi in succes
Sunt 4 sesiuni care iti pot transforma viata! Te asteptam cu drag alaturi!
Programul se va desfasura pe Zoom, in fiecare joi a lunii iunie, de la 19.00 – 20.00, astfel:
3 iunie – Cum imi identific si imi inving temerile
10 iunie – Imi recunosc calitatile
17 iunie – Esecurile nu sunt drame
24 iunie – Imi merit locul in lume.
Investitia ta este de 50 lei/ sesiune.
Poti participa la intregul program sau la orice sesiune iti doresti.
Locuri limitate: 8
Daca te inscrii la tot programul si platesti pana la 26 mai inclusiv, beneficiezi de un discount de 20%, adica investitia ta este de 160 lei.
Inscrierile se pot face pana la 31 mai cel mai tarziu, printr-un mesaj privat in Facebook sau pe WhatsApp, la numerele: 0742718088 si 0747032667
Cateva cuvinte ale celor care au parcurs cu mine diverse programe de coaching personal, profesional sau holistic:
 "Voiam sa iti spun ca lucruri minunate se intampla in viata mea de cand am inceput acest program. Am iesit din ce in ce mai mult din carapacea mea si am luat legatura cu fratele meu cu care nu mai vorbisem de peste 10 ani. Uitasem cat de usor este totusi sa iei o decizie si sa mergi inainte atunci cand simti ca merita! Multumesc din suflet, draga mea Dana!" Cristina M. – Program Life Coaching
"Cel mai WOW moment a fost acela al descoperirii efectelor recunostintei, precum si cel legat de respiratie. Nu mi-am inchipuit nicio secunda ca lucruri atat de mici, sau comune pot avea un efect atat de mare! Ma bucur si sunt recunoscatoare ca te-am cunoscut!" Ioana I. – Program Life Coaching
 burghbu
Despre noi:
Dana Burghel este fosta profesoara de matematica, absolventa de studii economice si psihologie, cu un Master In Resurse Umane. Este prima femeie coach acreditata in Romania, cu o experienta de peste 17 ani in Executive & Team Coaching si Life Coaching. Are o experienta in companiile multinationale de 10 ani, iar in mediul antreprenorial de peste 17 ani. Dana este Consilier de Dezvoltare Personala si Teacher al Scolii de Spiritualitate 'The School of the Heart', cu sediul in Canada.
Are experienta in lucrul cu copii si adultii de peste 20 ani.
Scrie poezii, alearga maratoane, tine cursuri de dezvoltare personala sau spirituala, scrie pentru revista Psychologies.
A urmat foarte multe cai spirituale pana si-a stabilit propria cale si poate spune cu burgamana pe inima ca acum este un Holistic Coach, imbinand diverse metode potrivite persoanei, metode parcurse de ea insasi inainte.
Motto-ul ei este 'Daruiesc din cine sunt!'
Elisa Mazilu
Elisa este o adolescenta de 17 ani, eleva a Colegiului German Goethe. Face dezvoltare personala de mai bine de 2 ani, cu rezultate remarcabile.
Pasiunile ei sunt muzica, fashion-ul, iar in ultimul timp, relatiile interumane si propria calatorie catre ea insasi.
Motto-ul ei este 'Totul se intampla cu un motiv.'