Cele mai frecvente greșeli pe care le poate face un tată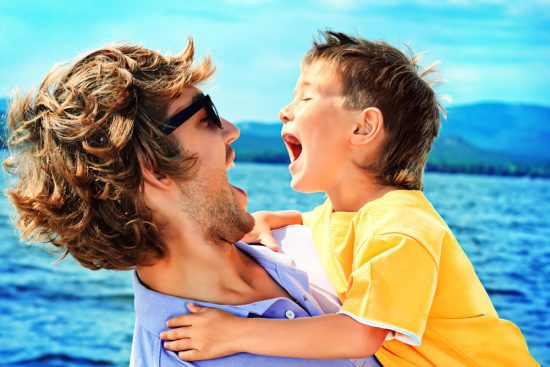 Uneori, chiar și bine intenționați, putem geși față de copiii noștri. Psihologul Ligia Moise ne vorbește despre cele mai frecvente greșeli pe care le poate face un tată, dar și cum le putem evita.
Citește și:
De ce nu ar trebui să ne dorim copii cuminţi
Cum ajuți un copil cu tendințe spre perfecționism
Cele mai frecvente greșeli pe care le poate face un tată
Greșelile pe care le putem aminti sunt indiscutabil legate de modelele transgeneraționale cărora le suntem tributari atât timp cât îi vom păstra pe părinții noștri pe un piedestal.
Dintre cele mai frecvente și cu un efect negativ major asupra vieții copilului aș aminti "Bărbații nu plâng" sau "Copiii se pupă doar în somn".
Nu trebuie să fii un mare specialist în psihologia copilului ca să înțelegi că un băiat crescut în ideea că nu are voie să plângă va deveni un expert în camuflarea emoțiilor iar prețul pe care îl va plăti este mult prea mare.
Frustrarea trăită de acesta, cât și a celor din preajma sa din cauza incapacității sale de a-și exprima emoțiile și sentimentele, sunt doar o parte din tabloul unei vieți pe care acești oameni o trăiesc.
Din păcate, dezideratul acestor părinți este destul de înrădăcinat în cutumele poporului nostru și asta îl face mai dificil de îndepărtat. Important este să înțelegem invalidarea emoțională dată de acest comportament pentru ca astfel să încetăm să îl mai transmitem generațiilor viitoare.
În ceea ce privește privarea copiilor de acele manifestări ale iubirii cum ar fi îmbrățișările, mîngâierile – care are ca explicație că "răsfățul nu este bun" – va genera în copil convingerea că nu merită să fie iubit.
El nu va înțelege de ce părintele său nu reușește să îl facă să se simtă iubit, el doar va resimți "golul" creat de părintele său iar de aici își vor afla rădăcina o sumă de probleme prezente atât pe termen scurt cât și lung.
Din păcate, mai există un model transgenerațional despre ale cărui neajunsuri se vorbește destul de mult și de răspicat în ultima vreme dar care încă este întâlnit în relația părinți-copii și anume bătaia ca mijloc de educație și corecție.
Efectul abuzului fizic asupra copiilor este devastator iar în fața argumentului părinților "Și pe mine m-au bătut și uite că n-am murit" eu i-aș întreba doar atât: Nu ai murit dar chiar îți place cum trăiești?
Când și cum greșesc tații… bine intenționați
Sunt puțini părinții care fac rău intenționat copiilor lor. Dar, din păcate, chiar și cei care nu au alt obiectiv decât binele copilului lor vor greși.
Pe de-o parte pentru că este în natura umană, dat fiind că nu suntem perfecți, iar pe de altă parte pentru că – este știut deja – dușmanul lui bine este foarte binele.
Și, tot încercând să facă din copilul lor o persoană super pregătită pentru viață vor dori ca acesta să fie bun la sport dar și la matematică, teatru și șah; musai să cânte și la un instrument, neținând cont de faptul că toate acestea necesită timp și energie pe care copilul de cele mai multe ori nu le are.
Poate nu este potrivit pentru vârsta lui să facă toate acele lucruri ori, cel mai probabil, nu este înzestrat cu acele abilități.
Dincolo de toate aceste aspecte mai există unul și mai trist: nici măcar nu îl întreabă dacă își dorește ceva din toate acestea. Așa se ajunge să fie exact ca în vechiul proverb englezesc "Iadul e plin de gânduri și dorințe bune" (Hell is full of good meanings and wishings).
Drept pentru care opriți-vă din a crede că știți cu exactitate ce trebuie și încercați să aflați ce își doresc copiii voștri și poate așa reușim să construim un rai aici pe pământ.
Cum oferim feedback constructiv copiilor
Răspunsul la această întrebare îl putem găsi în momentul în care suntem atenți la cuvintele pe care le folosim și la definițiile lor.
Dacă vrem să "dăm înapoi" ceva care să hrănescă copilul, ceva care să îl ajute la construirea lui ca om echilibrat și armonios, va trebui să fim atenți ca ceea ce le oferim spre hrană să fie acele cuvinte care cresc și nu care otrăvesc.
Așa cum (unii dintre noi) nu dăm copiilor junk food pentru că știm că nu e bun, tot așa trebuie să evităm cuvintele care le vor influența negativ percepția asupra lor dar și asupra vieții în general.
Dacă tot le dăm înapoi cuvinte sub formă de părere atunci bine ar fi ca, prin intermediul lor, să le hrănim dragostea față de ei însăși dar și față de oameni, dragostea și respectul față de viață cu tot ceea ce înseamnă ea: oameni, mediu înconjurător dar și față de copil însuși, care este parte integrantă din acest tot pe care ni-l dorim a fi simbiotic.
Cum poate contribui tatăl la dezvoltarea emoțională armonioasă a copilului său
În primul rând trebui să fie prezent. Iar dacă este prezent, să fie activ și activitățile întreprinse să fie plăcute, educative și desfășurate într-un climat plin de calm și iubire.
Nu este simplu, dar nici imposibil. Și mai este un aspect extrem de important: să o iubească pe mama copilului său, iar dacă asta nu mai este posibil, să vorbească și să se poarte cu respect față de ea.
În general, fie ca ne place sau nu ideea, a fi părinte înseamnă să fii conștient tot timpul că îți este observat fiecare gest și auzit fiecare cuvînt iar acestea vor fi "luate de bune", însușite până la virgulă și transformate de către copilul tău în propriile sale comportamente.
Așa că, dacă ți-ai imaginat cum vrei să fie copilul tău, ce fel de viață vrei să ducă devin-o tu acea persoană.
Îndepărtează din viața ta viciile, comportamentele nedorite, încurajează-l să afle și să învețe, ca astfel să poată să devină o variantă… la care nici cu gândul n-ai gândit.
Toate acestea sunt posibile doar cu multă iubire manifestată sincer și deschis, având permanent în minte că a iubi înseamnă ca tot ce faci să vizeze binele persoanei repective.
De Ligia Moise, psiholog clinician
www.facebook.com/ligia.moise
Foto: shutterstock.com
✖
Mulțumim pentru că vrei să fim prieteni!