Influenta istoriei personale de viata in relatia cu proprii copii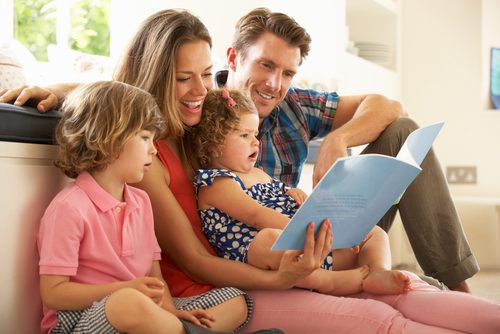 Fie ca vrem sa credem sau nu, ce se afla in inconstientul nostru influenteaza modul in care relationam cu ceilalti, toate rolurile pe care le exercitam in viata sociala. Iar in calitate de parinti ne supunem, desigur, aceluiasi proces, care permite aspectelor neconstientizate sa influenteze in mod direct relatia cu copiii nostri.
Unele dintre aceste continuturi inconstiente sunt reprezentate de modelele educationale dobandite de la proprii parinti. Felul in care se purtau cu noi, valorile, conceptiile lor despre viata, toate sunt adunate si se afla in interiorul nostru, in stare latenta, asteptand sa fie readuse la viata prin situatiile si experientele prezente.
Astfel, fara sa ne dam seama, interactionam cu copiii nostri bazandu-ne pe felul in care am fost noi insine crescuti.
De la credintele copilariei timpurii, atat de cunoscute, de genul "Ca sa nu rasfatam copilul nu trebuie sa il tinem mult in brate", "E in regula daca il lasam sa planga cand e bebelus, ca isi dezvolta plamanii", si pana la mai tarziile "Doar parintii stiu ce e mai bun pentru copilul lor", "Un copil bun inseamna un copil ascultator"(a se citi: "care se supune cuminte dorintelor si vointei parintelui"), educatia arata ca o rigida insiruire de reguli si retete intarite de generatii si generatii de parinti.
Devenim parinti. Si ce ne dorim oare cel mai mult? Sa fim niste parinti buni. Insa, cine decide acest lucru? In general, ne orientam dupa reperele sociale mostenite care spun ca, a fi un bun parinte inseamna sa stim cum sa ne educam (controlam) copiii, in asa fel incat sa urmeze un drum conform cu ceea ce ne-am imaginat pentru ei.
Si, daca ei se poarta frumos, sunt ascultatori, au rezultate bune la scoala si nu numai,  inseamna ca ne-am facut bine datoria. Ne definim valoarea in rolul de parinti prin comportamentele si succesele copilului, raportate la nivelul social. Astfel, ne oprim din pacate, de cele mai multe ori, doar la nivelul vizibil al efectelor, al rezultatelor, adica la imaginea de suprafata.
Un "parinte bun" nu poate fi un termen cu semnificatie absoluta, fiindca suntem parinti in raport cu cineva. Rolul nostru nu poate exista in afara prezentei copilului. Copilul este cel care ne face parinti.
Iar criteriile de evaluare a calitatii noastre parentale ar trebui sa se afle, de fapt, in felul in care copilul simte si traieste relatia cu noi, caci din aceasta relatie el se hraneste pentru a se putea dezvolta echilibrat.
Unde, in peisajul acesta evaluator, se afla si criteriile copilului? Ce doreste copilul de la noi? Criterii sale nu sunt deloc complicate, ci se adreseaza simplu, nivelului sufletesc: implinirea nevoilor fizice si emotionale si relationarea autentica, sincera, profunda si empatica cu proprii parinti.
Modelul traditional de educatie aseaza copilul pe o pozitie de inferioritate clara in relatia cu parintele. De altfel, multi parinti considera inca si astazi ca, daca au adus pe lume copii, inseamna ca acestia devin posesia lor si au dreptul sa le dicteze ce si cum sa fie, gasind justificari acceptate social pentru diverse tipuri de pedepse, manipulari si corectii fizice.
Ceea ce poate nu realizam este ca aceste modele educationale se perpetueaza subtil (chiar daca la nivel declarativ nu suntem de acord cu ele), prin neconstientizarea efectelor pe care le-au avut asupra noastra atunci cand eram copii.
Felul in care ne-au facut sa ne simtim parintii nostri ramane in noi si influenteaza felul in care ne privim acum copiii. De multe ori, chiar si la varsta adulta, ne gasim cumva blocati in copilarie, la nivel emotional, urmariti de ecourile furiei, neglijarii sau controlului parental.
Situatiile prezente trezesc la viata emotii din propriul trecut. Si, cum reactionam in general ca urmare a ceea ce simtim in interior, este destul de simplu sa transferam in relatia cu copiii nostri reactii cunoscute, invatate, din istoria de viata personala.
Nu copiem in mod voit comportamentele parintilor nostri, dar le manifestam spontan, mai ales atunci cand suntem in situatii de stres si judecata ne este diminuata.
Cele mai intalnite reactii ce apar in relationarea cu copiii sunt cele care izvorasc din propriile sentimente de neputinta. Adica, ceva din comportamentul copilului depaseste puterea noastra de control si intelegere.
Atunci simtim neputinta, fiindca nu stim cum sa gestionam situatia. Neputinta, fiind o traire foarte neplacuta si presanta, creeaza imediat nevoia de a scapa de ea.
Iar cel mai "la indemana" mod de a o face este folosirea raspunsului deja invatat, impregnat in noi din perioada copilariei, adica acele tactici educationale ale parintilor nostri. Reactia apare instantaneu, fara sa mai treaca prin gandire.
De exemplu, copilul nu reuseste sa isi lege sireturile pantofilor la o varsta la care consideram ca este normal sa o faca. Ne grabim sa ajungem undeva si suntem in intarziere. Nu mai avem rabdare. Il vedem cat de greu se misca si ne streseaza sa il vedem inca neajutorat.
Ne enervam si il mustruluim direct, in timp ce ii legam cu furie sireturile: "Esti un pampalau! Nu esti in stare de nimic!" Nici nu apucam sa sesizam ce simte copilul, cu atat mai putin sa ne amintim ce am simtit si noi la varsta lui, vinovatia in fata asteptarilor pe care nu reuseam sa le implinim.
Da, suntem bine intentionati, vrem ca cei mici sa fie cat mai adaptati social, sa se ridice la nivelul pe care ni-l propunem pentru ei si sa fie fericiti (cam tot in acceptiunea noastra despre fericire).
Fiindca, da, ne place sa credem ca stim totul despre ce le-ar face bine, fiindca ne imaginam ca experienta noastra de viata si credintele la care am ajuns constituie cel mai bun model de urmat.
Ne placem sa detinem controlul.  Si ajungem sa ne "pierdem controlul" asupra noastra deoarece nu vrem sa pierdem controlul asupra copilului. Paradoxal, nu?
Exista momente, insa, in care ceva are puterea sa ne trezeasca brusc din lantul repetitiv al reactiilor inconstiente: trairea din ochii copilului. Daca ne oprim chiar si pentru o secunda asupra ei, ea reuseste sa ne arunce direct in propriile amintiri emotionale si ne plaseaza exact in starea pe care am simtit-o atunci cand mama sau tata tipa la noi sau ne privea cu furie sau ne adresa jigniri sau se purta cu noi asa cum ne purtam noi astazi.
Aceasta este constientizarea. Un prim pas catre intelegerea empatica ce ne ajuta sa ne conectam cu sufletul copilului nostru, locul primordial de unde incepe adevarata educatie bazata pe iubire, compasiune si respect.
Cum sa nu copiem comportamentele parintilor nostri? Reteta nu este rapida si exacta, ci este flexibila si indelungata, deoarece presupune un proces continuu de constientizare, de crestere, de vindecare, de transformare si perfectionare a noastra in raport cu noi insine.  Insa, este un proces ce merita intregul efort de a deveni cat mai autentici, deschisi si increzatori in relatie cu copiii nostri.
Cele doua aspecte asupra carora ar trebui sa ne orientam constant sunt constientizarea si informarea. Constientizarea, deoarece fara ea nu avem cum sa intelegem si sa dam sens sentimentelor si comportamentelor, ale noastre si ale copilului. Iar informarea este necesara pentru ca ne deschide mintea si ne ajuta sa aflam mai multe despre copii si dezvoltarea lor.
Cum devenim mai constienti? Observandu-ne pe noi cu mai mare atentie si reflectand asupra a ceea ce simtim in anumite situatii si asupra felului in care ne comportam, punandu-ne intrebari legate de propria istorie personala pentru a ne creste empatia:
Ce ma afecta mai mult cand eram copil? Cu cine comunicam mai mult? De cine ma temeam? Cum reactiona mama sau tata cand imi exprimam punctul de vedere/ cand luam note mici/ cand nu faceam ce mi se spunea/ cand eram nervos si suparat? Ce mesaje imi transmiteau in general parintii?
De asemenea participand la grupuri de suport pentru parinti, unde putem discuta mai multe despre rolul nostru si dificultatile pe care le intampinam, vorbind cu un psihoterapeut sau consilier.
Cum ne informam mai mult? Citind materiale despre etapele dezvoltarii copiilor si incercarile fiecarei varste, participand la workshopuri si cursuri de parenting, comunicand cu copilul nostru in mod sincer.
Doar prin constientizare si informare putem sa ne eliberam din schemele repetitive si sa oferim altceva copiilor decat  o reluare a propriilor noastre experiente afective. De fapt, chiar le datoram asta.
Autor: Veronica Cristea, psiholog clinician, consilier psihanalitic
tel: 0729397743
Foto: Parents sitting with children and reading stories
✖
Mulțumim pentru că vrei să fim prieteni!