O de la Orgasm. Când ea are chef si el nu. Ce e de fact când moare libidoul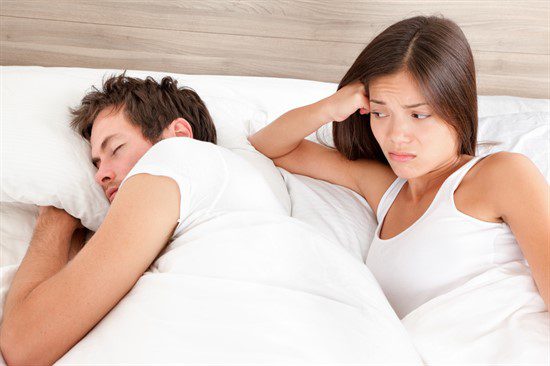 Intensitatea dorinței sexuale se modifică constant, în funcție de mai mulți factori. Ce este de făcut când libidoul nu e sincronizat, adică el are chef și ea nu… sau invers.
Citește și:
O de la Orgasm. Sfaturi pentru bărbați, ca să le fie bine femeilor
O de la Orgasm. Decalogul femeii cu orgasm multiplu
Dacă ne luăm după serialele în vogă în ultimii ani ajungem la concluzia că toată lumea vrea să facă sex dimineața, la prânz și seara. Că sexul e ca mâncarea, ba chiar ceva și mai bun și mai necesar.
Nu e chiar așa, oameni buni. E adevărat că avem nevoi sexuale, dar ele nu sunt nici pe departe la fel de vitale cum e nevoia de a bea apă sau de a dormi minim 7 ore.
Deci nu vă mai lăsați întristați de ideea că voi aveți chef cam de 2 ori pe an, ca oile de la stână.
Sexul e o nevoie biologică, dar suntem foarte neegali în exprimarea ei.
Libidoul sau intensitatea dorinței sexuale e o chestie foarte complexă.
Ține de hormonii de la un anumit moment al vieții (bărbații ating un vârf hormonal pe 18-19 ani, dată de explozia de testosteron – de unde și cantitatea uriașă de șervețele umede, reviste porno și coșuri la această vârstă) iar femeile ceva mai târziu, spre 30 de ani, chiar după.
Deci e normal să existe o discrepanță între cheful ei și cheful lui în orice moment al vieții de cuplu, chiar dacă el și ea se iubesc și mai jos se iscălesc.
Asexualii există și nu e vorba de boală
Există pe lume oameni care preferă să mănânce o prăjitură bună, să vadă un film indie, să iasă cu prietenii la un ceai, să meargă în India și să se reculeagă într-un ashram din munții Himalaya.
Acești oameni sunt interesați de partea sexuală a vieții foarte puțin, nu sunt atrași prea des de alte persoane de sex opus (sau neopus) și în general, li se rupe de sex.
Ei sunt numiți de către psihologii actuali asexuali, și nu e vorba de o nouă orientare sexuală sau de vreo perversiune, ci pur și simplu de o realitate biologică și psihologică: nu le pasă de sex și nu simt că pierd ceva dacă nu le pasă.
Trăim într-o cultură intens sexualizată și asta e de natură să îi complexeze pe cei care cred că dacă nu au chef la fel de des pe cât are Samantha (sau în fine, Miranda) din Sex and the City, înseamnă că au o problemă. Nu, nu au o problemă.
La fel cum avem înălțime și greutate diferite, diferite culori ale pielii și părului, la fel de diferiți suntem în expresia nevoilor noastre biologice.
Evident că ar fi mai bine ca doi asexuali să se întâlnească și să stabilească faptul că preferă în cuplul lor să se uite în fiecare seară la Game of Thrones, nu să se giugulească.
Mai neplăcut e când un asexual întâlnește un hipersexual și diferența e atât de mare încât apar conflicte în cuplu.
"Eu am fost mereu cel cu chef de sex mai mare, ea nu s-a arătat prea interesată de asta nici la început, nici după ce ne-am căsătorit", îmi spunea un prieten.
Prietene, regret. Ideea este că soția ta ar putea avea prea puțin testosteron în sânge (hormonul dorinței sexuale) și asta nu prea are leac.
Încearcă și tu cu fanteziile, întreab-o ce i-ar plăcea, încearcă să-i înțelegi felul de a funcționa și pliază-te pe acesta, fără mari așteptări.
Dacă ți-ai luat o asexuală, nu te aștepta să ajungă vreodată flămândă de sex și dornică de sex în trei. Cel mult, îi vei putea inspira ceva dorință dacă știi cum să o iei, dar fără presiuni și șantaje.
Orice agresivitate e de natură să aibă consecințele pe care nu le vrei, să se îndepărteze și mai mult de tine.
Mai e și situația în care el și ea erau destul de interesați de sex, dar nu mai sunt. Atunci sunt de explorat problemele apărute în interiorul cuplului.
Dacă aveau chef la un moment dat și nu mai au, unde e buba? Emoțional cuplul e în regulă? Se mai iubesc? Se mai admiră? Mai sunt fascinați unul de celălalt în afara dormitorului? Astea sunt întrebările de pus.
În scăderea libidoului până la cote de avarie mai trebuie investigată și sănătatea. E normal să scadă cu vârsta, dar doamnelor le scade dramatic odată cu menopauza.
Și bărbații experimentează fluctuații de libido, când le scade testosteronul (și asta poate să se întâmple pe fond de oboseală, de depresie și tratament medicamentos pentru depresie), abuz de alcool, sau chiar nașterea unui copil (bărbaților le scade testosteronul odată cu acest eveniment – un truc al naturii pentru ca aceștia să se atașeze de cuib și să nu mai caute o altă parteneră sexuală).
Libidoul este, cum spuneam mai sus, o chestie complicată. El poate să fluctueze în funcție de emoțiile persoanei și ale cuplului în care se află sau în funcție de evenimente biologice specifice (naștere, alăptare, menopauză).
Ceea ce nu-l aduce înapoi cu siguranță este presiunea. Dacă soția care tocmai a născut și e copleșită de oxitocina alăptării și atașamentului față de copil e presată de soțul nerăbdător să facă sex, efectul poate fi contrar.
Agresivitate, frustrare, și toate astea duc la o scădere și mai și a libidoului.
Dacă un bărbat nu prea are chef, dar e în cuplu cu o femeie senzuală care are, el are la dispoziție trucul numit Viagra.
La femei e mai complicat. NU s-a constatat vreun efect nemaipomenit al pastiluței roz numită Viagra feminină.
Am fi auzit și ar fi explodat piața. Dar femeile pot să își mai mărească nivelul de testosteron (și ele au așa ceva în sânge, deși mai puțin decât bărbații) cu suplimente de estrogen (atenție, numai la indicația medicului) și o alimentație care susține producția de testosteron: fructe de mare, cartofi dulci, varză roșie, fasole neagră și mazăre și cam 2 pahare de vin roșu.
Nu întâmplător, asta poate fi chiar o cină romantică pe care el să i-o ofere ei și să vadă unde mai duce treaba asta.
Foto: 123rf.com
✖
Mulțumim pentru că vrei să fim prieteni!