O de la Orgasm. Plăcerea sado-maso sau de ce ne excită 50 Shades of Grey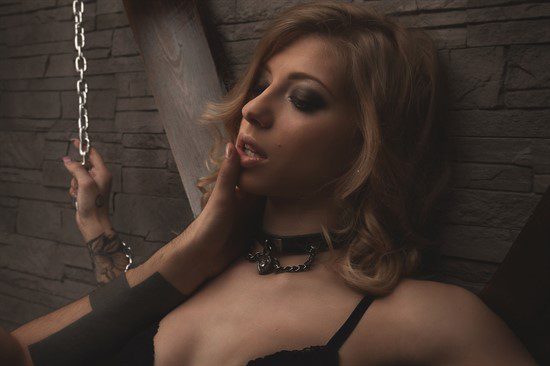 Se dă bancul următor:
Masochistul spune: Bate-mă, lovește-mă…
Sadicul: Nu…
Sexoasa Rihanna a făcut reclamă acestei înclinații mai speciale, cu melodia în care își fâțâie fundul măricel și se contorsionează în fel și chip îmbrăcată în latex alb sau se zvârcolește legată bine de tot cu niște funii. Așa arată oare celebrul Sado-Masochism?
Citește și:
O de la Orgasm: Masturbarea feminină nu (mai) e un tabu
O de la Orgasm. Ce e perversitatea sexuală?
Bancul de mai sus vă permite să înțelegeți (dacă ați prins poanta, evident) care e dinamica din cuplul sado-maso. Adică unul vrea să fie chinuit și celălalt îi îndeplinește voios dorința.
Sado-masochismul este definit drept actul de a oferi și de a primi plăcere prin intermediul violenței sau umilirii.
Sadicul e cel care oferă (cu generozitate, cu ajutorul unor bice, clești, cătușe, funii și alte jucării adecvate) senzații de durere, iar masochistul e cel care le caută și le primește. Amândoi se declară mulțumiți de partidă.
În vreme ce nouă, celorlalți, mai clasici în preferințele noastre sexuale, ni se pare demn de râs (sau de făcut o cruce mare și scuipat în sân), trebuie să spunem că sado-masochismul e nu e așa o sperietoare.
În fine, nu e o sperietoare câtă vreme vorbim de doi parteneri care consimt la acest joc erotic, adulți, și care știu limita (adică nu merg până la a vătăma fizic serios partenerul, deși cu niște vânătăi masochistul tot se va alege).
Dacă iese cu sânge, vorbim de o tulburare sado-masochistă ce poate merge până la vorareflia descrisă aici.
Marchizul de Sade nu era chiar nebun
"Sadism" vine de la Sade, marchizul șugubeț care a descris în "Cele o suta douazeci de zile ale Sodomei" niște practici care fac să roșească și să se supraîncălzească până și nevinovatul telefon de pe care citiți acest text.
De aceea vă îndemnăm să citiți cartea pe hârtie. "Masochism" vine de la numele baronului Von Sacher Masoch, cel căruia îi plăcea să fie umilit de o femeie frumoasă și glacială (și să primească niște bice peste fese). 
Mai trebuie spus că cei doi, sadicul și masochistul, alternează rolurile – adică unul plesnește și celălalt o încasează, și din când în când, încasatorul se răzbună). Iar agresiunea nu e doar fizică.
Sadicul îl insultă și îl degradează verbal pe masochist, chestie care cu siguranță îi dăunează stimei de sine a masochistului, însă acesta pare, culmea, să se bucure; psihologii sunt încă în dilemă cu privire la acest aspect, dar ei admit că nu le știu pe toate, și că natura (sexuală) umană e adesea mai variată și mai interesantă decât ce scrie la manual.
Sado-masochismul nu este considerat parafilie (aveți mai multe definiții ale parafiliilor aici) dacă acest obicei sexual nu provoacă vătămări clinice masochistului (de genul celor care necesită certificat de la Institutul Medico Legal "Mina Minovici").  
Bine, bine, dar atunci de unde obțin ciudații de sado-masochiști plăcere, veți întreba? Noi toți știm că sexul înseamnă mângâieri, tandrețe, afecțiune. Și că, în general, e ceva menit să te facă să te simți iubit și prețuit de celălalt, să crească stima de sine, nu să o năruie?
De ce atâta plăcere la ciudații din "50 Shades of Grey"?!
Durerea și plăcerea își dau mâna în sado-masochism
Adevărul este că neurochimia plăcerii și a durerii sunt strâns legate și ele se completează în feluri în care nu ne-am fi gândit. Un specialist australian în neuroștiințe, Gregory Berns, s-a gândit să studieze fenomenul.
El nu i-a legat cu funii de RMN pe cei costumați cu pantaloni de piele, ținte și cagule (bilele de fier din gură ar fi reprezentat un risc la RMN) dar s-a gândit la felul cum se plimbă în creier moleculele durerii și plăcerii. Și a ajuns la următoarea concluzie: "În experiența SM, anticiparea mai degrabă decât consumarea este totul.
De exemplu, să ne gândim la un eveniment plăcut. Nu trebuie să fie neapărat unul sexual. Încercați să vă amintiți momentele care preced experiența. Dacă ar trebui să alegeți între senzația de anticipare și evenimentul respectiv, ce ați alege?
Dacă alegeți anticiparea, atunci poate că sunteți mai SM decât ați crede. Nevoia de noutate se impune în moduri neașteptate.
Anticiparea delicioasă poate proveni din fragmente de informații precedente, care în cazul SM, pot fi mirosul de piele sau apariția unui bici.
În sine, aceste elemente pot să nu aibă nicio importanță dar, în grade variate, ele invocă anticiparea actelor interzise, supraîncărcând astfel sistemul de recompensă prin anticiparea a ceea ce se va întâmpla."
Mai trebuie spus ceva: sadicul și masochistul au de cele mai multe ori un …contract. Da, exact așa ca în "50 Shades of Grey".
Masochistul poate să controleze durerea pe care o primește de la sadic. În general, cei doi au un cuvânt-parolă la care sadicul se oprește.
Altfel se întâmplă ca în serialul CSI Miami, când o domnișoară masochistă a fost omorâtă din greșeală pentru că nu a pronunțat la timp parola când amorezul era cu mâinile la beregata ei și iubitul a …sufocat-o.
Asta ne mai duce la o idee care ne ajută să înțelegem ce e în capul celor sado-masochiști: controlul durerii.
Masochistul, prin acest contract, își controlează durerea pe care sadicul i-o provoacă. "Stresul incontrolabil este perceput aproape întotdeauna ca neplăcut, dar cel controlabil poate fi suportabil, chiar plăcut", spune Gregory Berns.
Controlul stresului intern e mai important pentru discuția de acum. Stresul intern, cum sunt durerea de cap sau de stomac – care, deși au originea în corp, par că sunt în afara controlului nostru, sau un antrenament greu, toate sunt controlabile datortă voinței, explică el în cartea "Satisfacția – arta de a găsi adevărata împlinire", scoasă la editura Nemira.
Efectele fiziologice și mentale date de controlul unui agent stresant depind de o porțiune mică din corpul striat (nucleus accumbens) și se datorează dopaminei, acest simpatic hormon al satisfacției…
Foto: shutterstock.com
✖
Mulțumim pentru că vrei să fim prieteni!