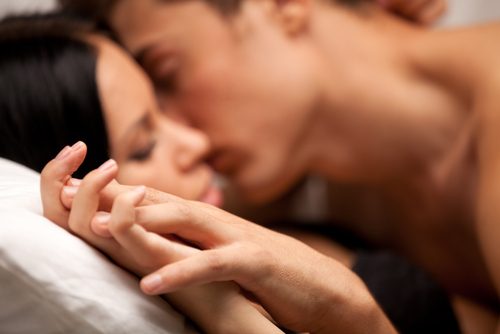 Auzim adesea despre "fuck buddies" sau "e doar sex"… Este posibil sexul satisfacator fara implicare emotionala? Dar cat de mult se pacalesc oamenii cu privire la lipsa de sentimente? Am cules cateva opinii de la unii si de la altii, sa vedem ce crede lumea.
"Eu nu cred ca poti avea parte de o experienta pe deplin satisfacatoare daca nu exista legatura emotionala cu partenerul. Cred ca avem nevoie de intensitatea sentimentelor care amplifica atat dorinta fata de iubitul tau cat si confortul emotional de care ai nevoie cand impartasesti o experienta atat de intima. Daca as vorbi doar despre atractie, atunci poate fi o «partida reusita» in masura in care ai alt echilibru emotional si esti capabila de aceasta exprimare fara sa ai nevoie de mai mult. Totusi partidele de acest gen sunt «aventuri», iar noi femeile cred ca in cele mai multe cazuri ne dorim o poveste mai mult decat sex." AIP (ea) – 29 ani
"In mod cert am avut parte de experiente extrem de satisfacatoare si in absenta unui sentiment… altul decat dorinta. Adevarul este ca mi s-a intamplat sa am o aventura cu o tipa cu care am «scos scantei» si sincer, mi-a cam parut rau ca nu a existat si o continuare. Dar nu cred ca sexul neaparat este legat de sentiment. Poate fi foarte reusit ba chiar si mai incitant cu cineva cu care nu esti implicat emotional. Adevarul este ca nu trebuie sa iubesc o femeie ca sa o doresc fizic. Iubirea poate veni sau nu, dar daca exista chimie, sexul poate fi extraordinar. "  MCD (el) – 32 ani
"Am avut o singura experienta in afara unei relatii, cu un tip care chiar ma dorea, iar eu am considerat ca merita incercat si altfel decat in stilul clasic… Nu a fost nereusita partida, dar nici nu mi-am dorit mai mult. A fost…sex destul de sec.  Daca exista asa ceva, mie asa mi s-a parut si sincer, m-am lamurit ca eu nu pot avea o experienta cu adevarat intensa decat daca sunt indragostita de persoana respectiva. Cred ca ceea ce simt este catalizatorul care ma face sa ma simt bine in pat cu un tip. " MN (ea) – 27 ani
"M-as gandi sa spun ca daca iubesti sau macar esti indragostit, o experienta sexuala este mult mai reusita decat daca nu simti mare lucru pentru partener. Cu toate acestea, am avut si stiu relatii in care doi oameni pot fi compatibili pe alte planuri, mai putin sexual, iar atunci, oricat de indragostit esti, pe termen lung tot vei avea nevoie de «sex de calitate»…iar atunci poate aparea nevoia unui alt partener sau a unei aventuri. Dorinta fizica si compatibilitatea sexuala sunt componente foarte importante in orice cuplu. De asemenea, atractia fizica intre doua persoane poate fi atat de puternica incat cei doi sa se simta excelent in pat, fara sa existe si o relatie pe fundal. Noi femeile avem nevoie de mai mult decat sex din partea unui barbat, dar asta nu inseama ca nu putem avea o experienta sexuala reusita cu un partener «hot» cu care nu mergem si la cumparaturi… Cred ca tine si de libertatea fiecaruia de a trai un moment dincolo de credinte, asteptari, reguli sau limite. " PC (ea) – 33 ani
"Ma gandesc acum la termenul de «fuck buddy» pe care l-am retinut din serialul Sex and the City. Cred ca poti avea o relatie sexuala excelenta cu un partener chiar si daca nu ai din varii motive, uneori irelevante, o relatie cu acesta. In plus de exemplu, daca esti single, de ce sa iti refuzi acest aspect? Nu vad de ce sa nu incerci o apropiere fizica de cineva daca esti atras de persoana respectiva. E ca si cum l-ai si te-ai pedepsi cu refuzul sexului pentru ca nu iti ofera o relatie sau pentru ca nu corespunde din alte puncte de vedere si nu ii poti oferi tu o relatie. Poate nu e asa rau sa ai un fuck buddy… pana la urma, daca ajungi la aceeasi experienta repetata cu acelasi individ, tot un tip de relationare este, nu? In plus exista beneficiul disponibilitatii, independentei pe care ti-o mentii si a unei oarecare increderi in obiectul dorintei tale, pe care il cunosti… " FS (ea) – 37 ani
"Am avut vreo cativa ani o relatie despre care spuneam amandoi ca e doar de sex, ca ne putem vedea si cu altii… sincer, eu nu mai cred in asa ceva. Te atasezi de cel sau cea cu care te culci, e inevitabil. Daca nu s-ar intampla asta, poate ca nu ar dura atata. Exista sex fara obligatii, da, dar nu pe termen lung. Cine o duce asa mai mult de un an e implicat mai serios si nu vrea sa admita. De altfel, eu si partenerul meu de sex (accentuez cu ironie) am suferit atunci cand ne-am marturisit celuilalt cate o aventura, chiar daca ne dadeam mari si tari si cu sange rece. Cred ca nu e sanatos sa separi lucrurile astea, te doare asa cum nu anticipezi. " M.A, 33 de ani
Autor: Iulia Barca
Foto: Shutterstock, Young lovers kissing on the couch
✖
Mulțumim pentru că vrei să fim prieteni!