Donald Trump – schiță de portret psihologic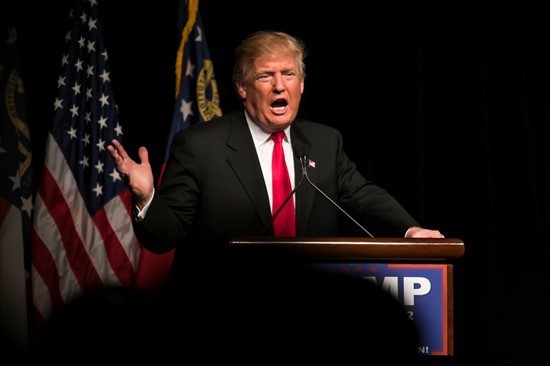 Azi, Donald Trump devine Președintele cu numărul 45 al Statelor Unite. Narcisist, dezagreabil și agresiv, Donald Trump nu lasă pe nimeni indiferent. Dar cum se explică aceste trăsături de caracter și ce riscuri sunt cu Trump președinte?
Trump e un narcisist, îi place să fie în centrul atenției, se hrănește din privirile celorlalți și nu-i pasă că e simpatic sau nu.
"I'm the king", spunea el unui jurnalist. "Celebritățile vin la mine, mănâncă alături de mine, mă pupă în fund, apoi spun că sunt un tip groaznic. Dar eu sunt regele."
De obicei, o analiză a personalității cuiva se face din 5 perspective: extraversiunea (dominanța socială, entuziasm, comportament de căutare a recompenselor de orice fel), caracterul nevrotic (dacă respectivul are eventuale trăsături anxioase, labilitate emoțională, tendințe depresive, emoții negative frecvente), conștiinciozitatea (efortul de care e capabilă persoana respectivă, disciplina, complianța la reguli și organizare), caracterul agreabil (cât de simpatic e omul respectiv, cât de cald e cu alții, cât de altruist sau de modest) și deschiderea la experiențe (curiozitatea, nonconformismul, imaginația, receptivitatea la idei noi).
Este clar că Donald Trump bifează din plin la extraversiune, la deschiderea către noi experiențe, și probabil că are scor foarte scăzut la trăsături nevrotice. Nu pare genul depresiv.
Cât despre agreabilitate, ce să mai zicem? Mulți spun că este, probabil, cel mai dezagrabil și mai detestat președinte american.
Asta cu atât mai mult cu cât prezența lui în opinia publică vine în puternic contrast cu agreabilul Obama, cel iubit de toată lumea, cultivat de staruri pop și adorat de presă.
Citește și:
Maxime din "intelepciunea" lui Donald Trump
Pentru a avea succes asumă-ți riscuri
Prin comparație, Donald Trump e un spirit primar, agresiv, dur, de nestăpânit (această aparentă imposibilitate de a-l controla cumva sperie lumea politică internațională, Trump le pare pur și simplu incontrolabil).
"Când cineva te provoacă, ripostează. Fii brutal și dur", spunea el. Într-o lume în care agresivitatea pare că escaladează tot mai vizibil, un Președinte al Statelor Unite care gândește astfel e o sperietoare.
Trump este o vânător de recompense, o trăsătură a celor extravertiți. Mânați de circuitul dopaminei din creier, cei extravertiți caută neobosiți experiențe emoționale cât mai diverse și mai intense.
Recompensele pot fi orice: femeile, averea, statutul social. Multitudinea de afaceri lansate din cele mai diverse domenii atestă aceeași nevoie de diversitate.
Trump și-a făcut averea din imobiliare și și-a extins-o în diverse alte domenii (succesul media e cel mai cunoscut, dar are afaceri în modă și transporturi).
Trump este și un mare gambler, cu un apetit pentru risc pe care nu mulți îl au, o caracteristică tot a celor extravertiți și căutători de stimulare. Și, cum știm deja, cine nu riscă nu câștigă.
Cu alte cuvinte, Trump se aruncă în orice situație sau context îl tentează și își mărește astfel șansele de a obține ceva. Spunea, într-un alt interviu, că atunci când negociază, o face pornind de foarte sus. Cu alte cuvinte, cere enorm și astfel obține măcar pe jumătate din cât cere.
"Nu ești niciodată prea lacom", spunea el, arătând, prin aceasta, cât de sus plasează miza negocierii. O lecție bună și pentru noi, ceilalți muritori…
Ce se poate spune despre felul cum decid asemenea inși? Extravertiții extremi, cum e Trump, iau decizii impulsive, de mare risc și nu se lasă influențați. Asta sperie.
Ambiția nemăsurată a acestui om fără îndoială inteligent, e greu de înțeles de către o lume occidentală civilizată, aflată de decenii într-o cultură a discuției, negocierii și compromisului.
Și iată-l ajuns pe Donald Trump la cel mai înalt statut social, Președinte al SUA. "It's the hunt that I love", spunea el – "Îmi place vânătoarea".
Următoarea țintă, următorul scop al acestui neobosit Trump sunt o nevoie, o foame de noutate și de mereu altceva.
Donald Trump e o bestie competitivă pentru care contează rezultatul, nu participarea. "I don't like losers", mai spunea el, "nu îmi plac cei care pierd".
Cu astfel de optică a cruzimii, Trump schimbă regulile jocului, aruncă la gunoi ideea de fair-play și își calcă în picioare adversarii.
Respectul pentru ceilalți îi este străin, dacă ceilalți nu se ridică la nivelul său. Arogant și autosuficient, a spus într-un post de Twitter că se consideră pe sine "Hemingway în 140 de caractere".
În final, să medităm la ceva ce a spus tot el: "Ceea ce separă câștigătorii de cei care pierd e felul cum reacționează la fiecare întoarcere a sorții".
Poate că o doză de autocontrol al neliniștii pe care o resimțim toți e mai utilă azi decât anxietatea aceasta permanentă. Cine știe, poate că Trump, ajuns acum la cel mai înalt nivel, nu va mai simți nevoia să demonstreze lumii ceva și va începe să și asculte. Sper.
✖
Mulțumim pentru că vrei să fim prieteni!