Monica Petrică – Îmi păstrez partea ludică, inocența sufletului, copilul interior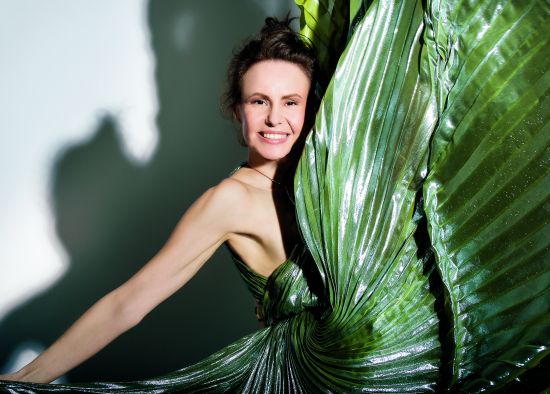 Este prim-balerina Operei Naționale. Are o grație care nu e doar de ordin fizic. Până și felul cum articulează consoanele, cu fraze ca niște piruete, este grațios. Monica Petrică vorbește, în cele ce urmează, despre balet și filozofia ei de viață.
Ce spectacole mai pregătești, Monica?
Monica Petrică: Predau colegilor mei, la Opera Națională București, noua metodă de ballet yoga, care îmbină dansul clasic cu yoga modernă.
Îmbinarea și analizarea metodelor științelor moderne despre corpul uman cu practici milenare yoga au creat un sistem extrem de eficient de exerciții pentru pregătirea balerinilor din toate colțurile lumii, cele mai importante avantaje ale acestora fiind:
flexibilizarea articulațiilor, eliminând posibilitatea accidentărilor și accelerarea recuperărilor posttraumatice; tonifierea musculaturii pentru o mai bună rezistență la efort;
creșterea capacității pulmonare, cu efect imediat în susținerea unui efort îndelungat; creșterea capacității de focalizare și control corporal susținut pe perioade lungi de timp.
Psihiatrii și specialiștii în neuroștiință recomandă dansul ca mijloc de combatere a degradării cerebrale, odată cu vârsta. Tu ce beneficii simți că are dansul pentru organismul tău, dincolo de pasiunea pusă în el?
M.P.: Așa cum vorbim despre arhitectură – la baza unei clădiri maiestuoase se află o fundație bine definită, solidă –, tot așa putem să aducem în informația cititorului faptul că orice formă de mișcare, impecabil executată din toate punctele de vedere – tehnic sau artistic – are la bază dansul clasic.
Dansul clasic este definitoriu într-o carieră profesionistă de balerin. Fără această bază, poți fi un bun executant, însă nu un artist complet. Vorbesc despre cei care urmează o carieră în domeniu.
Mai mult decât atât, pot observa în mișcarea unui balerin, nu numai tehnica dobândită în ani de studiu, ci și inteligența sa, dincolo de personajul interpretat pe scenă.
Desigur, acest aspect poate fi recunoscut de persoanele avizate, care au văzut și cunosc baletul, și, evident, de psihologi, psihanaliști și doctori psihiatri.
Revenind la întrebarea ta, aș poziționa toate dansurile pe aceeași treaptă de importanță, la baza lor fiind, în viziunea mea, dansul clasic. Fiecare persoană se regăsește într-o formă de mișcare.
De aici și multitudinea, variațiile, nuanțele tuturor formelor de dans, precum suntem în viață, ființe complexe, unice, cu opțiuni diferite.
Cred că suntem pregătiți să ne naștem, însă, niciodată să murim. Așa și în dans: suntem pregătiți să dansăm, însă nu suntem niciodată pregătiți să ieșim de pe scândura scenei.
În acest sens, recomand profesorilor și psihologilor din cadrul liceelor de coregrafie să prezinte și să îi învețe pe elevi cum să reacționeze într-un mod inteligent în situația în care sunt nevoiți să își schimbe calea profesională, să se reinventeze, fără a duce în trup și în suflet suferință.
Care este, în viziunea ta, ierarhia dansurilor? Balet, tango, și… restul? Ce are fiecare dans valoros?
M.P.: Dansul clasic aduce în forma de mișcare a oricărei persoane eleganță, rafinament, cultură muzicală și, nu în ultimul rând, disciplină.
Toate aceste calități dobândite în timp, validează fair – play-ul în profesie și se pot aplica și în viața privată. Aș spune că avem nevoie mai mult decât oricând ca noile generații să posede aceste calități.
Iar vorbind despre latura fizică, dansul clasic este recomandat de medici pentru copiii în creștere care prezintă afecțiuni la coloană sau au platfus. Iată câte argumente pro dans.
Am spus asta pentru a duce în atenția părinților și a da întâietate dansului clasic, să fie practicat de la vârste mici în școli, așa cum se obișnuiește în Rusia. Ei acordă mult timp și pasiune acestei arte.
Mai mult decât atât, cred că este modul lor de a-și exprima, prin dansul clasic, noblețea sentimentelor și marea lor istorie.
Mă bucur că în SUA se acordă un nivel de importanță academică acestei discipline. Mi-aș dori ca același lucru să-l regăsesc și în țara noastră.
Ce alte pasiuni ai?
M.P.: Am fost atrasă de yoga, nu numai pentru filosofia ei, ci și pentru frumusețea ei. Baletul cuprinde o multitudine de mișcări fizice care se aseamănă cu exercițiile de yoga, prin care se identifică grația, fluiditatea și ușurința cu care sunt executate.
Uniunea dintre philosophical yoga din Est cu arta baletului din Vest, la început, poate să pară ciudată, însă similaritățile sunt destul de puternice. Ambele necesită control, disciplină și echilibru.
Prin practica de yoga, în fiecare zi regăsesc o nouă formă de echilibru în viața mea, o formă de echilibru care estompează așteptarea momentului, lăsând totul să vină în întâmpinarea mea, imediata mulțumire versus lăsarea naturii să își preia cursul.
Putem să ne gândim un moment de câte ori recurgem la decizii impulsive care se dovedesc în detrimentul nostru? Folosind echilibrul adus din practica de yoga, putem să avem disciplină și control în viețile noastre, pentru un viitor mai frumos de mișcare cu toată grația unei balerine.
A fost vreun moment când baletul a cerut prea mult de la tine?
M.P.: Niciun moment de muncă în dans nu este stresant. Inabilitatea de a-ți coordona corpul, mintea și emoțiile, aceasta creează stresul atunci când pășești pe scândura scenei. Important este însă să crezi, să creezi echilibrul între ceea ce vrei să dovedești și cât poți să dăruiești.
Ai spus că baletul te-a învățat disciplina. Care sunt celelalte învățăminte?
M.P.: Baletul m-a învățat arta de trăi frumos, dincolo de rigoarea controlului, a disciplinei și a echilibrului, pentru a reuși să ajung mai departe.
Îmi place să cred că m-a ajutat să îmi păstrez partea ludică, inocența sufletului, sau, mai bine spus, copilul interior.
Ce citești? Ce cărți ai recomanda cititorilor Psychologies?
M.P.: Mie mi-au plăcut foarte mult Ghidul unui yoghin către starea de bucurie de Sadghuru, Ce se întâmplă în iubire? de Alain de Botton și Copilul tău competent de Jesper Juul.
Ești preocupată de politică? Ce simți zilele astea?
M.P.: Nu. Însă aș vrea să îl citez pe Sadhguru: "Being a leader does not mean dominating the situation. It means empowering people to do what they would not have imagined possible."
Foto: Andreea Goia
✖
Mulțumim pentru că vrei să fim prieteni!