Arii celebre și scenografie virtuală 3D în concertul Angela Gheorghiu de la Zilele Bucureștiului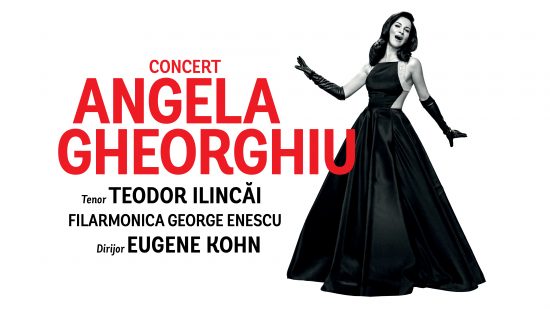 Starul operei internaționale Angela Gheorghiu este protagonista concertului inovator de vineri, 15 septembrie, de la București, care va deschide seria de evenimente aniversare Zilele Bucureștiului.
Într-un decor virtual tridimensional, creat de proiecțiile de video mapping, marea soprană va interpreta, alături de tenorul Teodor Ilincăi, arii celebre din Tosca, Turandot și Carmen, dar și fragmente din Sunetul muzicii sau lucrări ale compozitorilor români Marius Țeicu, Vasile V. Vasilache și George Grigoriu.
Cei doi artiști care au susținut în trecut concerte de succes împreună la Valladolid, Londra și Bodrum vor fi acompaniați de Filarmonica George Enescu.
Este cunoscută buna colaborare a sopranei cu cea mai veche filarmonică din estul Europei, alături de care a cântat în trecut la Royal Opera House Muscat din Oman și în multe alte concerte la Ateneul Români și în țară.
Dirijorul concertului va fi maestrul newyorkez Eugene Kohn, cu care Angela Gheorghiu concertează încă de la începutul carierei sale, în anii '90.
Concertul din 15 septembrie este organizat de Primăria Capitalei prin ARCUB și face parte din programul Zilelor Bucureștiului, care continuă în weekendul 16 – 17 septembrie cu spectacole de video mapping și concerte rock în Piața Constituției.
Sâmbătă, 16 septembrie, are loc cea de-a patra ediție a evenimentului iMapp Bucharest, cel mai mare concurs de 3D video mapping din lume.
În deschiderea festivalului vor concerta, de la ora 17:30, Paul Damixie, Moonlight Breakfast și celebra orchestră Pink Martini, alături de solista Storm Large.
Cele șase echipe finaliste: MotionLab – România, mammasONica – Italia, EPER – Ungaria, Gong Zhen – China, Flightgraf – Japonia și Ouchhh Studio – Turcia vor prezenta, începând cu ora 22:30, spectacole dinamice de sunet, lumină și culoare, care vor anima elementele arhitectonice ale Casei Poporului, timp de 4 minute și 30 de secunde, în concordanță cu tema ediției –  "Above and Beyond".
Duminică, 17 septembrie, seria evenimentelor din cadrul Zilelor Bucureștiului continuă cu un concert maraton, de la ora 18:00, în Piața Constituției.
Pe scenă vor urca artiști îndrăgiți de publicul bucureștean, care vor întreține atmosfera de sărbătoare: Irina Rimes, The Motans, Vunk, Holograf, Voltaj și Delia & Band.
Accesul la toate evenimentele din cadrul Zilelor Bucureștiului 2017 este liber.
✖
Mulțumim pentru că vrei să fim prieteni!