Cafeaua urbană Stretto, acum și la tine acasă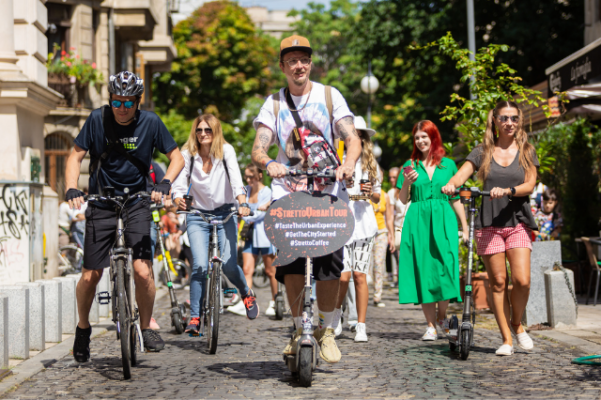 Taste the Urban Experience cu Stretto Coffee! Simte energia orașului la tine acasă cu cele cinci tipuri de cafea Stretto, ce pot fi comandate acum și online, de pe stretto.ro.
Fiecare experiență urbană se trăiește mai intens cu tipul potrivit de cafea. De aceea, Stretto caută cele mai în trend sortimente din diferite colțuri ale lumii și le aduce mai aproape de tine:
Honduras Marcala (Note de gust: florale/ de ciocolată/ vanilie)
Cea mai mare parte a cafelei crescute în Honduras provine din regiunile montane. Honduras are nenumărate avantaje atunci când vine vorba de producția de cafea, altitudini în creștere, vreme frumoasă și sol perfect.
Ethiopia Sidamo (Note de gust: Lămâie/ Portocale/ Cedru/ Ciocolată)
Cafelele din Etiopia sunt renumite pentru aciditatea lor și pentru aromele fructate și florale. Unele sunt considerate chiar asemănătoare ceaiului. Este o cafea 100% arabică, crescută într-un climat exotic ideal. O cafea cu un gust de final surprinzător și catifelat.
Costa Rica Tarrazu (Note de gust: Cireșe/ Flori de portocal/ Caramel)
Cafeaua din Costa Rica este printre cele mai populare din lume. Valea Centrală este locul ideal pentru plantarea cafelei, datorită altitudinii și solului vulcanic bogat în minerale. Echilibru este al doilea nume al acestei cafele atunci când vine vorba de gustul și senzația pe care le lasă.
6 Origins Blend (Note de gust: Ciocolată/ Fructe/ Mirodenii)
Șase origini, adică Brazilia, India, Honduras, Gutemala, Costa Rica, Indonezia. Este un blend cu un profil bogat de arome, surprinzător și potrivit celor care vor să își înceapă ziua cu o cafea ce are un ușor gust de ciocolată și fructi și un aftertaste condimentat de nucșoară.
4 Origins Blend (Note de gust: Citrice/ Nucă/ Cacao cu lapte)
Patru origini, adică Etiopia, Columbia, Honduras, Brazilia. Blend-urile sunt o parte importantă din viziunea noastră de a oferi mereu tipuri surprinzătoare de cafea. Alegem cafele de calitate, cu note predominante puternice, apoi le combinăm pentru a dezvălui complexitatea, noutatea și gustul delicios al fiecăreia dintre origini. Combinația explozivă de gusturi a acestui blend începe cu arome de citrice și nucă și se termină cu un after-taste dulce de cacao cu lapte.
"Stretto este de acum disponibilă și pentru acasă. Intri pe site-ul stretto.ro, alegi cafeaua care îți place și cât de măcinată o vrei și apoi comanzi. Toate cafelele noastre sunt prăjite de peste 25 de ani în București cu mare atenție, exact atât cât trebuie ca să le punem în valoare aromele.", spune Silviu Neagoe, National Out of Home Manager Alka.
În magazinul www.stretto.ro găsești toate aceste tipuri de cafele, le poți comanda boabe sau îți poți alege varianta de măcinare: granulat, mediu, mediu fin, fin și extra fin, în funcție de metoda ta preferată de preparare a cafelei.
Pentru mai multe idei și moduri de a savura cafeaua, urmărește Stretto Coffee pe Facebook și Instagram.
Stretto este un brand ce promovează stilul de viață eco-friendly și încurajează oamenii să adopte o atitudine responsabilă: deplasările cu trotinete, biciclete, role sau long board-uri.
Let's get the city started!
Stretto Coffee este parte din grupul Alka, ce are în portofoliu și snacks-uri sărate sau dulci precum Toortitzi, Soocitzi, Meteoritzi, semințe, covrigei, napolitanele Alfers, Prăjitura casei și biscuiți.
✖
Mulțumim pentru că vrei să fim prieteni!