F-SIDES revine cu cea de-a doua ediție

Cineclubul se va desfășura în perioada iunie – noiembrie 2021
Prima proiecție, "The Second Mother", filmul cineastei braziliene Anna Muylaert, se va vedea miercuri, 2 iunie, de la ora 20.00, la Cinema Elvire Popesco
Ediția este însoțită de un manifest dedicat celor 5 teme abordate anul acesta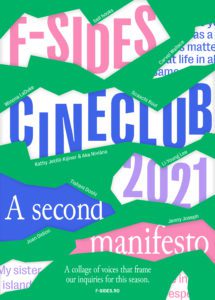 F-SIDES, primul cineclub care aduce în fața publicului din România exclusiv  filme regizate de femei, revine pe 2 iunie cu cea de-a doua ediție. Proiectul se va desfășura timp de 6 luni, în perioada iunie-noiembrie, și va include o serie de proiecții bilunare în cinematografe, în aer liber, dar și online.
F-SIDES pornește de la film ca instrument de reprezentare și dialog și vrea să construiască un spațiu sigur de discuție și educație. Ioana Diaconu, cofondatoarea F-SIDES, precizează că "proiectul a pornit de la premisa că filmul are capacitatea de a ne aduce mult mai aproape de povești și experiențe diferite, luând în calcul diferențe de gen, orientare sexuală, etnie sau clasă socială. Ne dorim ca filmele pe care le arătăm în cadrul cineclubului să fie un punct de pornire pentru chestionarea unor prejudecăți sau să ne deschidă orizonturile cu privire la poveștile femeilor în contexte din cele mai diverse. Fiecare lună a cineclubului propune o temă, în jurul căreia este construită selecția de filme, discuțiile aferente fiecărui film și materialele adiționale din online – cercetări, interviuri și eseuri personale."
Pentru a aprofunda temele lunare și a ancora subiectele amintite în film la realitatea locală, fiecare proiecție este introdusă de o discuție cu experți din societatea civilă, jurnaliști și reprezentanți ai organizațiilor direct vizate de temele în cauză. Discuțiile sunt susținute de Friedrich-Ebert-Stiftung România și vor fi transmise online după fiecare proiecție de film.
Cele 5 teme abordate în cadrul sezonului doi includ subiecte precum migrația la feminin, înaintarea în vârstă, recuperarea spațiului și ecofeminism, și urmăresc să deschidă discuția despre egalitatea de gen în România și să ofere un set de instrumente pentru a înțelege mai bine experiențele femeilor, dar și modalitățile prin care putem amplifica vocile lor. Proiectul lansează și un manifest care abordează cele 5 teme ale ediției, sub forma unui colaj de voci care au vorbit de-a lungul timpului (și spațiului) despre aceste subiecte.
Seria de evenimente F-SIDES va începe miercuri, 2 iunie, de la ora 20:00, la Cinema Elvire Popesco, cu proiecția filmului The Second Mother, filmul cineastei braziliene Anna Muylaert. "Filmele celei de-a doua ediții a cineclubului se întind pe o perioadă de patru decenii, începând cu o capodoperă modernistă a anului 1978, și acoperă, din punct de vedere cultural și teritorial, spații și contexte variind de la forfota și mentalitățile unor metropole cosmopolite, văzute de această dată sub noi aspecte (Things to Come, r. Mia Hansen-Løve, 2016), la zone rar cartografiate cinematografic sau în mass-media: fie episoade istorice violente trecute sub tăcere, dar cu ecou actual și universal (Journey to the Sun, r. Yeşim Ustaoğlu, 1999), fie realități curente, specifice secolului pe care îl traversăm, precum impactul interdependenței și al globalizării economice asupra comunităților vulnerabile (The Fever, r. Maya Da-Rin, 2019). Ne-am propus, ca și la prima ediție, să armonizăm recuperarea de cultură cinematografică intersecțional-feministă cu scoaterea în evidență a unor teme urgente, care privesc direct gradul nostru de conștiință și solidaritate socială." Georgiana Vrăjitoru, curatoarea F-SIDES Cineclub.
Proiectul F-SIDES este construit în jurul conceptului "female gaze", un termen care provine din teoria de film feministă, reprezentând perspectiva privitorului de gen feminin. Acesta a apărut ca răspuns la termenul "male gaze", adus în atenția publică în 1975 de teoreticiana feministă de film Laura Mulvey, care spune că filmul Hollywoodian prezintă cu precădere perspectiva unui personaj sau regizor bărbat, în care personajul feminin îndeplinește o singură funcție, pe două niveluri: obiect erotic pentru personajele din film și obiect erotic pentru spectator. Conceptul de "female gaze" urmărește să redea autonomia și inițiativa privirii feminine și să o scoată din statutul de obiect al dorinței.
Mai multe detalii despre Cineclub F-SIDES găsiți aici:
https://www.facebook.com/FSidesCineclub/
https://www.instagram.com/f_sides_cineclub/
Cineclub F-SIDES este un proiect susținut de: Administrația Fondului Cultural Național, Friedrich-Ebert-Stiftung România, Catena, Glitch Shop, Asociația Accept, Eforie Colorat
Proiect cultural co-finanţat de Administraţia Fondului Cultural Naţional. Proiectul nu reprezintă în mod necesar poziţia Administrației Fondului Cultural Național. AFCN nu este responsabilă de conținutul proiectului sau de modul în care rezultatele proiectului pot fi folosite. Acestea sunt în întregime responsabilitatea beneficiarului finanțării.
✖
Mulțumim pentru că vrei să fim prieteni!