Fii fresh, fun sau full of energy cu Gerovital!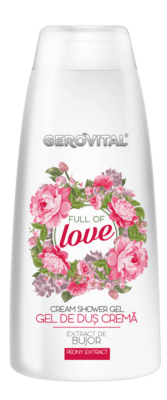 Ritualul de fiecare dimineaţă este foarte important, deoarece ne setează starea de spirit pentru întreaga zi. Specialiştii ne recomandă să ne trezim cu cel puţin două ore înainte, pentru a avea mai mult timp pentru noi.
Fie că savurăm un ceai sau o cafea, citim presa sau ne notăm într-o agendă task-urile zilei, orice zi bună începe cu un duş fierbinte, care ne ajută să ne trezim, dar şi să ne răsfăţăm corpul, hidratându-l.
Recomandarea noastră? Noua gamă de geluri de duş Gerovital, creată de cel mai mare producător român de cosmetice, Farmec, ce are la bază ingrediente naturale, precum extractul de bujor, zmeură, ceai verde sau particule din roci vulcanice.
Linia are la bază extracte naturale şi este disponibilă într-o gamă variată de formulări, printre care cremă de duș și cremă de corp sub duş, toate perfecte pentru zilele toride de vară.
În plus, produsele au un raport preţ-calitate excelent, astfel încât, în funcţie de starea de spirit, să le alternezi.
Pentru zilele în care ştii că agenda ta va fi încărcată, îţi recomandăm să foloseşti gelul de duş Full of Energy, care conține extract de ceai verde şi are un efect antioxidant asupra întregului organism.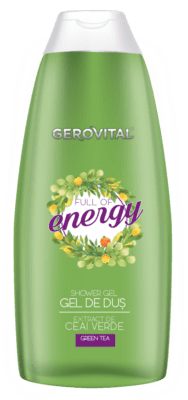 Vei simţi imediat după aplicare un plus de energie şi o senzaţie de revigorare!
Dacă vrei să arăţi şi să te simţi mai tânără, trebuie neaparăt să înceri gelul de duş exfoliant Full of  Fun.
Acesta este îmbogățit cu extract de rodie şi asigură exfoliere delicată cu particule provenite din roci vulcanice, 100% naturale.
O ieşire în oraș cu cele mai bune prietene trebuie să înceapă cu gelul de duş Full of Happy.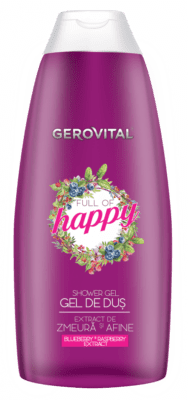 Acesta conţine extracte de zmeură şi afine, ce te vor lăsa proaspătă şi cu zâmbetul pe buze, gata de distracţie!
Pentru o zi în care ai plănuit să faci ceva frumos pentru tine, poate să îţi cumperi pălăria aceea la care visezi de mult, există un gel de duş care să te facă să te simţi plină de viaţă, încă de la prima oră a zilei.
Gelul de duș Full of Life este îmbogățit cu extract de orhidee şi are proprietăți reparatoare și hrănitoare asupra întregului corp.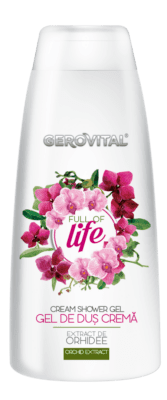 Iubitul tocmai te-a anunţat că ţi-a pregătit o surpriză şi mergeţi la picnic? Ziua trebuie să înceapă perfect, iar recomandarea noastră este Gelul de duş cremă Full of Love, care conţine extract de bujor, ce remineralizează şi calmează pielea.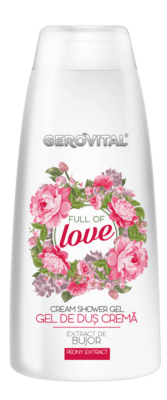 Pentru zilele în care simţi că ai nevoie de un boost de energie, Gerovital are soluţia!
Extractul de afine din componenţa Gelului de duş cremă Full of Fresh previne îmbătrânirea prematură şi deshidratarea pielii, regenerând şi întărind epiderma.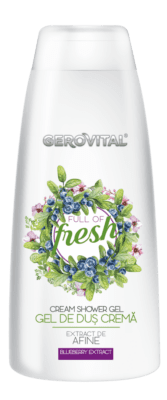 Noua gamă Gerovital include şi o Cremă de corp sub duş Full of Joy, care se foloseşte imediat după spălarea cu gelul de duş şi se absoarbe rapid în piele.
Îmbogăţită cu extract de vanilie şi Unt de Sheea, crema de corp sub duş hrăneşte, catifelează şi conferă pielii un parfum delicat şi plăcut.
Indiferent de cum arată dimineaţa ta, te poţi baza oricând pe noua gamă de geluri de duş Gerovital!
Le vei găsi în toate supermarketurile, hipermarketurile și magazinele de profil din țară, în magazinele de brand ale companiei, precum şi în magazinul online www.farmec.ro, în ambalaje de 250 ml, 400 ml şi 750 ml.
✖
Mulțumim pentru că vrei să fim prieteni!