GLAMOUR de decembrie, cadoul glam de sărbători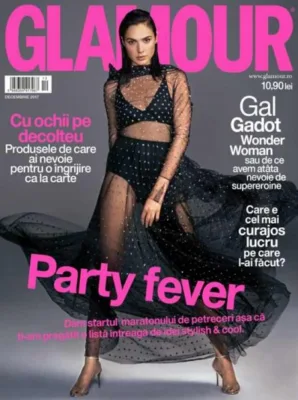 În decembrie, ți-am pregătit o ediție cu toate informațiile esențiale pentru o iarnă fabuloasă. GLAMOUR de decembrie îți prezintă cele mai hot trenduri din modă și frumusețe, un interviu despre carieră, feminism și putere cu actrița care a luat Hollywood prin surprindere, povești de succes, toate te așteaptă în numărul de decembrie GLAMOUR, din 20 noiembrie la chioșcurile de ziare.
Într-un moment în care voia sp renunțe la actorie, Gal Gadot a obținut rolul lui Wonder Woman și a devenit una dintre cele mai apreciate actrițe ale momentului.
Într-un interviu sincer și cald, ne povestește cum a parcurs drumul până la faimă și ce vrea să transmită milioanelor de fete care o urmăresc.
Fashion Time! Winter is here și odată cu ea a început și sezonul petrecerilor, așa că ți-am pregătit un dosar cu cele mai potrivite ținute, accesorii și trenduri.
Îți dorești ca în noaptea dintre ani să te simți ca un star? Catifea, culori metalice, accesorii extravagante, poți alege oricare variantă se potrivește personalității tale. Let us inspire you!
La capitolul beauty, un lucru știm clar: trebuie să te joci cu culorile! Pleoapele sunt vedetele sezonului și poți experimenta cu machiajul.
Apoi, descoperă unul dintre elementele care îți afectează cel mai puternic tenul și cum poți combate asta.
Indiciu: căldura! Mai discutăm despre pielea sensibilă și cum îți poți da seama dacă și tu trebuie să ai un ritual special de îngrijire.
Iar shooting-ul din această ediție, realizat de Silvia Cristescu și fotografiat de Christian Tudose, ne îndeamnă să fim din nou adolescente. Let's be the cool kids on the block!
GLAMOUR de decembrie te așteaptă la toate punctele de distribuție, începând cu 20 noiembrie, la prețul de 10,99!
✖
Mulțumim pentru că vrei să fim prieteni!