GLAMOUR de iulie, ediția ideală pentru o zi însorită pe plajă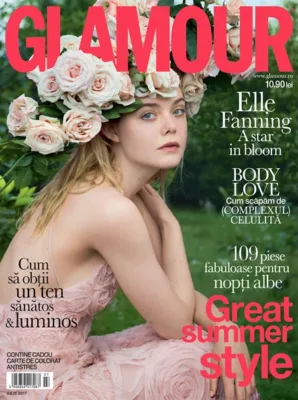 În luna lui cuptor, ți-am pregătit o ediție perfectă pentru a fi răsfoită la iarbă verde sau pe o plajă însorită. GLAMOUR de iulie vine cu sfaturi de modă și frumusețe, un interviu candid cu una dintre cele mai apreciate actrițe ale momentului, Elle Fanning, cele mai cool festivaluri culturale ale verii, toate te așteaptă în numărul de iulie GLAMOUR, din 23 iunie la chioșcurile de ziare.
Elle Fanning, actrița fenomen care a luat Hollywood-ul cu asalt în ultimii ani, ne povestește în numărul de iulie GLAMOUR despre The Beguiled, ultimul său film, la care a colaborat cu regizoarea Sofia Coppola, despre copilărie și maturizare într-un mediu atât de competitiv.
Pentru numărul din iulie, am dedicat secțiunea de Glamourisme celor mai cool trenduri de vară. De la rochii în culori puternice și cămăși, la reinterpretarea unui pattern iubit de toate: dungile.
Da, ai citit bine, dungile revin în forță în acest sezon, iar designerii te îndeamnă să te joci cu ele.
Apoi, suntem încântate să îți prezentăm două articole cu care ne mândrim: poveștile a trei femei care au devenit mame și ne povestesc despre marile provocări administrative care vin odată cu un copil, în România zilelor noastre și un eseu scris de Patricia Blaj, una dintre bloggerițele noastre favorite, pe care o mai găsești și pe www.theoutsiderz.com, în care ne povestește cum putem renunța la complexele aduse de celulită, cu un indiciu simplu: atitudinea!
Hot Summer! Vara și-a intrat în drepturi, temperaturile ne provoacă la ținute din ce în ce mai subțiri, așa că în secția Fashion vei găsi cele mai hot tendințe, piese vestimentare și accesorii pe care să le porți în lunile ce urmează.
Un sfat rapid? Un body chic e alegerea perfectă, pune-ți formele în valoare cu ajutorul unuia și combină-l cu o fustă lejeră. Sau, și mai bine, fă combinații îndrăznețe cu o pereche de blugi scurți! Go wild and sexy!
La capitolul beauty pendulăm între prezent și viitor, căci trecem de la produse de machiaj pe care le poți folosi în mai multe moduri, la șapte moduri prin care îți poți transforma pielea într-una mai luminoasă și la machiajul 3D, prezent acum pe podiumuri.
Tania Cozma, primul make-up artist oficial Bourjois în România, răspunde tuturor dilemelor tale legate de machiajul estival. Iar la capitolul păr, mesajul e clar: blondul platinat e culoarea sezonului!
Și pentru că vorbim de vară, secretul unui look reușit de sezon este naturalețea, iar pictorialul acestui număr, realizat de Silvia Cristescu și fotografiat de George Pruteanu, te îndeamnă să renunți la glitz în favoarea unui machiaj light și a materialelor lejere, precum inul sau bumbacul.
Tot în GLAMOUR de iulie, află care sunt cărțile fără de care nu putem trăi în această vară, cum s-au simțit cele 10 zile ale celui mai mare festival de film românesc, TIFF cum au fost cele două zile de răsfăț absolut de la GLAMOUR Beauty Festival!
Iar cadoul nostru din acest număr e pentru zilele în care vrei să te relaxezi după birou, dar nici filmele, nici un pahar de vin nu te satisfac și îți dorești ceva care să îți ducă mintea departe de muncă și stres.
Vei descoperi șase cărți de colorat antistres, pentru adulți, care îți vor deschide porțile către o lume plină de culoare pentru relaxare. Noi deja testăm una din ele!
✖
Mulțumim pentru că vrei să fim prieteni!