Grupul Folli Follie la Expozitia Baselworld 2011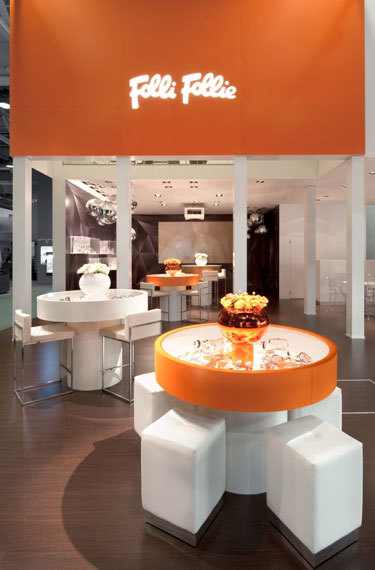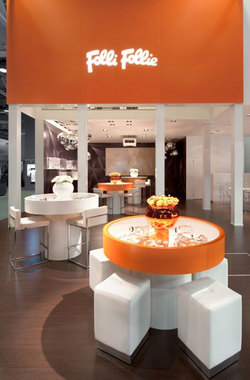 Grupul Folli Follie a fost prezent la targ cu un stand modern, de aproximativ 500 de metri patrati, ce a impresionat publicul. Pastrand identitatea fiecarui brand, Grupul Folli Follie a creat un spatiu de expunere cu un design distinctiv, in armonie cu filosofia grupului.
Accentul a fost pus pe noua campanie de brand, ce o are protagonista pe Gaile Lai, ambasador international al brandului Folli Follie. Imagini din culisele noii campanii, filmata la Paris, au fost fost proiectate pe un ecran.
In cadrul standului au fost expuse produse reprezentative Folli Follie atat pentru femei, cat si pentru barbati. Culorile corporate ale Folli Follie – alb si portocaliu – au fost evidentiate de un design deosebit al standului.
Elemente arhitecturale surpriza au atras atentia asupra standului si produselor prezentate, iar display-uri rotunde de dimensiuni mari au facilitat vizionarea produselor.
Vizitatorii au fost incantati de noile colectii Folli Follie si de campania al carei ambasador este Gaile Lai, campanie anuntata in cadrul unui eveniment impresionant care a avut loc in Shanghai.
Links of London a creat o ambianta predominant barbateasca, utilizand materiale masculine pentru a crea imaginea de ansamblu si a afisa un mediu luxos. Campania pentru barbati a avut ca punct central Chicane, primul ceas sport al Links of London.
Aventuros si dinamic, ceasul are ca surse de inspiratie cursele de masini de epoca si interiorul masinilor sport. Un adevarat spectacol video a fost proiectat, spotul continand imagini din backstage de la cea mai recenta sedinta foto a campaniei pentru barbati, ce-l are protagonist pe Cat Deeley, ambasadorul brandului. Spotul video contine de asemenea produse reprezentative ale colectiilor, de la Effervescence si Friendship la noile colectii de ceasuri.
In ciuda faptului ca predomina colectia masculina, au fost prezentate foarte multe modele noi de ceasuri pentru femei, in culori vibrante cum ar fi fucsia, rosu si aqua. Anul acesta, a existat un film de prezentare langa fiecare dintre colectiile cheie de ceasuri, pentru a sublinia detaliile specifice ale fiecarui produs.
Mii de vizitatori ai standului au avut posibilitatea de a admira noile colectii de ceasuri pentru femei si barbati de la Folli Follie si Links of London, parte a Grupului Folli Follie din 2006.
✖
Mulțumim pentru că vrei să fim prieteni!