Michael Hollie, un celebru doctor american, va veni la București pentru a participa la un eveniment despre alimentația sănătoasă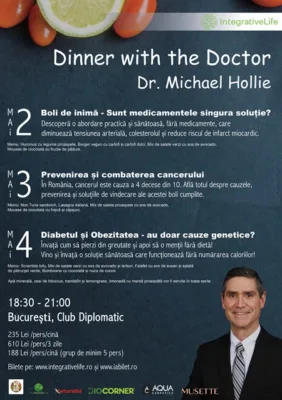 Cristina Batlan și Integrative Life pregătesc un eveniment de lifestyle educativ avându-l ca invitat pe celebrul doctor american Michael Hollie.
Cristina Batlan este susținătoare a unui stil de viață sănătos, bazat pe o dietă din plante și cereale integrale ( neprocesate industrial) și bineînțeles, mult sport.

Totul a început în 2015 atunci când, împreună cu Asociația Beneva l-a invitat pe Dr Colin Campbell, autorul celui mai important studiu de nutriție: Studiul China, în România. Evenimentul a fost un succes și așa a descoperit cât de interesați sunt românii de acest subiect. 
Este important pentru public să aduci un specialist care vede problemele din afară și este obiectiv.
Cristina Batlan și Integrative Life, împreună cu toți partenerii lor, pregătesc un eveniment de lifestyle educativ, avându-l ca invitat pe celebrul doctor american Michael Hollie, inițiator al programului –"Dinner with the Doctor" în SUA, și unul dintre consilierii medicali ai documentarului Eating you alive.

Acest eveniment este pentru oameni și despre oameni, despre problemele lor actuale, despre faptul că obiceiurile alimentare și stilul de viață au legătură cu starea de sănătate, despre cum și ce să mănânci pentru a fi sănătos. 
În jurul nostru sunt foarte multe cazuri de boală, iar multe dintre boli pot fi evitate sau tratate prin schimbări de comportament.
Există familii care nu gătesc în casă pentru copii, trăiesc într-o mare viteză, mănâncă la fast-food-uri şi au pretenţii să fie reparati, imediat, medicamente.

Invitația către Dr.Hollie a pornit de la faptul că avem mare nevoie de sănătate și credem că românii sunt educaţi si pregătiţi să înţeleagă ce le face bine şi ce nu. Evenimentul își propune să fie un semnal de trezire și de conștientizare.
Dr.Hollie va discuta cu publicul român despre legătura dintre alimentație și stilul de viață în prevenția și tratarea bolilor grave ale societății moderne: bolile cardio – vasculare, cancerul, diabetul și obezitatea. 
Conferinţa nu este doar teoretică, ci şi practică. Învăţăm despre nutriţie, experimentăm gusturi noi, preparate gătite sănătos.  
Pentru fiecare seară au fost alese câte două teme de discuţie, cum ar fi bolile de inimă, prevenirea și combaterea cancerului, diabetul și obezitatea, iar participanţii vor putea pune întrebări.
Vom afla cum să preparăm aceste mâncăruri, cum să îmbinăm produsele organice. 
Există o percepţie greşită legată de faptul că a fi vegan este foarte scump, că trebuie să îţi permiţi. Însă lucrurile nu stau deloc aşa.
Vom prezenta informaţia la nivel teoretic şi practic, prin experimentarea unui mod de viaţă sănătos, aşa cum facem si în cadrul taberelor Integrative Life. 
Participanții vor afla rețetele delicioaselor gustări și de unde ar putea să cumpere ingredientele. Conferințele vor avea loc in zilele de 2, 3 și 4 mai, la orele 18.30 , la Clubul Diplomatic București.
Intrarea la fiecare conferință se face pe bază de bilet. Prețul este de 188-235 ron/pers în funcție de tipul de bilet ales. Vânzarea se face pe website-ul asociației  www.integrativelife.ro, secțiunea tickets conference și pe www.iabilet.ro . 
Prin participarea ta, dai șansă bolnavilor să participe. Cumpărând un bilet, dăruiești un bilet unei persoane în nevoie. Îți mulțumim pentru că îți dorești să ajuți, și ajuți!
✖
Mulțumim pentru că vrei să fim prieteni!