Ne-uitare: Colecție Capsulă Irina Neacșu la Expoziția Fine Art Vision 1-13 noiembrie

Irina Neacşu, designer și artist botanic, membru al "American Society of Botanical Artists", participă cu o Colecție Capsulă intitulată Ne-uitare, în cadrul expoziției «FINE ART VISION 20/21», desfăşurată la Galeria Romană din București în perioada 1 – 13 noiembrie 2021.
Colecția Ne-uitare este o capsulă de lucrări în acuarelă, pe hârtie şi pe vellum, realizate în anii (de pandemie) 2020-2021. Sub încărcătura emoțională generată de pandemie, introspecția – cu refocalizarea atenției pe detalii mărunte și resuscitarea amintirilor ca răspuns al dorurilor și ca reacție a limitărilor – a devenit mecanismul principal de compunere a celor mai recente lucrări din atelierul Irinei Neacşu.
Irina Neacşu: "Nevoia de explorare a dus la căutarea de lumi noi în micro-universuri cotidiene, tema capsulei fiind cea a colecționarului. Noi toți care adunăm și păstrăm castane, melci, flori uscate etc, ținând nu atât la obiectul pe care îl privim, ci la amintirea (sau emoția) pe care toate aceste mici suveniruri vegetale o evocă. Ne-uitare, numele colecției-capsulă, vorbește despre dublul sens al cuvântului uitare: a pierde, și a privi."
Colecția Capsulă Ne-uitare cuprinde:
– miniaturi pe vellum din Colecția 1.61, cu tema proporția de aur, de unde și formatul lor și compoziția lucrărilor,
– planșe ce aduc în discuție peisajul Bucureştiului, relația dintre case și grădinile lor, dintre arhitectura și flora urbană, dintre persistența amintirilor și generarea dorurilor.
Aflată la o a doua ediție, expoziția «FINE ART VISION 20/21» prezintă cinci colecții de artă decorativă cu stiluri diferite, având ca numitor comun tehnica "Giclée fine art print", folosită de artiști, muzee și galerii pentru reproducerile digitale de înaltă calitate.
«FINE ART VISION 20/21»  reunește lucrări excepționale semnate de 5 artiști, consacrați sau aflați la început de drum, din mediul artei românești și internaționale, precum:
"Show me the money!" – MALCOLM SMITH
"Ne – Uitare" – IRINA NEACȘU
"Tomorrow is an other day" – ELENA RACEALA
"Fata în albastru" – reproduceri din colecția Muzeului Brukenthal
"Charms of Beauties" – imagini japoneze imprimate pe hârtie washi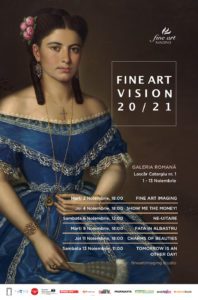 Vernisajul de deschidere al expoziției va avea loc marti, 2 noiembrie, ora 18.00.
Participarea fizică la eveniment este permisă în număr limitat, accesul fiind pe baza certificatului verde digital, cu respectarea normelor legale impuse de restricțiile sanitare în vigoare.
Expoziția «FINE ART VISION 20/21» va fi deschisă publicului la Galeria Romană din Bucuresti, B-dul Lascăr Catargiu nr. 1, în perioada 1-13 noiembrie 2021, de luni-vineri între orele 10:00-18:00, iar sâmbăta între orele 10:00-15:00.
Mai multe detalii, pe pagina de Facebook Fine Art Imaging și în pagina de event: https://www.facebook.com/events/994808917750707/?ref=newsfeed
✖
Mulțumim pentru că vrei să fim prieteni!