(P) Tips-uri pentru organizarea petrecerii de nuntă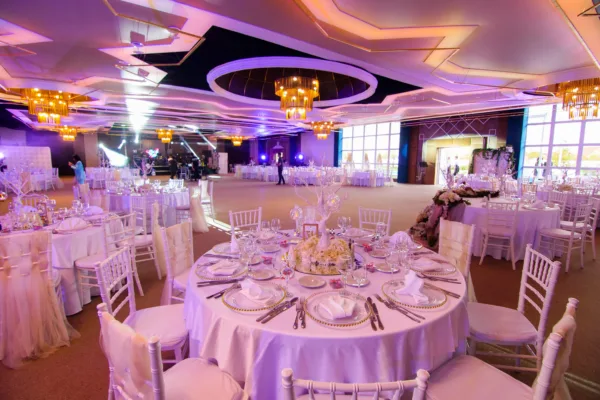 Nunta este unul dintre cele mai importante evenimente din viata voastra, celebrarea iubirii care va leaga.  Aceasta reuneste momente de care iti vei aminti cu drag si emotie peste ani si ani.  Pentru un eveniment desavarsit, echipa Jubile The Ballroom iti impartaseste din experienta sa o parte dintre aspectele de care ar trebui sa tii cont.
Locația petrecerii trebuie să fie primul lucru pe care trebuie să îl alegeți, atunci când începeți pregatirile pentru nuntă. Fie că vă doriți o nuntă mai restransa sau una de amploare, locul trebuie să vă reprezinte și să aibă toate facilitățile de care aveți nevoie, atât voi cât și invitații voștri.
Numarul de invitatii?
Primul pas pe care trebuie să îl faceți este să stabiliti numarul de invitați pe care îi veți avea la nuntă, iar în funcție de acesta, veți știi ce capacitate trebuie să aibă locația aleasă. Jubile the Ballroom îți recomandă să fiți precauți și să luați în considerare un procent de 70% de participare a invitaților notați pe lista inițială. Nu vă aruncați cu capul înainte și nu semnați pe un număr mare de participanți. Centrul de evenimente Jubile are in portofoliu nu mai putin de 10 saloane dintre care poti alege, cu suprafete diferite si capacitati cuprinse intre 60 si peste 300 de persoane.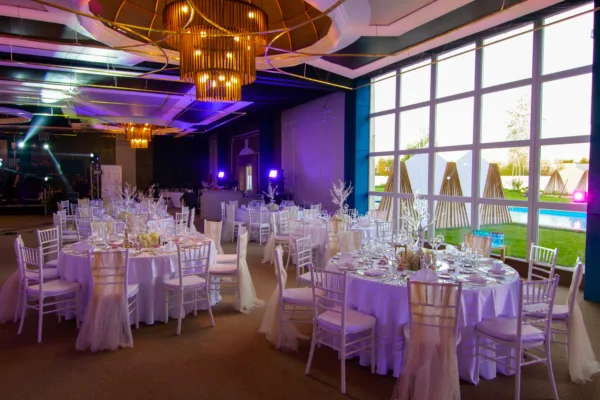 Locatia mult visata!
Cu totii ne-am imaginat de mici cum ne dorim sa fie nunta noastra! Acum ca am ajuns sa traim aceste momente poate o parte din perspectiva noasta s-a schimbat. Trebuie sa analizati ceea ce va doriti de la locatia unde va fi petrecerea. Cele 10 saloane Jubile au suprafete si capacitati diferite si design unic. Daca iti doresti o amplasare centrala poti opta pentru locatia din zona Decebal. Daca iti doresti un salon cu un design aparte alege unu din saloanele din Pipera. Daca pentru tine este importanta intimitatea si iti doresti o nunta intr-un cadrul natural cu piscina generoasa si gradina ampla ai la dispozitie locatia Jubile Concept. Vezi Aici ofertele actuale Jubile pentru lunile Mai si Iulie 2018 au incus in pret si un candy bar: Vezi AICI ofertele.
Mergeți la sigur!
Jubile The Ballroom te sfătuiește să nu faci `experimente` la nunta ta și să alegi o locație care are experiență în organizarea evenimentelor, care are o echipă completă și profesionistă. Situațiile neprevăzute pot apărea și doar un managment bun al acestora, vă va putea ajuta. Jubile the Ballroom activeaza in industria organizarii de evenimente de peste 10 ani si are personal angajat, profesionist si cu experinta.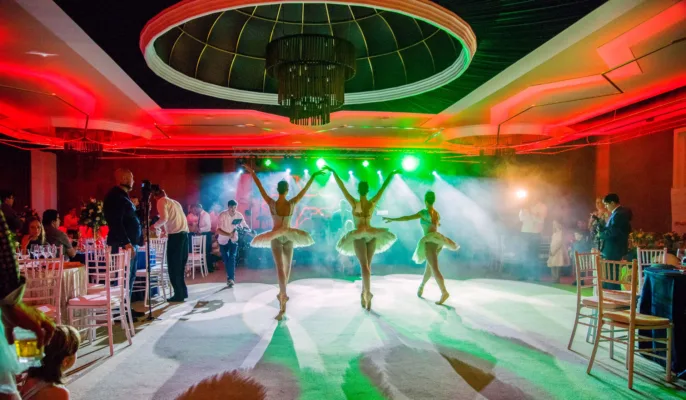 Prețul corect!
Nu vă lasați furați de mirajul locațiilor cu prețuri foarte mici. De cele mai multe ori acestea ascund taxe în plus sau servicii care lasă de dorit. Jubile the Ballroom îți recomană să nu faceți rabat la calitate și să alegeți prețul corect pentru serviciile pe care le doriți. Jubile nu precepe taxe suplimentare ( taxa ospatari sau chirie sala). Daca ai un buget mai restrans poti opta pentru o zi de duminica sau o zi in extra-sezon cand poti beneficia de oferte speciale la pret. Oferta actuala Jubile the Ballroom pentru zilele de duminica in 2018 este de 45 euro/pers, meniu all inclusiv + lemonade bar inclus. Vezi detalii oferta AICI.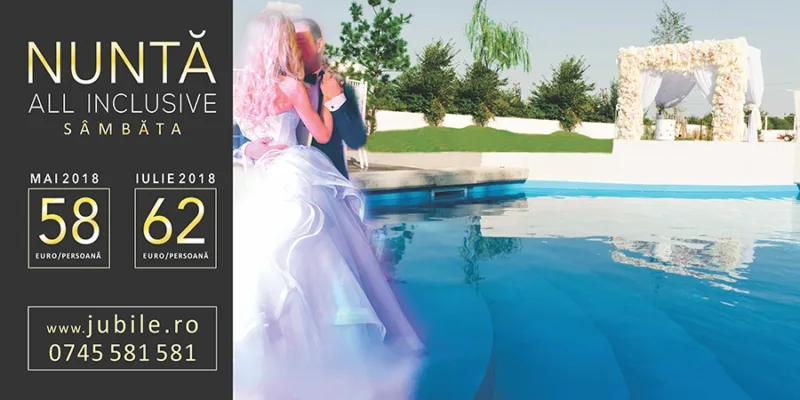 Meniul perfect!
Alegerea preparatelor trebuie să se facă în așa fel încât mâncarea să nu fie prea puțină, dar nici prea multă. Meniul pentru nuntă cuprinde patru feluri de preparate: aperitivul, pește, sarmale și friptură. Jubile The Ballroom te sfătuiește ca în funcție de numărul de invitați și de amploarea petreceri, să nu te încarci meniul cu mai mult de cele patru feluri recomandate. Ascultă și sfatul coordonatorului locației unde are loc evenimentul. Acesta are mai multă experiență cu astfel de petreceri și te poate ajuta cu idei și soluții pentru un meniu optim. Fie ca iti doresti un meniu intrnational, unul cu influiente mediteranene, chiar asiatic sau specialitati de top, echipa de bucatari Jubile iti poate oferi un meniu personalizat pe gustul si dupa preferintele tale.
Candy Bar!
Toata lumea iubeste dulciurile iar conceptul de candy bar este unul dintre principalele puncte de atractie in cadrul oricarui tip de eveniment. Jubile iti recomanda sa optezi pentru un candy bar iar invitaii tai vor fi cu siguranta incantati.  Ofertele actuale Jubile pentru lunile Mai si Iulie 2018 au incus in pret si un candy bar: Vezi AICI ofertele.
Meniuri speciale!
Atunci când faci meniul de nuntă, Jubile The Ballroom îți recomandă să iei în considerare și posibilitatea ca unii dintre invitați ar putea fi vegetarieni, să urmeze un regim alimentar (persoanele diabetice) sau să fie alergici la anumite produse. Interesează-te dacă ai astfel de cazuri printe invitați și pregătește pentru ei un meniu personalizat. Cu sigurață vor aprecia ca te-ai gândit la ei. Jubile iti ofera posibilitatea acestor meniuri la pretul meniurile de baza, fara costuri suplimentare.
Alegerea băuturilor!
Băuturile non-alcoolice trebuie să includă apă plată și minerală, sucuri acidulate și naturale, iar băuturile alcoolice trebuie să fie cât mai diverse, dar neapărat potrivite cu felurile de mâncare servite și cu momentele speciale. Daca iti doresti momente speciale Jubile The Ballroom iti recomanda pachetele optionale precum Prosecco Bar sau 1001 Shoturi.
Fără stres!
Pentru a scăpa de stresul organizatoric, optați pentru locații care îți oferă pachete opționale complete pentru tot ce ai nevoie la nuntă, de la aranjamentele florale și candy bar, până la partea de entertaiment și muzică. Jubile The Ballroom vă oferă o gamă largă de pachete opționale, tocmai ca tu să scapi de alegătura stresantă pentru nuntă.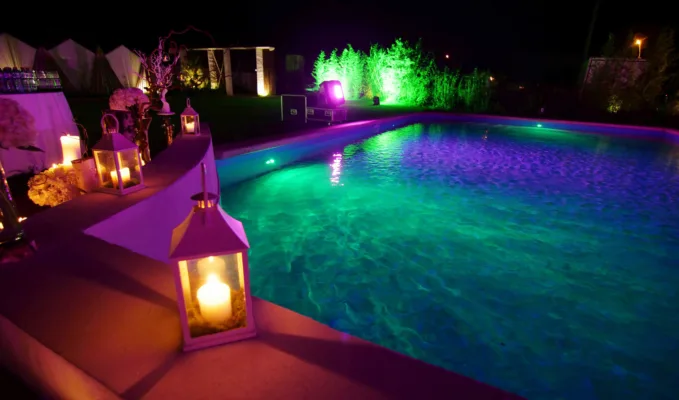 Jubile The Ballroom iti pune la dispozitie un set complet de servicii pentru ca tu sa te poti bucura de fiecare moment al evenimentului tau. Centrul de evenimente are in total 10 saloane premium cu capacitate diferite si design unic. Poti alege in functie de preferinte intre locatia centrala de la Decebal, design-ul aparte al saloanelor din Pipera sau intimitatea si cadrul natural cu piscina generoasa si gradina ampla pe care ti le oferta locatia Jubile Concept. Pe lista avantajelor se mai numără  facilități de ultimă oră și cele mai bune servicii personalizate, eliminarea taxei de sală și ce a ospatarilor, bucătării proprii, acces facil către mijloacele de transport în comun sau parcare privta si servicii de paza. Coordonatorul evenimentului te va ajuta să planifici totul până în cele mai mici detalii pentru a avea un eveniment fără cusur, iar tu să te poți bucura de fiecare moment al evenimentuluit tău, alături de familie și prieteni.
Echipa noastra va fi alaturi de tine si te va consilia pas cu pas, de la alegerea salonului si a meniului pana la stabilirea pachetelor optionale, pentru ca tu sa ai parte de un eveniment memorabil – NUNTA MULT VISATA la Jubile!
✖
Mulțumim pentru că vrei să fim prieteni!