Premiul Best Native Advertising Project la IAB MIXX Awards sau recunoașterea unui efort de creație al întregului an pentru Ringier România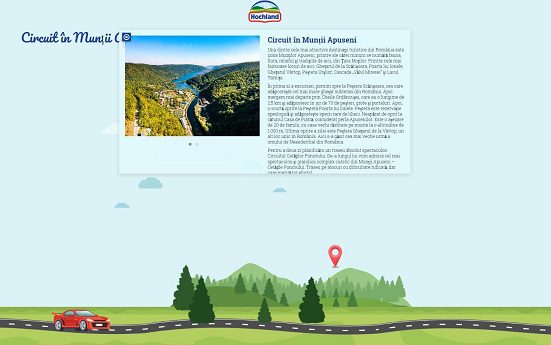 Ringier România a fost premiat la IAB MIXX Awards, competiție dedicată publicității digitale. Cea mai recentă ediție a avut loc pe 16 noiembrie 2018, unde proiectul "Sandvișul și la drum" a câştigat premiul pentru Cel mai bun proiect în categoria Native Advertising.
Proiectul "Sandvișul și la drum", dezvoltat de către echipa Proiecte Speciale Ringier pentru clientul Hochland şi Avantaje.ro, cu ajutorul Starcom Romania, este un ghid interactiv care adună cele mai frumoase 10 locuri din România și 10 rețete de șandvișuri cu rețete inspirate de Bucovina, Apuseni, cetățile fortificate din Transilvania, lacurile din Retezat, Delta Dunării, Cazanele Dunării, Vulcanii noroioși, Mocănița, Sarmizegetuza, Comana. Cititorii își deschid apetitul pentru aventură și gusturi bune, alături de brânza topită Hochland.
Principala provocare a echipei de creație Ringier a fost să se detașeze de contextul previzibil în care se promovează un produs alimentar în digital, adică emisiunile de gătit.  Echipa s-a concentrat asupra lumilor afective ale cititorilor, emoțiile și simțurile care sunt angajate atunci când cineva explorează cultura mâncării prin călătorii, pentru o experienţă deplină și de neuitat. S-a apelat la nostalgia călătoriilor în care pauza de sandviș era un moment special, prilej de odihnă și reîncărcat bateriile, iar asocierea gusturi locale – brânza Hochland a fost foarte firească. Proiectul "Sandvișul, și la drum!" a valorificat conținutul online atât pe site-uri și social media, cât și prin direct mailing, folosindu-se de publicitatea nativă pentru a stabili o relație autentică cu consumatorii.
Pe lista juriului IAB MIXX Awards 2018, s-au aflat și alte 3 proiecte 100 % digitale dezvoltate de către echipa Proiecte Speciale Ringier, Winter Delight, Hall of #1s (în colaborare cu B.V. McCann-Erickson) şi Feel Good Challenge.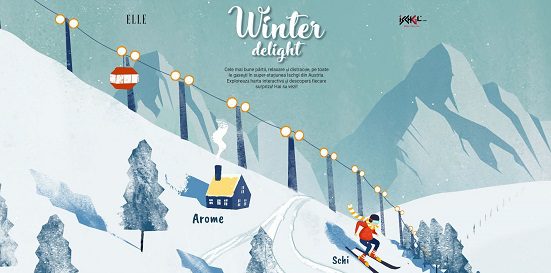 Winter Delight este ghidul interactiv pentru stațiunea Ischgl, căruia i se mai spune și cel mai bun prieten al călătorilor. Proiectul, realizat de echipa Proiecte Speciale Ringier pentru Biroul Național de Turism al Austriei și ELLE.ro, se folosește de diferite tipuri de conținut, de la video la text, pentru a oferi cititorilor o hartă distractivă şi utilă, prin care cititorii descoperă recomandări personalizate sub forma videoclipurilor printr-un click pe pin-urile animate ale hărții. Principalele componente ale proiectului Winter Delight sunt serialul video alcătuit din cinci episoade cu patru personaje care devin ghidul personal al cititorilor, Roxana Voloșeniuc, Ana Morodan, Cosmin Tudoran și Raluca Hagiu, harta stațiunii Ischgl printr-o ilustrație originală, animație și design interactiv, cinci articole-text, despre istoria stațiunii și activități atipice, dar și informații practice despre transport și bagaje, toate adunate pe un microsite special.  Împreună creează cel mai complex și ușor de parcurs ghid pentru stațiunea Ischgl, care-i ajută pe cititori să pornească în vacanța de iarnă deja relaxați și voioși.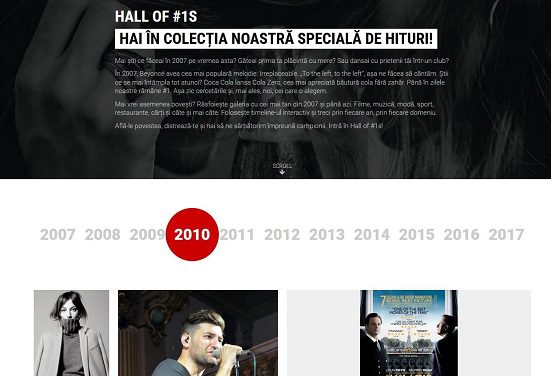 Proiectul special "Hall of #1s", realizat pentru clientul Coca Cola/Cola Zero și brandul Unica.ro, este construit dintr-o galerie interactivă de 100 de povești ale produselor culturale și personalităților premiate cu locul 1 începând cu anul 2007, în care se lansează Cola Zero, brandul numărul 1 printre băuturile cola fără zahăr chiar și zece ani mai târziu. Pornind de la această victorie, adunăm la un loc cele mai tari number one-uri, de la noi și de-afară, cu care-am crescut și care ne-au făcut viața mai frumoasă. Cititorii descoperă aceste povești navigând pe orizontală, alegând un an din intervalul 2007-2017, dar și pe verticală, în funcție de domeniile care îi interesează. Subiectele spun povestea acelor proiecte și produse culturale care au fost alese numărul 1 în cadrul unor competiții prestigioase din țară sau la nivel internațional în domenii precum modă, muzică, filme, teatru, jurnalism, fotojurnalism, restaurante, arhitectură, design, cărți și sport. Galeria cu poveștile campionilor din zilele noastre este găzduită de un microsite special, pe care cititorii îl parcurg în termeni proprii, fără intruziuni.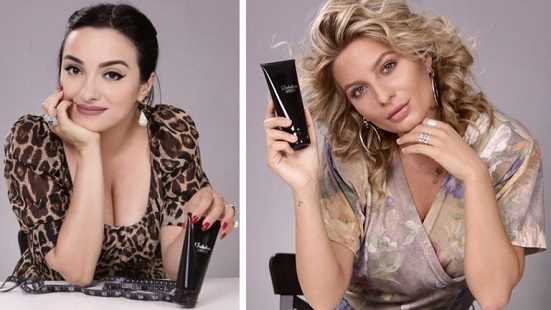 Într-o lume în care imaginea pare să fi devenit cea mai importantă, ce înseamnă, cu adevărat, să te simți bine în pielea ta? Împreună cu clientul Intheline, Ringier a deschis o discuție sinceră despre ce înseamnă să fii femeie în 2018. Ana Morodan și Ana Baniciu au fost ambasadoarele proiectului "Feel Good Challenge", două femei curajoase care și-au asumat una dintre cele mai oneste conversații din online-ul românesc despre percepțiile și despre diferența dintre realitate și aparențe la capitolul imaginea feminină. Timp de două săptămâni, cele două ambasadoare au testat crema Intheline, timp în care au ținut un jurnal video prin care-și și-au împărtășit impresiile, dar și lucruri care le fac să se simtă bine în pielea lor, de la obiceiuri sănătoase la mici trucuri pentru relaxare. Serialul video a lansat pe Facebook și pe YouTube, dar a fost găzduit și pe un microsite special unde, prin derularea tip timeline, cititoarele au descoperit fiecare episod pe măsură ce era lansat.
În ultimii doi ani, echipa de creaţie Ringier România a dezvoltat peste 60 de proiecte speciale pentru clienții săi din industrii retail, turism, cosmetice, auto şi multe altele, iar formatele proiectelor au variat în complexitate, de la articole native la seriale video cu influenceri și microsite-uri interactive. Ringier România este printre puținii publisheri care dispune de o echipă proprie dedicată proiectelor speciale şi investește constant în această direcție, fiind considerată strategică local şi la nivel de grup.
IAB MIXX Awards este o competiție internațională, care celebrează cele mai creative și de impact campanii de publicitate din mediul online. Premiile MIXX Awards sunt organizate de reprezentanții locali ai IAB (Interactive Advertising Bureau) și au loc anual în țări precum România, SUA, Italia, Belgia, Turcia, Polonia, Serbia, Suedia, Rusia etc, fiind considerate pe plan internațional unele dintre cele mai importante distincții ale publicității online.
✖
Mulțumim pentru că vrei să fim prieteni!