Presedintele Romaniei pe scena Hope Concert 2015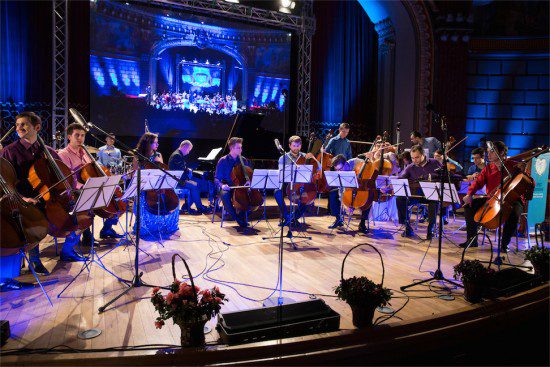 Pe 18 martie Ateneul Roman a fost locul in care muzica clasica, jazzul, dansul, arta strazii si generozitatea, in cele mai frumoase forme ale ei, s-au reunit intr-un eveniment memorabil al Fundatiei Hope and Homes for Children Romania.
Oaspetele de onoare al Hope Concert a fost Presedintele Romaniei, domnul Klaus Werner Iohannis, care a subliniat ca "o societate in care oamenilor nu le pasa unii de altii isi pierde directia. Iar o societate care isi neglijeaza copiii nu are viitor."
Mesajul Presedintelui Romaniei a validat eforturile depuse in ultimii aproape 17 ani de Hope and Homes for Children Romania, pentru protejarea copiilor si familiilor vulnerabile.
"Prin ceea ce faceti, dar mai ales prin cine sunteti ati reusit nu doar ca acesti copii sa aiba un loc numit acasa. Ci ati daruit speranta. Dumneavoastra ati vazut suferinta si deznadejde si n-ati trecut mai departe indiferenti. Ati ascultat si ati aratat ca va pasa. Ati venit cu solutii, ati generat dezbatere, ati creat parteneriate cu autoritati publice, ati dezvoltat servicii sociale. Intr-un cuvant, ati aratat ca se poate", a declarat presedintele Romaniei, Klaus Werner Iohannis.
Emotia si speranta au cuprins intreaga sala a Ateneului, unde peste 700 de oameni au vibrat la unison pe acorduri de Brahms, Chopin, Piazolla, Villa-Lobos, Albinoni sau Tiberian si Dan Dediu. Pe scena au urcat artisti renumiti, care si-au pus tot talentul in slujba unei cauze nobile: speranta si o casa si o familie pentru fiecare copil.
Violoncelistul Marin Cazacu, pianistul Andrei Licaret, Ansamblul Violoncellissimo, duo-ul de jazz Mircea Tiberian si Nadia Trohin, percutionistul Zoli Toth si actrita Ana Pepine, alaturi de soprana Irina Iordachescu au creat momente artistice emotionante, mare parte din ele prezentate pentru prima data in cadrul unei gale. Renumita echipa de graffiti Sweet Damage Crew a realizat un performance live de street art, care a fost transmis in direct pe ecranul salii Ateneului Roman.
Concertul a fost prezentat de Amalia Enache, ambasador al Hope and Homes for Children.
Distinctia anului pentru initiativa civica a fost acordata lui Domnului Radu Negulescu si echipei XChallenge Kilimanjaro, care au excaladat varful Uhuru pentru a strange 25.000 de euro astfel incat familia Bordei, aflata in programul HHC Romania de prevenire a abandonului, sa isi poata lua o casa.
Evenimentul a fost realizat in colaborare cu Filarmonica George Enescu.
Detalii pe www.hopeconcert.org.
✖
Mulțumim pentru că vrei să fim prieteni!