Regata Marii Uniri – Flotila România Centenar, la Londra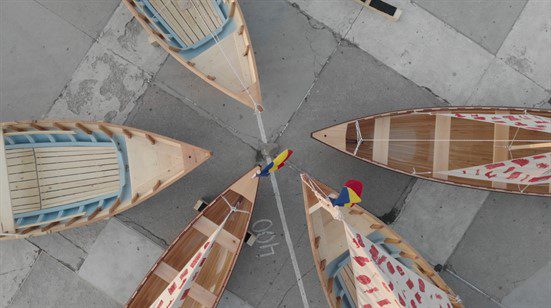 "Regata Marii Unirii – Flotila România Centenar" este primul mare eveniment al toamnei derulat la Londra de Institutul Cultural Român, 
în zilele de 8 și 9 septembrie, proiect ce face parte din amplul program de celebrare a Centenarului Marii Uniri.
Desfășurat în aer liber, pe Tamisa și în generosul spațiu al parcului "Bernie Spain Gardens" din apropierea Teatrului Național, proiectul debutează, în dimineața zilei de 8 septembrie, cu prima participare a României la The Great River Race.
În cadrul competiției, multiplul campion olimpic Ivan Patzaichin va conduce o flotilă alcătuită din șase ambarcațiuni special construite în Delta Dunării.
"Transmitem, și prin acest proiect, un puternic mesaj de identitate românească: pe de o parte, cele șase ambarcațiuni reprezintă, simbolic, regiunile istorice care au format România Mare în 1918 – Țara Românească, Moldova, Transilvania, Basarabia, Bucovina și Dobrogea. Pe de altă parte, prezentăm sutelor de mii de spectatori care vin anual la acest festival de pe Tamisa, lotca, barca tradițională pescărească. Procesul fabricării ei reprezintă un element al patrimoniului imaterial românesc, iar acest meșteșug merită revigorat și promovat pentru că el se leagă intrinsec de identitatea zonei Deltei, așa cum gondola reprezintă simbolic Veneția.  Avem bucuria că suntem, la această primă participare a țării noastre la celebra cursă de pe  Tamisa, împreună cu unul dintre cei mai îndrăgiți mânuitori ai vâslelor din țara noastră și din lume, Ivan Patzaichin. Totodată, suntem bucuroși să avem în aceste zile o sărbătoare autentic românească în inima capitalei Marii Britanii, la scurt timp după ce l-am avut oaspete și partener pe ASR Prințul Charles la sediul ICR Londra, cu prilejul lansării proiectului Grădina Marii Uniri", a declarat Liliana Țuroiu, președintele Institutului Cultural Român.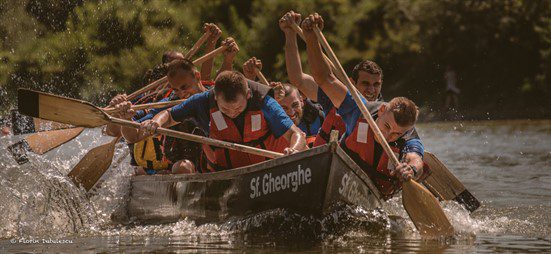 Echipajul flotilei României este format din români și britanici deopotrivă, incluzându-i pe fostul canoist britanic Andrew Train, primarul sectorului Havering din Londra, membri ai diasporei românești din Marea Britanie, precum și o echipă de vâslași profesioniști din România.
Bărcile sunt construite în atelierul "Geneza" din Tulcea, singurul din România care încă mai păstrează meșteșugul marangozeriei. În competiția londoneză, ambarcațiunile vor parcurge o distanță de 22 de mile marine.
"Delta noastră, cu forma ei de inimă, colectează de fapt, prin intermediul Dunării, toate apele curgătoare din toate provinciile țării. Fiecare picătură de apă din râurile României ajunge la un moment dat în marea inimă verde a Deltei, înainte de vărsarea în mare.
Flotila Centenar este mesajul nostru de unire, transmis din inimă, pe apă, din Tulcea către concetățenii noștri și către lumea întreagă. Salutul nostru pentru Marea Unire!" a declarat Ivan Patzaichin.
Duminică, 9 septembrie, parcul "Bernie Spain Gardens" de pe malul Tamisei va deveni o mică Românie Mare, sărbătorită la 100 de ani de la naștere. "Ziua României" face parte din programul Festivalului Tamisei – Totally Thames 2018.
Evenimentul va aduce laolaltă artiști populari, dar și reprezentanți ai muzicii electronice româneşti, într-un melanj sonor între vechi și nou, însoțit de proiecții video. Pe parcursul programului, ceramistul Vinicius Leș va face demonstrații de olărit și va familiariza publicul prezent cu arta ceramicii.
"Ziua României" este un festival pentru întreaga familie, în parc fiind amenajată o zonă special dedicată copiilor pentru activități creative, în jurul căreia vor fi amplasate corturi unde vor putea fi degustate bucate românești.
Proiectul este organizat de Institutul Cultural Român, în parteneriat cu Asociaţia "Ivan Patzaichin – Mila 23" şi Primăria Municipiului Bucureşti, cu sprijinul Ambasadei României la Londra şi a Festivalului Totally Thames. Parteneri: Compania Națională de Transporturi Aeriene Române TAROM, AQUA Carpatica şi Centrul Cultural "Augustin Bena" din Alba Iulia.
În cadrul programului de celebrare a Anului Centenarului în Marea Britanie, în organizarea ICR Londra și a partenerilor săi, au mai avut loc următoarele evenimente:
Realizarea și lansarea site-ului "The Making of United Romania" (romaniancentenary.org);
Concert "100" al trupei Imago Mundi;
Conferință dedicată Unirii de la 24 ianuarie 1859;
"100 de ani de muzică românească": concertele "Muzica Primului Război Mondial", "Muzică în România Mare" și "Partituri de dincolo de dictatură";
"Războiul la feminin: româncele în Primul Război Mondial" (expoziție+panel);
Programul României la Târgul Internațional de Carte de la Londra, cu o ediţie dedicată participării românilor în Primul Război Mondial și Centenarului Marii Uniri (lansări+expoziție);
"Grădina Marii Uniri" – proiect multiart (expoziție + conferință + instalație artistică + lansare de carte) ce a pus în valoare bogăția și unicitatea patrimoniului natural românesc;
România la Festivalul de Arhitectură de la Londra: "Un secol de arhitectură românească" (expoziție+panel);
"Românii și Marele Război": Program românesc la National Army Museum;
"Descoperiri în oglindă: un secol de călătorii între România şi Marea Britanie" – conferinţă, discuţie de tip panel şi expoziţie;
Concert de folclor şi lied "Inspirația folclorică: o incursiune în muzica românească".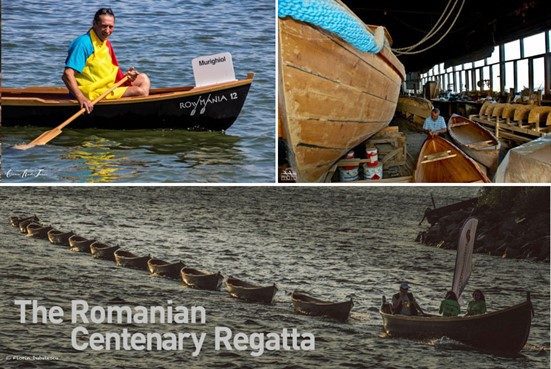 ✖
Mulțumim pentru că vrei să fim prieteni!