Sa alegi mereu… ce obositor!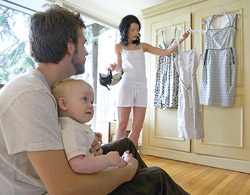 In fiecare zi suntem bombardati cu in­formatii si foarte des ne aflam in si­tuatia de a selecta ceea ce ne in­te­re­seaza. Si alegerile ne costa energie, spune psihologul Kathleen Vohs.
Desi abilitatea de a lua decizii este vitala, uneori aceasta ne poate dezavantaja. Prea multe situatii decizionale ne obosesc si ne distrag de la proiectele pe termen lung. Sapte experimente s-au facut pe 328 de participanti si 58 de cumparatori din mall. Rezultatele au fost expuse rezultatele cercetarii lor in Jour­nal of Personality and Social Psychology.
Specialistii i-au rugat pe unii dintre participanti sa faca anumite alegeri teoretice, in laborator. Alti participanti au facut alegerile in situatii concrete – de exemplu, sa aleaga intre doua rochii, la mall. Ulterior, tuturor li s-a dat o sarcina, pe care cei care au luat decizii in laborator au indeplinit-o mult mai slab.
Intr-un alt experiment, participantii au fost anuntati ca li se va da un test de matematica. Unii au rezolvat probleme pregatitoare, altii nu. S-a des­coperit ca rezultate mai bune au inregistrat cei care nu au fost solicitati cognitiv in plus de catre sarcina pregatitoare.
La experimentul din mall, persoanele care au luat decizii de cumparare au fost ulte­rior testate la matematica si au avut rezul­tate mai slabe. Autorii ne asigura ca au con­trolat variabilele de varsta, etnie, gen si pregatire.
Cercetarile au descoperit ca si atunci cand luam decizii amuzante ne obosim creierul, functiile noastre cognitive fiind solicitate de fiecare data. Kathleen Vohs, conducatoarea studiului, spune: "Se face o importanta schimbare in programul nostru mental atunci cand ale­gem, indiferent daca alegem pentru mo­ment sau pentru viitor. Simpla actiune de a decide poate cauza oboseala pe termen lung".
www.apa.org
Foto: GULIVER / GETTY IMAGES.
✖
Mulțumim pentru că vrei să fim prieteni!