Spectacolul "Plastic" de Marius von Mayenburg, în regia lui Theodor-Cristian Popescu, deschide stagiunea de teatru 2018-2019 de la Arcub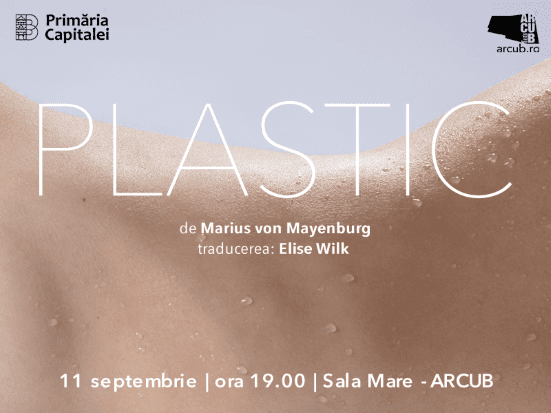 În stagiunea de teatru 2018-2019, Primăria Capitalei prin ARCUB îi așteaptă pe iubitorii de teatru la spectacole pentru toate gusturile, în care pot fi urmărite și trăite povești despre iubire și universul intim al femeilor, în Am iubit, am purtat, am pierdut, tristeți, în Artists Talk, atmosfera boemă a epocii interbelice, în Idolul și Ion Anapoda, nebunia și gingășia unui suflet chinuit, în Însemnările unui nebun, nedreptățile istoriei și avatarurile celor doi actori evrei din Schneider și Schuster, dar și neliniștile omului modern, în Plastic.
Primul spectacol programat al acestei stagiuni este Plastic de Marius von Mayenburg, în regia lui Theodor-Cristian Popescu, și se va juca în data de 11 septembrie, ora 19:00, la Sala Mare. Așa cum declară regizorul, ""Plastic" este o satiră ce trage din toate pozițiile în toate direcțiile.
Viața unor oameni bine intenționați din clasa mijlocie, acest acvariu frumos/ kitchos, pare un tăvălug ce nivelează, fără să vrea, orice relație ce ar trebui, în teorie, să funcționeze. Căci ei au renunțat la orice raport de forță în familie, în profesie, în artă. Iar această condiție duce la întrebări complexe: de felul: "E omul capabil să-și creeze un mediu funcțional, nedestructiv? De ce nu merge nimic din ceea ce încercăm decât parțial, chinuit, ridicol?"
În producția de la ARCUB, regizorul decupează atent, într-un decor inedit și elegant realizat de scenografa Velica Panduru, teme contemporane, dozând eficient impactul fiecărei noi scene asupra publicului. Muzica semnată de Lucian Ban, pianistul new-yorkez de origine română, punctează fin trecerile personajelor de la o stare la alta, urmărind gradual transformarea unei lumi realiste într-o instalație artistică atipică.
Plastic îi are în distribuție pe Ioana Mărcoiu, una dintre cele mai apreciate actrițe ale noii generații, care a câștigat premiul pentru cea mai bună actriţă pentru rolul Vilma din "Nefericiţii" în regia Zsuzsannei Kovacs și pe Bogdan Dumitrache, cunoscut publicului din filmul Poziția Copilului de Călin Peter Netzer și câștigător al titlului de "Cel mai bun actor", la Festivalul Internațional de Film de la San Sebastian 2017, pentru rolul din Pororoca de Constantin Popescu.
Distribuția este completată de Cristina Toma (Premiul Criticii pentru cel mai bun debut, în Privește înapoi cu mânie, 1996), Istvan Teglas (Între noi totul e bine de Radu Afrim, TNB, Hedwig and The Angry Inch, la Point) și tânărul actor Ciprian Nicula, care s-a făcut remarcat odată cu spectacolul O întâmplare ciudată cu un câine la miezul nopţii de Bobi Pricop, la TNB.
 Cu Plastic, pe textul scris de Marius von Mayenburg în 2015, Theodor-Cristian Popescu este la șasea montare a textelor dramaturgului german, după Perplex, la Teatrul Clasic din Arad, Martiri și Piatra, la Târgul Mureș, Urâtul, la Teatrul German din Timișoara, Chip de foc, la Teatrul Prospero din Montréal.
Mai toate temele societății contemporane se regăsesc în această nouă piesă a dramaturgului german, în avangarda unei generații cu atitudine […] radicală față de zisele progrese ale civilizației moderne și postmoderne. Predominantă e tema uzurii relațiilor maritale în condițiile în care profesia și parvenirea în carieră sunt mai importante. ("
Viață de plastic
" de Doina Papp, în Revista Teatrală Radio)
✖
Mulțumim pentru că vrei să fim prieteni!