Autismul se poate vindeca cu iaurt?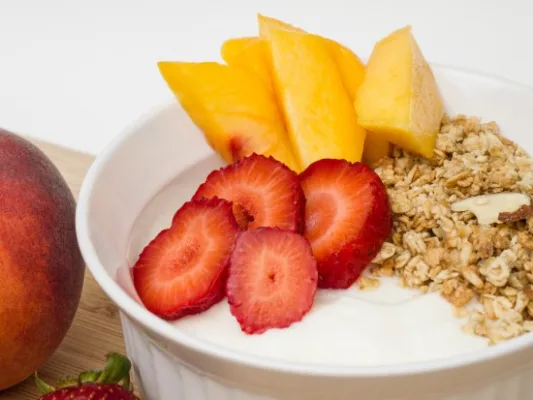 Ideea că starea intestinelor influențează starea minții este veche de mai bine de 100 de ani. Mulți savanți ai secolului XIX și ai începutului de secol XX credeau că acumularea de resturi alimentare în colon ar declanșa o stare de "auto-intoxicare", în care otrăvurile emanate de către intestine produc infecții, ce ar conduce la depresie, anxietate și psihoze.
Pacienții erau tratați cu clisme și chiar chirurgical, până când aceste practici au fost respinse ca fiind doar șarlatanie. Totuși, în zilele noastre, oamenii de știință sunt tot mai convinși că flora intestinală are un impact major asupra minții.
Axa creier-intestin pare să fie bidirecțională: creierul acționează asupra sistemelor gastrointestinal și imunitar care ajută la formarea florei intestinale, în timp ce bacteriile din intestine produc neurotransmițători (cum este serotonina) și alte substanțe care acționează asupra creierului.
Specialiștii în neuroștiințe de la Universitatea College Kork din Irlanda sugerează că ar putea fi dezvoltate tratamente dietare – numite de către ei "psihobiotice" – pentru tratarea tulburărilor emoționale. De unde această idee?
Citește și:
Beneficiile aduse de animale copiilor cu autism
Acum zece ani, cercetători de la Universitatea Kyushu din Japonia au creat niște șoareci fără floră intestinală și i-au expus la o situație stresantă. Au observat că nivelul de hormoni de stres era mult mai mare decât la șoarecii normali expuși la aceeași situație.
Deci sistemul care secretă acești hormoni era disfuncțional la șoarecii fără floră intestinală. Ei au mai descoperit că această disfuncție poate fi ușor reparată dacă se administrează șoarecilor o bacterie numită Bifidobacterium infantis (cunoscută și ca Lactobacillus acidophilus).
Apoi, canadienii de la Universitatea din Ontario au descoperit că, dacă colonizează intestinele șoarecilor care nu au flora intestinală cu bacterii luate din intestinele altor șoareci, animalele respective își schimbă personalitatea, adoptând-o pe cea a animalului donator – cei timizi devin mai exploratori, iar cei curajoși devin mai anxioși!
Aceste rezultate sugerează că interacțiunea intestinelor cu creierul poate induce anxietate. Se știe că oamenii cu tulburări intestinale au frecvent probleme de anxietate și depresie.
Iar atunci când canadienii au colonizat intestinul unui șoarece cu bacterii provenite din colonul pacienților cu sindrom de colon iritabil, șoarecele a dezvoltat aceleași simptome intestinale, dar, în plus, a devenit și mai anxios.
Partea cea mai interesantă abia acum urmează. În 2007, cercetători de la California Institute of Technology au observat că femeile care au avut febră prelungită în timpul sarcinii, au de șapte ori mai multe șanse să nască copii autiști.
Pentru a investiga fenomenul, ei au indus simptome de gripă unor femele de șoarece gravide iar rezultatul a fost că puii lor aveau simptome caracteristice autismului.
În plus, aveau simptome gastrointestinale, la fel cum are majoritatea copiilor cu autism. Și, surprinzător, două clase de bacterii erau mult mai abundente în intestinul acestor pui.
Aceste descoperiri au ridicat întrebarea: autismul își are originea de fapt în intestin și nu în creier? Și dacă tratăm simptomele gastrointestinale, vor apărea schimbări și în comportament?
Ei bine, administrând acestor pui bacterii cunoscute pentru proprietățile lor antiinflamatorii, au observat că problemele intestinale s-au rezolvat, dar s-au diminuat și unele simptome autiste, precum comunicarea redusă și comportamentele stereotipe.
Aceste date arată că, cel puțin la șoareci, autismul este vindecabil! Deși tratamentul cu iaurturi suplimentate cu bacterii s-a dovedit eficient în tratatea unor boli intestinale, se știu puține despre efectul lor asupra creierului.
Totuși, studii realizate la University of California din Los Angeles au dovedit că asemenea probiotice au afecte asupra zonelor din creier implicate în frică și furie și s-au dovedit mai eficiente în tratarea anxietății și depresiei decât unele medicamente.
Poate că în viitor în supermarketuri vor fi și raioane care vând produse cu bacterii pentru tratarea anxietății…
De Dragoș Cîrneci, doctor în psihologie, specialist în neuroștiințe. Lucrează în cercetare aplicată, dezvoltând produse pentru sănătate, mediul de afaceri. Este interesat de evoluția omului, precum și de provocările cu care specia umană se confruntă în lumea tehnodigitală de astăzi, http://dragos-cirneci.blogspot.ro
✖
Mulțumim pentru că vrei să fim prieteni!