Fundația Sensiblu lansează platforma www.love-messages.ro

În cadrul platformei, persoanele care sunt sau au fost victime ale violenței în mediul online sunt încurajate să facă primul pas spre vindecare, prin împărtășirea poveștilor și experiențelor, sub protecția anonimității și să ceară consiliere specializată.
România nu are statistici despre violența online. Un astfel de proiect vine să colecteze informații despre dimensiunea și impactul fenomenului asupra victimelor, pentru a crește gradul de conștientizare și pentru a oferi susținere autorităților competente.
Proiectul love-messages.ro este finanțat de Ambasada Regatului Țărilor de Jos în România.
Fundația Sensiblu, cu sprijinul Ambasadei Regatului Țărilor de Jos în România, lansează platforma www.love-messages.ro, unde persoanele care sunt sau au fost victime ale violenței online își pot expune poveștile și experiențele sub protecția anonimatului și pot solicita consiliere specialiștilor fundației.
Obiectivul principal al platformei www.love-messages.ro este de a crește gradul de conștientizare cu privire la violența online, un fenomen care afectează profund viața victimelor la toate nivelurile: emoțional, fizic, psihologic, sexual, profesional, precum și drepturile, siguranța, reputația, bunăstarea și libertatea de mișcare. Astfel, platforma se transformă într-un spațiu sigur, unde victimele beneficiază de protecție și suport specializat.
Prin colectarea experiențelor anonime, platforma contribuie la înțelegerea dimensiunii fenomenului și a impactului asupra victimelor, având potențialul de a deveni o resursă importantă atât pentru persoanele afectate, cât și pentru specialiștii din serviciile sociale și autoritățile responsabile de gestionare a fenomenului.
Mediul online, facilitator al violenței sexuale și de gen
În ultimii ani, este tot mai intensă preocuparea față de modul în care internetul a devenit un spațiu în care se manifestă diverse forme de agresiune, în mod special asupra femeilor și fetelor. La nivel global, acestea sunt de 27 de ori mai susceptibile de a fi hărțuite online, prin comparație cu tinerii și adulții de sex masculin. Astfel, spațiul virtual devine nesigur pentru femei și fete, ceea ce le impactează în mod direct dreptul la liberă exprimare, la viață intimă, la siguranță, la libertatea de mișcare, la sănătate și participare la viața publică.
La nivel global, datele statistice[1] înregistrate despre acest fenomen arată rolul îngrijorător pe care tehnologia și mediul online îl au în exploatarea femeilor și fetelor în scopuri de trafic, turism sexual și pornografie infantilă, și expunerea acestora la hărțuire, urmărire online, publicarea pe platforme a informațiilor personale, distribuirea fără consimțământ a imaginilor sau filmelor cu conținut intim etc.
52% dintre femeile și fetele tinere au suferit agresiuni online, inclusiv amenințări, mesaje, hărțuire sexuală și partajarea de imagini private fără consimțământ. Aceste fapte le-au afectat bunăstarea emoțională și fizică.
87% dintre femei consideră că problema se înrăutățește;
30% au spus că principala lor preocupare o reprezintă publicarea sau schimbul de imagini și videoclipuri intime sau mesaje private fără acordul lor;
68% din agresiunile online experimentate au avut loc pe platformele de socializare.
Fetele și femeile între 18 și 24 de ani sunt cele mai vulnerabile în fața urmăririlor și hărțuirii sexuale în mediul online. În Uniunea Europeană, aproximativ 9 milioane de fete au experimentat o formă de violență în mediul online de la vârsta de 15 ani[2].
"Chiar dacă agresiunile se petrec în mediul virtual, urmările lor sunt în viața offline și asupra unei persoane cât se poate de reale. Abordarea superficială a fenomenului și a impactului asupra victimelor se reflectă în modul în care acestea sunt crezute și susținute de cei din jur, de serviciile sociale și în gestionarea problemei de către autorități. Plaforma www.love-messages.ro vine în întâmpinarea nevoilor persoanelor afectate de violența online, oferindu-le acces la informații și metode prin care se pot proteja, la o comunitate în care se pot simți în siguranță și la servicii specializate. Prin experiențele împărtășite pe platformă, ne dorim să ajutăm în conștientizarea pericolelor din mediul online și să contribuim astfel la reducerea vulnerabilității în fața agresorilor."  – Cristina Horia, Președintă a Fundației Sensiblu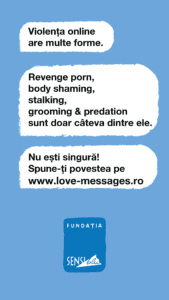 Tipuri de violență în mediul online
Violența cibernetică cuprinde orice fapte de hărțuire online, mesaje online instigatoare la ură bazată pe gen, urmărire online, amenințări online, publicarea non-consensuală de informații și conținut grafic intim, accesul ilegal de interceptare a comunicațiilor și datelor private și orice altă formă de utilizare abuzivă a tehnologiei informației și a comunicațiilor prin intermediul calculatoarelor, telefoanelor mobile inteligente sau altor dispozitive similare care folosesc telecomunicațiile sau se pot conecta la internet și pot transmite și utiliza platformele sociale sau de e-mail, cu scopul de a face de rușine, umili, speria, amenința, reduce la tăcere victima. (Legea 217/2003 privind prevenirea și combaterea violenței domestice)
Unele forme au un impact deosebit de grav asupra vieții, siguranței, sănătății fizice și emoționale, bunăstării și imaginii persoanelor afectate:
Exploatarea cibernetică, fotografia non-consensuală sau "revenge porn" se referă la diseminarea în mediul online a imaginilor sau filmelor cu conținut sexual fără consimțământul persoanei din imagini, în scop de răzbunare, umilire, șantaj.
Body-shaming este o formă de bullying care se manifestă atât în mediul offline, cât și online, manifestată prin criticarea și judecarea aspectului unei persoane – forma corpului, dimensiunea – prin raportare la standardele de dezirabilitate impuse de societate, mass-media, social media, și care poate produce traume emoționale severe, în special la adolescente/ți și tinere/i.
Stalking (urmărirea/ persecutarea) reprezintă o formă agravată de hărțuire, repetată, cu o intensitate și o frecvență mai mari, de tipul unei obsesii, fixații. În mediul online presupune monitorizarea utilizării de către cineva a internetului, a platformelor sociale, a e-mailului sau a altor forme de comunicare electronică, utilizând aplicații de urmărire/ spionare (spyware), acces la profilul victimei și urmărirea ei prin intermediul prietenilor/ cunoscuților/ cercului apropiat. În viața reală, implică apariția neanunțată în locurile frecventate de persoana vizată, pătrunderea ilegală în casa ei, amenințarea cu uciderea animalului de companie sau a unei persoane apropiate.
Grooming & predation este o tactică folosită de prădătorii sexuali pentru a stabili o conexiune emoțională cu un copil, de a construi o relație de încredere cu acesta, cu scopul de a-l agresa sau exploata sexual, în mediul online sau în viața reală. Cel mai frecvent, agresorii își targetează victimele pe platformele și rețelele de socializare populare printre copii – Facebook, Instagram, sau prin abordarea în chatul jocurilor video în rețea, folosind profiluri false ale unor copii/ adolescenți de vârstă apropiată. Prădătorii le pot cere copiilor să se filmeze sau fotografieze în ipostaze intime sau în timp ce fac lucruri absolut nevinovate, de exemplu dansează, pe care ulterior le prelucrează pentru a le da tentă sexuală. Exploatează frica copiilor și îi șantajează, cerându-le să se expună din ce în ce mai mult sau să se întâlnească în viața reală.
Proiectul "Love Messages" este suținut de Ambasada Țărilor de Jos în România, din fondurile Drepturilor Omului (Human Rights Fund). Acest proiect a fost selectat ca urmare a apelului de proiecte realizat în 2021 de către Ambasada Țărilor de Jos în România.
Despre Fundația Sensiblu
Fundația Sensiblu a fost înființată în România, în anul 2002 ca organizație non-guvernamentală și promovează drepturile omului și egalitatea de gen.
Fundația militează pentru conștientizarea fenomenului de violență sexuală și de gen, prin oferirea de servicii directe de consiliere pentru persoane afectate, dezvoltă campanii de awareness, lobby & advocacy pentru îmbunătățirea legislației, contribuie la creșterea calității serviciilor sociale din România prin programe de formare pentru profesioniști care oferă servicii specializate.
Printre programele desfășurate de Fundația Sensiblu, se numără:
Programul Casa Blu pentru supraviețuitorii violenței domestice – consiliere socială, psihoterapie individuală, consiliere juridică și reprezentare în instanță pentru obținerea ordinului de protecție.
Programul de mentorat A.C.E. (Action-Connection-Encouragement) – susține dezvoltarea profesională a specialiștilor din domeniul social.
Proiectul Tech-wise, risk-free – facilitează accesul profesioniștilor la informații și instrumente necesare în abordarea violenței cibernetice și a provocărilor utilizării tehnologiei, pentru a realiza o intervenție adecvată în astfel de cazuri.
[1] The online crisis facing women and girls threatens global progress on gender equality – World Wide Web Foundation
[2] Final report of the Broadband Commission Working Group on Gender, September 2015
✖
Mulțumim pentru că vrei să fim prieteni!