Weekend-ul acesta a avut loc The Inner – Mapping Inside – cel mai mare eveniment din țară dedicat stării de bine și sănătății mentale

Weekend-ul care tocmai a trecut, între 3-5 iunie, sala de cinema de la "Florin Piersic" a devenit punctul central de întâlnire al persoanelor interesate de dezvoltare personale și de re(descoperire) a sinelui autentic.
Speakerii evenimentului au fost: Dr. Daniel Lieberman, autorul cărții Dopamina; David Hamilton, autor de bestseller-uri; Dr. Olivia Remes, cercetător asociat la Universitatea Cambridge; Any Choying Drolma, care a venit tocmai din Nepal și este autoarea cărții "Confesiunile unei călugărițe budiste"; Sandra Voz, un cunoscut profesor de meditație și respirație; Oana Pellea, cunoscuta actriță și autoare; Andreea Raicu, cunoscuta personalitate din România și facilitator de meditații & mindfulness și nu, în ultimul rând, Domnica Petrovai, unul din cei mai cunoscuți terapeuți de relații din România.
Prima zi de eveniment a adus zâmbetul pe fața participanților care după cele patru conferințe au rămas cu multe informații valoroase și teme de reflecție. Deschiderea evenimentului a făcut-o Any Choying Drolma, călugărița budista care a vorbit despre efectele înfloritoare ale iubirii și despre modul în care aceasta poate să ne schimbe viața. Dr. Olivia Remes a vorbit despre anxietate și despre modalitățile prin care putem să scăpăm devenim conștienți de anxietate și de modul în care putem să o controlăm.
Domnica Petrovai ne-a trecut prin etapele unei relații și ne-a deschis o altă perspectivă cu privire la unele situații specifice vieții de cuplu, iar David Hamilton ne-a explicat cu argumente științifice și o energie molipsitoare cum mintea noastră ne poate trata trupul și ne poate influența viața.
A doua zi a evenimentului a început cu discursul susținut de Oana Pellea de la care am deprins curajul de a ne deschide poarta spre lumea interioară și a ne recunoaște vocea autentică. Următorul discurs a fost susținut de Sandra VOZ care ne-a descris pilonii unei vieți echilibrate și ne-a transmis o stare echilibrată și armonioasă. Andreea Raicu ne-a vorbit despre etapele spre iubirea de sine și compasiunea față de noi, iar de la Dr. Daniel Lieberman am aflat multe despre dopamină și ce putem face pentru a o folosi în interesul nostru ca să vrem mai mult, dar în același timp să ne bucurăm de ceea ce avem.
Link Video – https://youtu.be/XMPLHvdjzo8
Între conferințe, speakerii au dat autografe, au făcut poze și au discutat cu multă căldură cu toți cei interesați.
Cea de-a doua parte a fiecărei zile de eveniment a fost dedicată atelierelor practice susținute de facilitatori din toată țara unde participanți au putut învăța în mod practic diferite tehnici de a ajunge la starea de bine. Atelierele au fost diverse și au cuprins lucrul cu corpul, cu mintea sau cu relațiile și i-au ajutat pe cei prezenți să își recunoască și să își trăiască emoțiile. Sălile de ateliere au fost neîncăpătoare pentru participanți, majoritatea atelierelor fiind sold out cu câteva zile înainte de începerea evenimentului.
The Inner – Mapping Insidel s-a încheiat duminică cu un brunch vegan în natură, ceremonia de cacao și un concert în Parcul Etnografic "Romulus Vuia" din Cluj-Napoca.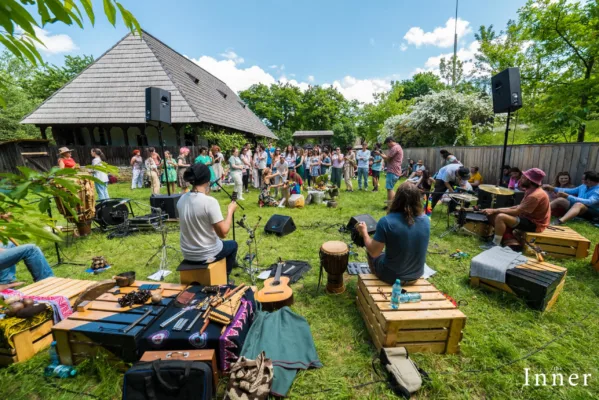 The Inner este un evenimentul gândit astfel încât cei prezenți să dobândească informații teoretice, în prima parte a zilei de la cunoscuți autori de bestseller-uri, cercetători sau lideri spirituali, iar în cea de a doua parte a zilei fiecare participant poate să aleagă să participe la atelierele tematice unde va experimenta tehnici diferite de dezvoltare personală.
Proiect realizat cu sprijinul Primăriei și Consiliului Local Cluj-Napoca
An Original concept brought to you by The Inner Experience
✖
Mulțumim pentru că vrei să fim prieteni!