Doua carti pentru mai multe idei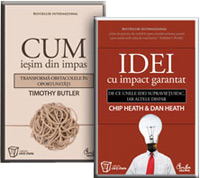 Ce poate sa te inspire mai mult decat o carte? Poate doua carti. Curtea Veche Publishing ofera astazi, 5 octombrie 2009, in cadrul "Campaniei de luni", Curtea Veche Publishing ofera cartile "Cum iesim din impas" de Timothy Butler si "Idei cu impact garantat" de Chip Heath, Dan Heath cu doar 34 Ron.
Cum iesim din impas – Transforma obstacolele in oportunitati
Autor: Timothy Butler
Colectia: Carti-Cheie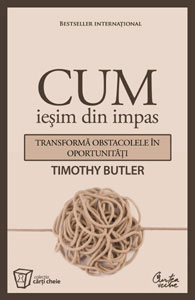 Cum iesim din impas se regaseste in bibliografia a peste 300 de cursuri MBA ale unor universitati celebre precum Harvard University, Stanford University, Carnegie-Mellon University sau Cornell University.
"Cu totii am avut momente in care simteam ca suntem intr-un mare impas, atat in cariera, cat si in viata de zi cu zi. Acum, Timothy Butler ne ofera o serie de sfaturi cu ajutorul carora sa depasim aceste momente de indecizie si sa actionam pentru a ne atinge scopurile."
Edward Betof
Vicepresedinte Talent Management, Dickinson and Company
"Cum iesim din impas este o carte extrem de utila. O voi tine tot timpul pe birou, pentru a starni in permanenta interesul studentilor mei."
Deirdre Leopold
Harvard Business School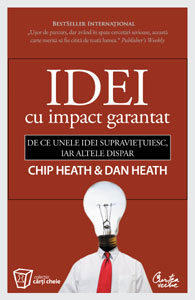 Idei cu impact garantat – De ce unele idei supravietuiesc, iar altele dispar
Autor: Chip Heath & Dan Heath
Colectia: Carti-Cheie
"Am scris aceasta carte pentru a veni in ajutorul celor care vor ca ideile lor sa prinda. Prin a prinde ne referim la faptul ca ideile vor fi intelese, retinute si vor avea un impact de durata – schimband opiniile sau comportamentul celor care le recepteaza."
Chip Heath & Dan Heath
"Daca nimeni nu te asculta atunci cand ai ceva important de spus, atunci aceasta carte este pentru tine."
Psychology Today
"… cei doi au scris realmente o carte de impact – una in care ni se descriu caracteristicile unei idei de impact prin exemple concrete din diferite sfere ale activitatii umane."
The Washington Post
Puteti comnada aceste carti pe www.curteaveche.ro.
✖
Mulțumim pentru că vrei să fim prieteni!