"Dialogul intercultural și creșterea accesului publicului la cultură" – prezentarea rezultatelor proiectelor Fundației Amfiteatru 2020 – 2021

Fundația Amfiteatru, alături de partenerii săi Arte Development & Management, Lise Wulff și Asociația Omnia Photo, au organizat marți, 21 decembrie, o conferință online, disponibilă pe site-ul dialog.fundatia-amfiteatru.ro, unde au fost prezentate rezultatele activităților din cadrul proiectului DIALOG (Diversity in Arts. Learning Opportunities and Growth).
Înregistrarea conferinței poate fi urmărită aici: https://dialog.fundatia-amfiteatru.ro/dialogul-intercultural-si-cresterea-accesului-publicului-la-cultura-prezentarea-rezultatelor-proiectelor-fundatiei-amfiteatru-2020-20121/
Caleido – festival de arte performative, dar și turneul național Caleido, festivalul de fotografie Walk & Shoot Fest, atelierul artistic bilateral și instalația artistică Greenhouse realizate de Lise Wulff, precum și traseul cultural performativ "Fântânile Sudului" sunt evenimentele care au avut loc în perioada 2020 – 2021 în cadrul DIALOG cu peste 7000 de participanți și care au în comun valorificarea identității culturale a comunităților și diversificarea ofertei culturale.
La eveniment au participat: Ioan Borșan (directorul executiv al Fundației Amfiteatru, organizator al Festivalului Caleido), Diana Manea (manager de proiect DIALOG), Andreea Leu (directorul Grup Arte, organizator Walk & Shoot Fest), Andreea Novac (coregrafă, dansatoare, directoare artistică a Festivalului Caleido), Cristina Irian (partener, Omnia Photo) și Lise Wulff (partener).
Festivalul de arte performative Caleido, care a avut loc între 21-25 mai 2021, a reunit în program 20 producții independente de teatru, dans și performance, printre care și APR – [Adorație Performance-ului Radical], o producție proprie Caleido, și tot atâtea discuții cu specialiști din domeniu (Caleido Talks), care au atras aproximativ 3400 de spectatori.
"Chiar dacă selecția a fost foarte diversă ca formă și formulă estetică (teatru, dans și performance) a avut o inimă coerentă pentru că într-un fel sau altul toate spectacolele s-au învârtit în zona tematicii societății", a precizat Andreea Novac, director artistic Caleido.
Turneul Caleido, desfășurat în perioada noiembrie – decembrie 2021, a oferit un nou prilej de întâlnire cu două dintre spectacolele din festivalul Caleido: "APR – [Adorație Performance-ului Radical]", care a avut două reprezentații la unteatru (București), și "Domnișoara Iulia", care s-a bucurat de cinci reprezentații pe scenele unteatru din București, Teatrul Municipal "Maior Gheorghe Pastia" din Focșani, Teatrul "Toma Caragiu" din Ploiești și Teatrul Dramatic "Fani Tardini" din Galați, în fața a peste 450 de spectatori. 
Walk & Shoot Fest, festival de fotografie, organizat de Arte Development & Management în parteneriat cu Fundația Amfiteatru,  a avut loc în perioada 21 – 30 mai și a cuprins: 10 ateliere de fotografie susținute de fotografi profesioniști – spectacol, beauty, portret, peisaj urban, documentară, de stradă, de fotografie pentru copii și adolescenți, evaluare de portofolii -, 10 discuții online despre fotografie și provocările din domeniu, precum și trei expoziții despre diversitate pe scena artelor performative, cu fotografii realizare de Adi Bulboacă, Cornel Lazia, Cristian Crisbășan, Hajdu Tamás, Horia Manolache, Ioana Moldovan, Silviu Gheție și fotografii câștigători ai concursului Walk & Shoot. De-a lungul celor 10 zile de festival, Walk & Shoot Fest a atras peste 530 de participanți la evenimente.
Andreea Leu, fondator Walk & Shoot, a amintit în cadrul conferinței că "partea de educație în domeniul vizual va fi continuată în cadrul unui centru de resurse în fotografie care va avea o componentă de școală, servicii profesionale pentru fotografi și public – de la evenimente până la vânzare de print, despre care vom oferi curând mai multe detalii".
Sera | The Greenhouse concentrează o serie de fotografii care surprind natura revendicându-și locul în spațiul urban și vorbesc despre felul în care natura relaționează cu oamenii. Instalația este rezultatul unui proces colaborativ între artista Lise Wulff, realizatoarea conceptului, și opt tineri de la #StudiourileFerentari pe care i-a îndrumat.
"Tema pe care le-am dat-o tinerilor din Ferentari a fost să fotografieze clădiri abandonate din București și să documenteze modul în care natura pune stăpânire pe ele. Ne-am jucat împreună cu fotografiile aplicându-le diverse filtre colorate. Ulterior am printat fotografiile și le-am montat pe pereții unei sere, obținând un impact vizual foarte interesant, mai ales când instalația este luminată dinăuntru", a menționat Lise Wulff.
Fotografii și postprocesare: Ale, Alex Dinuț, Alexia-Adriana Șerban, Lucian Berdei, Petrișor Barbu, Robert Harisiade, Ștefania Iordache, Vlad-Andrei Roșianu.
Traseu cultural performativ "Fântânile Sudului" a inclus: documentarea și maparea a 57 de fântâni din Sudul României (broșura ghid a hărții fântânilor și a obiceiurilor legate de fântâni din Comuna Bobicești, Județ Olt, 2021 poate fi descărcată de aici: https://bit.ly/3p8K6o0, un traseu cultural performativ "Fântânile Sudului", disponibil și în variantă digitală (https://bit.ly/3H68QoP) și instalația "Ce vede o fântână?" – care are ca protagonistă "Fântâna de la Livezi" din Bobicești, parte a traseului performativ. Instalația are rolul de stimulare a alterității și a diversității, fântâna transformându-se dintr-un obiect privit într-un personaj narator, care explorează și cuprinde cu ochiul său spațiul înconjurător.
În cadrul proiectului au mai avut loc cinci ateliere de fotografie istorică și contemporană și desen pentru copii despre istoria fântânilor din Bobicești, modul de construcție al acestora, obiceiuri și istorii locale legate de fântâni, poziționarea acestora pe harta comunei. Evenimenimentele din cadrul acestui traseu cultural performativ au atras peste 2000 de participanți.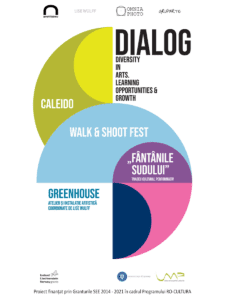 "Oamenii au început să redevină interesați de fântâni, de eventualele povești care există în jurul acestora, de străbunicii lor – căci unii uitaseră că pe unele dintre aceste fântâni erau scrise numele lor. Când am organizat Zilele Fântânilor, la cererea locuitorilor a fost sfințită din nou și repusă în funcțiune o fântână din comună, realizată de stră-străbunicul unui localnic venit din Imperiul Otoman ca să își facă o gospodărie aici", a menționat Cristina Irian.
În încheierea discuției, Ioan Borșan, directorul executiv al Fundației Amfiteatru, a menționat că "Fundația își continuă misiunea de a dezvolta noi produse culturale și de a sprijini artiști independenți. Aceste evenimente au fost o gură de aer pentru artiștii cu care am colaborat într-un an de altfel foarte complicat. E trist faptul că artiștii nu au parte de alt sprijin din partea statului în afară de finațările venite prin AFCN. Fundația Amfiteatru a reușit totuși să producă patru spectacole anul acesta, lucru care ne motivează să continuăm ce am început acum cinci ani cu Caleido".
DIALOG este un proiect finanțat prin Granturile SEE 2014 – 2021 în cadrul Programului RO-CULTURA.
***
Fundația Amfiteatru dezvoltă programe, proiecte și parteneriate la nivel local, național și internațional, în scopul afirmării resurselor antropice și naturale ale comunităților. Organizația se concentrează pe abordările integrate, cu finalitate socială, pentru a furniza comunităților soluții și sprijin. Site oficial: fundatia-amfiteatru.ro.
***
Granturile SEE reprezintă contribuția Islandei, Principatului Liechtenstein și Regatului Norvegiei la reducerea disparităților economice și sociale în Spațiul Economic European și la consolidarea relațiilor bilaterale cu cele 15 state beneficiare din estul și sudul Europei și statele baltice. Aceste mecanisme de finanțare sunt stabilite în baza Acordului privind Spațiul  Economic European, ce reunește statele membre UE și Islanda, Liechtenstein și Norvegia ca parteneri egali pe piața internă. În total, cele trei state au contribuit cu 3,3 miliarde de euro între 1994 și 2014 și 1,55 miliarde de euro pentru perioada de finanțare 2014-2021.
Mai multe detalii sunt disponibile pe: www.eeagrants.org și www.eeagrants.ro.
Programul RO-CULTURA este implementat de Ministerul Culturii prin Unitatea de
Management a Proiectului și are ca obiectiv general consolidarea dezvoltării  economice și sociale prin cooperare culturală, antreprenoriat cultural și managementul patrimoniului cultural. Bugetul Programului este de 29 milioane de euro.
Mai multe detalii sunt disponibile pe site-ul oficial: www.ro-cultura.ro.
✖
Mulțumim pentru că vrei să fim prieteni!