I N T E R B E I N G – un nou proiect lansat de Nico de Transilvania

Credit foto: Marius Șumlea
Nico de Transilvania revine anul acesta cu I N T E R B E I N G, un nou proiect internațional interdisciplinar. I N T E R B E I N G este un demers cultural multimedia, care include producerea și lansarea unui album muzical, realizarea unui film de prezentare și a unei expoziții foto, precum și susținerea de concerte live.
În cadrul proiectului, elemente muzicale tradiţionale româneşti vor fi înregistrate și filmate chiar "în inima codrului", în natură, prelucrate şi încorporate într-un produs discografic cu muzică folkloric-electronică cu inserții de jazz. În plus, "I N T E R B E I N G" va genera acțiuni de responsabilitate față de "endangered landscapes" – ținuturi aflate în pericol – și de prezervare a patrimoniului cultural și natural din România. Inițiatoarea acestui proiect este Nico de Transilvania (Nicoleta Cărpineanu) – DJ, director de creație și producător de muzică și film, de origine română, stabilită în Marea Britanie.
"I N T E R B E I N G dă voce pădurii și spune o poveste despre respectul pentru natură și tradiție și despre puterea muzicii, care este capabilă să unească oameni din toate colțurile lumii într-un scop comun și nobil: protejarea unor simboluri culturale și a pădurilor românești. Împreună cu o echipă eclectică de artiști din România și Anglia continuăm să creăm punți între generații pentru celebrarea peisajului și a muzicii autentice, culeasă chiar în mijlocul pădurii, aproape de rădăcinile noastre."– a declarat Nico de Transilvania
Proiectul "I N T E R B E I N G" este cristalizat în jurul unei echipe internaționale de muzicieni, compozitori, ingineri de sunet, producători, dar și artiști populari și rapsozi români.
Printre artiștii români implicați în proiect se numără Silvia Dan (nepoata Mariei Cîrstoiu zisă Pițuleasa, o renumită cântăreață de muzică folclorică de la sfârșitul secolului XIX, autoarea cântecului "Șapte văi și-o vale adâncă", interpretat de Maria Tănase) și fluierașul Vasile Stănciulescu și fiica sa, care vor cânta la fluier. Totodată, Jules Dickens aka Abstract Source, regretatul David Alexander Yeoman – pian și înregistrări sonore ambientale din pădurile transilvănene, Laurențiu Moise – trompetă și Paolo Profeti – saxofon, cu înregistrări originale în pădurile Subcarpaților.
Echipa multimedia formată din fotograful Marius Șumlea și videographer-ul Răzvan Leucea  documentează procesul creării albumului și pregătesc o expoziție foto-video, în care rapsozii români prezintă publicului semnificația cântecelor lor și relația lor particulară cu peisajul, istoria și cultura Subcarpatică.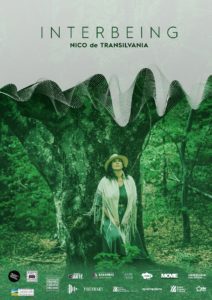 Prima prezentare a proiectului va avea loc în cadrul conferinţei internaţionale Sobieszewo Island, din Polonia, organizată de Nature of Us în perioada 18 – 21 Mai 2022. Artista Nico de Transilvania va susţine un workshop în calitate de reprezentantă a României, precum şi a programului Cambridge Conservation Initiative – Endangered Landscapes Artist Residencies, program care a susţinut dezvoltarea proiectului I N T E R B E I N G.  Scopul conferinţei este de a oferi participanților condiții pentru a reflecta în mod semnificativ asupra temelor complexe referitoare la lumea noastră naturală, prin intermediul artelor.
Albumul I N T E R B E I N G va fi lansat și promovat în cadrul unui concert live şi show multimedia găzduit de Institutul Cultural Român Londra în toamna acestui an. După lansare albumul va putea fi ascultat pe platformele de distribuție internaționale – YouTube, Bandcamp, Spotify etc.
Fondurile strânse în urma distribuirii albumului I N T E R B E I N G  vor fi direcționate exclusiv către achiziționarea, plantarea și îngrijirea arborilor din zonele defrișate ale Subcarpaților, în zona comunei Nucșoara, județul Argeș, de unde provin artiștii populari implicați în proiect.
I N T E R B E I N G continuă proiectul de succes derulat de Nico de Transilvania în anul 2018 – albumul său de debut BE ONE, în urma căruia a fost lansată inițiativa caritabilă "Forests Without Frontiers", prin care s-au plantat până acum peste 100.000 de puieți în munții Făgăraș și în Marea Britanie.
Proiectul este conceput de Nico de Transilvania, implementat de casa ei de producție "Muzică Without Frontiers" în colaborare cu "Forests Without Frontiers" și este co-finanțat de Administrația Fondului Cultural Național (AFCN)* și Cambridge Conservation Initiative, prin Endangered Landscapes Programme.
Partener principal în proiect este Institutul Cultural Român Londra.
Parteneri media: AGERPRES, Agenția de cArte, Bookhub, București FM, E-Zeppelin, MovieNews, Observator Cultural, PlayU.ro, Psychologies, Radio România Cultural, România pozitivă, Spot Media, Zile și Nopți
Mai multe informații despre proiect:
În curând pe paginile de social media Nico de Transilvania.
Născută în România și stabilită în Marea Britanie, Nico de Transilvania (Nicoleta Cărpineanu) este DJ, director de creație, producător și organizator de evenimente culturale și de protejare a mediului. Ca fondatoare a casei de producție Muzică Without Frontiers, Nico a lansat în 2019 organizația de salvare și protejare a pădurilor Forests without frontiers.
Prin promovarea unui amestec unic de sunete balcanice/globale/swing/electro, Nico și-a creat de-a lungul anilor propria nișă ca DJ internațional. Artista propune un stil eclectic de muzică, mixând elemente din zone diferite, precum electronic, house, hip‑hop, funk, techno, în care îmbină întotdeauna elemente de folclor autentic din lumea întreagă. În anul 2018, Nico a produs albumul său de debut, "Be One", prin care își celebrează moștenirea, prezentând folclor românesc vechi, instrumente balcanice și jazz, într-un aranjament muzical ce utilizează la bază muzica electronică. Albumul a fost lansat de casa ei de discuri Muzică Without Frontiers, cu spectacole live susținute la Paris, Londra, București și Chișinău. Nico de Transilvania continuă să exploreze și să combine sunete din întreaga lume, rămânând fidelă filozofiei sale prin care "muzica nu are frontiere".
*Proiectul nu reprezintă în mod necesar poziţia Administrației Fondului Cultural Național. AFCN nu este responsabilă de conținutul proiectului sau de modul în care rezultatele proiectului pot fi folosite. Acestea sunt în întregime responsabilitatea beneficiarului finanțării.
✖
Mulțumim pentru că vrei să fim prieteni!